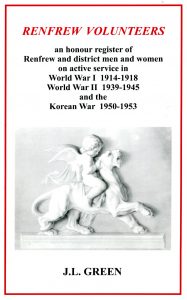 RENFREW VOLUNTEERS
.
an honour register of
Renfrew and District men and women
on active service in
World War I 1914-1918
World War II 1939-1945
and the
Korean War 1950-1953
J.L. GREEN
This book was used as a fundraiser for the cost of production of another publication Renfrew Book of Remembrance containing portraits and profiles of the Renfrew and District men who died for Canada.
RENFREW AND DISTRICT VOLUNTEERS
(asterisks denote War Dead)
WORLD WAR I 1914-1918
ACTON, William
ADAMS, Douglas
AFFLECK, George
AFFLECK, K.
AFFLECK, Raymond S.
AIKENHEAD, W.D.
AIRTH, Hany J.
AIRTH, Rob Roy*
ALLEN, William James
ALVIAS, Alexander
ANDERSON, Alfred W.*
ANDERSON, A.T.
ANDERSON, Conrad*
ANDERSON, J .T.
ANDERSON, Robert VI*
ANDREWS, A.
ANTONIA, Percy
APPLEYARD, Percy
ATKINS, James
ATKINSON, John
ATKINSON, Leonard
AUSTIN, Allan
AUSTIN, Charles
AUSTIN, John
AUSTIN, William James
BALL, M.M.
BAMBERRY, George
BARR, Alexander
BARR, Bremner F.
BARR, Mackie
BEAMISH, Harry F.
BECKER, Henry N.
BENJAMIN, William
BENNETT, Donald A.
BERARD, Emanuel
BERARD, Ted
BERNATE, E.H.
BERNATE, J .C.
BEST, Frederick W.
BETTS, William H.
BILLINGS, M.G
BIRKS, J.
BLAIR, Newton
BLAIR, R. Harry
BOLAND, Aubrey
BOLAND, Bertram Y.*
BOLAND, Frank
BOURDEGNON, Oscar
BOX, Howard
BOX, Nelson
BOX, Stacey
BOYLE, Edward G.
BRADLEY, J .L.
BRAZIER, Richard
BREMNER, Ferguson*
BREMNER, Michael A.*
BRISBOIS, J.A.
BRISCOE, Andrew
BRISCOE, Robert
BRISCOE, Thomas C.*
BROMLEK Joseph
BROWN, Albert*
BROWN, Ernest
BROWN, George
BROWN, Harry
BRYAN, Hugh
BUFFETT, William T.
BURGESS, Thomas
BURGESS, William
BURKE, Joseph Leo
BURNS, John
BURTON, Ernest C.
BURWELL, Charles L.
BURWELL, George B.
BURWELL, J .C.
BURWELL, James S.
BYERS, Carl
BYFORD, E.
BYRNE, John
CALL, John R.
CALLAGHAN, John
CAMERON, R.
CAMPBELL, A.E.
CAMPBELL, A.F.
CAMPBELL, Albert
CAMPBELL, Duncan M.
CARR, Joseph N.
CARRUTH, George
CARTER, Francis C.*
CARTER, G.P.
CASHMORE, T.H.
CATHPOLD, Sydney
CHALMERS, Harry A.
CHAMILLIARD, F.
CHILDERHOSE, Albert
CHRISTIE, J.H.H.*
CLARK, Cameron
CLARK, G.
CLARK, J . Stuart
CLARK, Roy C.*
CLARK, Stanton*
CLARKE, Percy G.
CLEROUX, Frederick
COBUS, James T.
CODE, ? (NS)
COLEMAN, A.*
COLES, E.C. "Carrie"*
COLLETT, F.F.
COLLINS, GP.
CORNETT, A.D.
COTTER, John James
COTIE, Lorne E.
COULAS, John J.
COUMBES, Harvey
COX, John F.
COX, J .T.
CRAIG, Abigail (NS)
CRAIG, Cleveland E.
CRAIG, Janet (NS)
CRAIG, John C.
CRAIG, L. Laurier
CREGAN, John
CROGIE, Gordon
CROGIE, Graylon A.
CROSSAYQ Joseph
CROSSEYQ James
CROWE, Alfred
CROWE, Arthur
CROWE, George
CRUISE, Thomas H.*
CULHANE, Daniel
CULLEN, Felix*
CUNNINGHAM, I.
CURRIE, Margaret (NS)
CUTHBERTSON, E.G.
CYBULSKI, Anthony*
CYBULSKI, Frank
CYBULSKI, Peter*
DAGG J .A.
DAVIDSON, Arnold
DAVIDSON, Clarence
DAVIS, Jack
DAWES, Albert
DAZE, Wilfred*
DEAN, Henry Thomas
DEAN, Roy C.
DEANNE, Harry T.
DELYEA, M.
DEMPSEK Nelson, H.*
DEMPSEY, Samuel J .*
DENIQUE, '?
DESNOYERS, Rene*
DEVENNY, Percy
DEVINE, Andrew C.
DEVINE, Leo
DEVINE, Michael A.
DEVINE, Michael K.
DICK, A.
DICK, Edward
DILLABOUGH, S.
DILLABOUGH, W.
DOLAN, Emmett
DOLAN, Robert E.
DONEQUI, Frank
DOUGHERTY, L.*
DOYLE, Joseph R.*
DREGAS, Thomas*
DUCHARME, Hector
DUCHARME, Thomas J.
DUFF, James
DUGGAN, Mack
DUNBAR, T.F.
DUNFIELD, Leonard E.
DUPUIS, George Philip*
DURBROW, Lila (NS)
DURBROW, Peter A.
DURBROW, Robert
DYELE, John A.
DZWONKOWSKI, A.
EADY, Allan H.
EADY, Clavin
EADY, George
EADY, Norman
EGAN, William
ELLIOTT, John
ELLIOTT, William R.
ELLIS, R.G.*
ELLIS, Sydney*
EMON, John L.
EUSTON, Walter
FARGUHARSON, David
FARRELL, Edward W.
FERGUSON, Gertrude (NS)
FERGUSON, Ivan
FERGUSON, James H.
FERGUSON, P.D.
FERGUSON, Rodrick M.*
FINNER, Frank*
FISHENDEN, Arthur E.*
FISHENDEN, GA.
FISHENDEN, George H.
FISHENDEN, William E.*
FISHER, Charles D.
FISHER, W.
FITZGERALD, Leslie D.
FLOWER, Robert
FORGIE, Graham
FORGIE, John L.
FORREST, Russell
FOTHERGILL, K.L.
FRASER, James C.
FRASER, MacDonald
FRASER, Ronald J.
FREEMARK, Philip J .*
FRENCH, Francis L. (Rev.)
FRENCH, Thomas P.
FRITTIS, D.
FRITTIS, John A.
FROOD, Clarence B.*
FROOD, H.H.
FROOD, Lorne V.*
FROOD, Oren C.
FROOD, Robert J .
FROOD, Wallace
GAGNON, Alfred
GAGNON, Arthur*
GAGNON, Duncan W.*
GAGNON, W.J.
GANNON, Michael J._
GARRETT, Albert
GARVIE, John
GAUL, Horace
GEMMILL, Archibald*
GIBBONS, Lindsay
GIBBONS, Thomas B.
GIBSON, J .A.
GILES, F.H.
GILES, Thomas
GILLEN, J .C.
GILLIES, J .P.
GORDON, Charles H.
GORMAN, Michael
GRACE, Norman (Dr.)
GRAHAM, Duncan*
GRAHAM, Vernon W.*
GRAHAM, William W.
GRAY, Ivan Leslie*
GRAY, Samuel C.
GREEN, Philip John
GREY Harold
GRIGG, C. Frank
GUEST, F.E.
GUEST, Percy
GUINEK Bernard D.
GUTHRIE, Jason C.
HALDANE, Hugh
HALE, William E.
HALL, George
HALLIDAY, J .H.
HAMILTON, Forest
HAMILTON, Stewart
HANNAN, James J.
HARKNESS, R. Bruce
HARTY, James "Rod"*
HARTY, Peter
HASTINGS, John*
HAY, J.*
HEBERT, J. Michael
HEBERT, Michael
HEBERT, Oliver
HENDERSON, T.P.
HENDERSON, William
HENDRY, Arthur Leslie
HICKEY, ? (Lieutenant)
HICKEY, Allan
HICKESL Colin J .*
HICKEK F.F.
HOUGH, Wilfrid J.
HUDSON, J .W.
HUGHES, Gordon*
HUMPHRIES, Carl J.
HUMPHRIES, Cecil E.
HUMPHRIES, George
HYNES, A.R.
INCE, Albert
INNIS, A.N.
IRONMONGER, George
IRONMONGER, John
JAMES, Thomas P.
JEANNE, Claude
JEFFREY, Roy
JOBSON, Robert
JOHNSON, Roy
JOHNSON, Walter
JOHNSTON, Alfred T.*
JONES, Carl A.
JOURDIN, James
JOYNT, T.G.
JUDGE, F.W.S.
JUDGE, J .W.
KEARNEY, G.H.
KEARNEY, James
KEIRLE, J.
KELLY, D.
KELLY, Harry
KELLY, J .B.
KENNEDY, Patrick*
KENNERY, "Dinny"
KERR, Joseph
KERR, William
KIDD, Gordon
KING, James C.
KIRT, W.D.
KNIGHT, Alexander H.
KNIGHT, Archibald
KNIGHT, Gordon
KNIGHT, Joseph M.
KNIGHT, R. Hauley
KOBUS, James
KRASINSKI, Frank P.
KUBISHESKI, Thomas
KURKRAVITCH, J .W.
KURKRAVTICH, Isaac
LACKIE, Robert
LAFONT, J .L.
LAFORGE, C.
LAPLANTE, Ambrose*
LAPLANTE, Joseph A.
LAPOINTE, Delphise*
LAPOINTE, Fredrick
LAPOINTE, Lawrence
LAPORTE, George
LARKINS, James*
LARRET, George
LAVALLEE, Celsta J .*
LAWTON, A.G.
LEACEY, James B.*
LEMENCHICK, William
LEPINE, Alexander
LEPINE, Cyrel
LEPINE, Frank
LEPINE, L.
LEPINE, Leo
LETERSKI, John*
LEVESQUE, J .L.
LEVITSKY, A.
LINDLE, W.
LINDSAY, Arthur
LINDSAY, Guy
LINDSAY, J. Ernest
LINDSAY, Nathaniel
LIVINGSTONE, Gordon
LIVINGSTONE, J .G
LOGAN, Leslie
LOGAN, W.E.
LOWE, Oliver
LYNCH, John F.
LONDEAU, Adrian
LUDGATE, J .D.
LYNCH, James Lee
LYNCH, Thomas F.
LYTTLE, Milton
MACDONALD, D. Keith
MacGREGOR, Duncan C
MACKAY, Camerson*
MACKAY, David
MACKAY, J .A.
MACKEACHAN, Hugh
MacLAREN, Duncan K.
MacPHERSON, J .B.
MADIGAN, James
MADRUSKI, John
MAHON, Dudley
MAIN, Gordon H.*
MAIN, Haldane
MAIN, H.H.
MALLARD, J .G.
MANN, Thomas C.
MARION, H.E.
MARRS, Daniel*
MARRS, F.C.
MARRS, W.H.
MARSH, F.
MARSTERS, W.J.
MARTIN, L.F.
MARTIN, Lawrence T.
MASCON, Jack
MASK, Alexander
MASK, J .J.
MASK, John
MASK, Peter
MASON, G.L.
MATHIESON, Edward J.
MATHIESON, Gordon G
MAYHEW, Harold
MAYHEW, Roderick
MAYHEW, W.B.
McALLISTER, Alexander B. *
McANDREW, William
McARTHUR, Clinton R.
McARTHUR, G.C.*
McBRIDE, Emerson T.
McCABE, W.E.
McCAIN, William
McCALLUM, David
McCALLUM, James Z.
McCALLUM, J. L.
McCALLUM, John A.
McCARTHY, J. J.
McCONNELL, Robert
McCORMACK, A.C.
McCORMICK, James
McCOURT, John J .
McCOURT, John L.
McCREA, James
McCREA, John
McDERMID, J .C.
McDEVITT, Anna
McDEVITT, Robert
McDOWELL, Herbert
McDOWELL, J .C.
McDOWELL, R. Boyd
McGINN, J .
McGONICAL, C.
McGOWAN, Frank*
McGOWAN, Thomas* A
McGREGOR, Donald J.
McGREGOR, Ida M.
McGREGOR, J .D.
McGREGOR, James C.
McGREGOR, John D.
McGREGOR, John G.
McGREGOR, Robert
McGREGOR, Roy
McGREGOR, Stewart*
McINTYRE, Bernard S.*
McINTYRE, E.G.
McINTYRE, Ernest Roy
McINTYRE, Francis J.*
McINTYRE, Guy Barr*
McINTYRE, Harry*
McINTYRE, John W.
McINTYRE, Kenneth
McINTYRE, Rex
McINTYRE, Robert J.
McINTYRE, Thomas M.
McINTYRE, Wilson
McKAY, J. E.
McKEDDIE, John
McKIE, J .E.
McKILLOP, Charles
McKINNON, Ian L.*
McKINNON, Kenneth L.
McLAREN, A.C.
McLAREN, Alexander
McLAREN, D.C.
McLAREN, Daniel
McLAREN, Daniel
McLAREN, David
McLAREN, George A. *
McLAREN, George A. *
McLAREN, Harold
McLAREN, Harold Grey
McLAREN, J. C.
McLAREN, James
McLAREN, John
McLAREN, John R.
McLAREN, W.J.
McLAUGHLIN, W.J.
McLEAN, Mack
McLEOD, Donald M.*
McLEOD, Howard
McMAHON, ? (NS)
McMASTER, James C.*
McMILLAN, Hugh
McNAUGHTON, A.D.
McNEE, J .D.
McNEIL, Joseph
McNEVIN, Donald
McNICOL, James
McPHAIL, Allan
McPHAIL, Norman
McQUADE, H.H.
McTAVISH, Stewart
MEERS, Edward
MENARD, Earl
MENDIZABAL, Rudolph
MICK, M.H.
MILLAR, H.R.
MILLAR, Harold
MILLAR, Hector
MILLAR, W.H.
MILLAR, Walter C.
MILLER, James B.
MILLER, John E.
MILLIS, W.W.
MITCHELL, F.
MOLESKI, Felix
MONTGOMERY Milton
MOORE, David
MOORE, R.D.
MOORHOUSE, Fredrick
MOOTIL, George E.
MORGLAN, John
MORIARITY, Daniel
MORIARITY, James
MORIARITY, Patrick*
MORRISON, James Pride
MORROW, David
MORROW, Douglas*
MUIRHEAD, Mackie*
MUNRO, Douglas
MUNRO, Ernest
NARLOCK, Michael*
NARLOCK, Thomas
NEIL, Allan R.
NEIL, H.G
NEIL, William
NESBITT, Lindsay
NEVILLE, James H.
NEVILLE, Mack
NEWCOMBE, Thomas J.
NICHOLAS, JO
NICOL, Ralph O.
NORTON, J.G.
O'DONOGHUE, Frank
O'GORMAN, John R.
O'GORMAN, Michael
O'GORMAN, Vincent
O'GORMAN, William P.
O'HARE, Thomas L.
O'NEIL, John Lee
O'REILLY, Joseph
OWENS, S.J.
PARKER, Donald
PARKER, R.J.
PARRY, B. Evan
PAYNE, Sarah (NS)
PAYNE, Wilmer R.
PENDER, Leslie
PENNOCK, Myles
PERRAULT, Patrick
PERSHICK, J .T.
PETTIGREW, James
PETZOLD, Eathel
PINHEY, Charles
PLAUNT, Arthur
POLESKSL N.
PORTES, Charles L.*
POTTINGER, Sydney
PRINCE, Joseph R.
PROCTOR, William
PROUDFOOT, John A.*
PULTZ, Leo
PURCELL, J .
PURVES, Lorne E.
QUILTY, ?
QUILTY, Joseph A. *
RACIOT, Ambrose
RALPH, Andrew B.
RANEK, ? (Rev.)
RAPKUSKI, John
READY, Lorne
REGAN, John
REID, Charles*
REIRIE, J.
REITZ, James
REYNOLDS, Earle R.
REYNOLDS, Harold D.
REYNOLDS, Norman G
REYNOLDS, W.G.
RICHARDSON, Garfield N
RICHARDSON, J .H.
RICKMAN, F.
RICKMAN, J .G.
RIDDLE, Arthur
RING, Alexander
RISK, Richard H.*
ROBERTS, Charles J.
ROBERTS, G.L.
ROBERTS, Jack R.
ROBERTSON, J .D.
ROBERTSON, James A.*
ROBERTSON, W.G.
ROBILLARD, Jack
ROBISON, W.D.S.
ROBSON, S.J.
ROFFEY, Thomas
ROGERS, Peter
ROSS, F.W.
ROSS, Gordon
ROSS, J. Howard
ROUSSELLE, Harry
ROYD, ?
RUDGE, Stuart H.*
RUSSELL, William A.
RUSTOL, W.
RUSTON, Walter
RYAN, B.G.
RYAN, James P.
RYAN, John Arthur*
ST. DENNIS, Joseph*
ST. JEAN, Alphonse
ST. MICHAEL, Ronald
SAUNDERS, W.E.
SAUNDERS, William T.
SCHAB, Gerald
SCHARFE, Linsday
SCHARFF, S.R.
SCHULFER, John
SCHULFER, Thomas M.
SCOBIE, Caldwell
SCOTT, Lorne C.
SCOTT, William B.*
SCULLY, Daniel*
SEELEY, Alexander S.
SHAW, Peter*
SHEARER, Douglas*
SHEEHAN, James
SHIELDS, Alexander*
SHIELDS, Cornelius
SHORE, Robert W.
SIBARK Clarence J .*
SIBARY, W.C.
SIDNEY, Thomas H.
SIDOCK, J .F.
SIDOCK, Lawrence
SIMPSON, Alfred C.
SIMPSON, C.M.
SIMPSON, George H.
SLATER, Bernard G.
SMITH, Alfred
SMITH, Allan Lloyd*
SMITH, F.A.
SMITH, Gates A.
SMITH, Harold
SMITH, Thomas A.
SMITH, Walter W.*
SMITH, William
SOMERVILLE, R.J.
SOMOK, William
STAFFORD, Arthur
STALKER, John
STEPHEN, Albert
STEWART, Henry R.
STEWART, Howard
STEWART, Isobel (NS)
STEWART, J. Arthur
STEWART, Marjorie
STEWART, Martha (NS)
STEWART, Neil G.
STEWART, W.B.
STEWART, William J .*
STEVENS, T.J.
STEVENS, Thomas G.
STEVENSON, Harry
STILLWELL, Arthur
STORING, Wiuiam
STUBINSKI, F.
SUTHERLAND, F.
SUTHERLAND, Harry
SUTTON, Harry
TAYLOR, GS.
TEMPLE, H.J.
TENNIAN, Thomas
THACKER, E.C.
THACKER, Harry
THACKER, Robert J.
THOMAS, G.E.
THOMPSON, Albert
THROOP, Albert "Bert"
TIERNEK Patrick
TOMLINSON, Arthur*
TOMLINSON, Herbert
TOUGH, G.
TRACEY, Bernard
TROOP, A.B.C.
TROUP, G
TROY, John*
TUFFY, Herbert J.
TWAIT, John
VALIQUETTE, James F. *
VALIQUETTE, W.A.
VAIR, Steven (Hockey Fame)
VAUGHN, William D.
VICE, Alexander
VILLEMARE, Bernard
VISINSKI, A.
WAIMAN, A.E.
WALKER, George S.
WALKER, Harry J.
WALKER, Harry S.
WALKER, Samuel
WALKER, Thomas S.
WALLACE, ? (Dr)
WALSH, Morris
WALSH, Samuel
WALSH, William Lee*
WARD, Brenmer F.
WEBBER, Roy R.
WHEELER, Alexander
WHITE, ? (Rev.)
WHITE, Albert
WHITTON, John B.
WIGHT, Samuel*
WIGHT, William*
WILKINSON, Oscar
WILLIAMS, Charles
WILLIAMS, Thomas
WILSON, Lyford
WILSON, Samuel G.
WILSON, Wildred G.*
WISHART, James W.
WISHART, Wallace
WRIGHT, A.S.
WRIGHT, H.R.
WRIGHT, Harvey J.
WRIGHT, Leonard
WRIGHT, William M.
YOUNG, Alexander
YOUNG, J.H.
YOUNG, William J .
ZYVITSKI, Paul
.
.
.
WORLD WAR II 1939-1945
ACRES, Gilbert
ADAM, Peter
ADAMCHICK, Ambrose
ADAMCHICK, Lawrence B.
ADAMCHICK, Peter J.
AFELSKIE, Frank
AFFLECK, John Stewart
AGNEL, Hubert James
AGNEL, Paul M.
AIKENHEAD, Donald M.
AIKENHEAD, William D.
AIRTH, John Malcolm
ALGUIRE, Denzil
ALLAN, Edward
ALLAN, William James
ANDERSON, Arthur W.
ANDERSON, Gordon "Red"
ANDERSON, J.S.
ANDERSON, John A.
ANDERSON, Peter
ANDERSON, Robert M.
ANDERSON, William
ANELL, Gilbert
ANGUS, Alexander R.
ANGUS, Bertwin
ANGUS, Duncan, "Mac"
ANGUS, J. Kenneth
ANGUS, Malcolm
ANTONI, Amold
ARCHAMBAULT, Archie
ARCHAMBAULT, William
ARMSTRONG, Henry P.
ARMSTRONG, William A.
ARMSTRONG, William J .
ASHFIELD, James
ASHFIELD, Wesley
ASSELIN, Gerald
AUBREK Benjamin
AUBREY, D.P.
AUBREY, Lawrence J.
AUSTIN, C.C.
BACHERT, Gerhard
BAHN, Weldon J.
BAILEY, Lincoln A.
BAKER, Elizabeth
BAKER, Harry
BAKER, Robert G
BARKER, Ferguson
BARKER, J
BARKER, William C.
BARNET, Alexander
BARR, Earl H.
BARR, Harold*
BARR, Isabel A.
BARR, Robert Allan*
BARR, William John
BARRY, Patrick James
BARRY William G.
BARSOSKI, G.
BASKETT, Donald G.
BATTY, J .L.
BEACH, Edwin A.
BEACH, Elmer
BEACH, Leonard M.
BEACH, Lloyd E.
BEACH, R.
BEALL, Gordon
BEANISH, ?
BEATTIE, Robert W.
BEATTY, Dominic S.
BEATTY, Francis W.
BEAUDIN, Oliver E.
BEEGG, L.D. (Rev.)
BEHM, H.W.
BELANGER, Treile J.
BELISLE, Francis A.
BELL, Edward James
BERLANGHET, Irene
BERRY, Clinton B.*
BEST, ?
BEST, Donald
BEST, Harold
BEST, Leonard
BIESENTHAL, Edgar
BLACK, ?
BLACK, William H.
BLACK, William P.
BLAIR, Earl
BLIMKIE, Leonard J .
BLIMKIE, Patrick*
BLOOM, George
BOAL, Gordon
BOICEY, Joseph E.
BOLAM, R.C.
BOLGER, Clarence M.
BOLGER, John Harold
BOLGER, Michael Joseph
BOLGER, Rita Ann (Totten)
BOND, Cecil Nelson
BOUDREAU, Francis W.
BOWERS, M.H.J.
BOWERS, Manuel
BOWES, Alexander G.
BOWES, Asa
BOWES, Joseph H.
BOWMAN, John Sidney
BOX, Hugh
BOX, Jack*
BOX, VA.
BOYCEY, William
BOYD, Victor Leslie
BRADLEY, J .
BREEN, Bernadene
BRESHAHAN, Lawrence H
BRESSE, Thomas
BRISCOE, ?
BRISCOE, A.M.
BRISCOE, Harold A.
BRISCOE, J .E.
BRISCOE, J .K.
BRISCOE, Kenneth Peter
BRISCOE, Lloyd
BROMLEY, Walter
BROUGHAM, Patrick
BROWN, James Angus*
BROWN, John
BROWN, Robert
BROWN, T. Ernest
BROWN, Walter Louis*
BROWNLEE, Irvine G.J.
BROYDEN, Charles
BRUCE, Henry
BRUCE, Robert
BRYAN, Stewait H.
BRYDGES, John R.
BRYDGES, Lawrence J.
BUFFETT, William S.
BURGESS, Alexander
BURGESS, William E.
BURKE, Lawrence E.
BURKE, Morley E.
BURNSIDE, John Emo
BURTON, Donald Smith
BURTON, John R.
BURTON, Morris
BURTON, Walter Rose
BURTON, William F.
BURWELL, Adrian*
BURWELL, George
BURWELL, Hyle A.
BURVVELL, James C.
BUTLER, Gordon Henry
BUTLER, James Alfred
BYRON, Earl
CAHILL, Delbert
CALLAGHAN, John Jr.
CALLAGHAN, Michael
CAMPBELL, Beatty*
CAMPBELL, Donald Blair
CAMPBELL, Duncan B.
CAMPBELL, Elden F.
CAMPBELL, George H.
CAMPBELL, James R.
CAMPBELL, James S.
CAMPBELL, Peter
CAMPBELL, Robert
CAMPBELL, Wesley S.
CAMPBELL, William
CARDIFF, Milton
CARMICHAEL, A.
CARMICHAEL, James D.
CARMICHAEL, Stuart
CARR, John
CARRUTH, George
CARSWELL, ?
CARSWELL, William
CARTER, George P.
CARTER, Palmer E.
CARTER, R.E.A.
CARTER, Russell Wicken
CARTHY, John L.
CASTONQUAY, Emery*
CHAMBERLAIN, Sidney F.
CHAPIESKI, Joseph
CHAPUT, Peter
CHAPUT, Peter "Al"
CHARBONNEAU, Milton*
CHARBONNEAU, Wilmer
CHATSON, Oliver
CHEESEMAN, Thomas
CHILDERHOSE, Albert
CHURCH, D. Allan
CHURCH, Frank A.
CHURCH, John A.
CHURCH, Robert E.
CLARK, Morris R.
CLARKE, Ellard V.
CLARKE, George
CLARKE, Hilda M.
CLARKE, W.J.
CLEARY, Albert
CLEARY, Patrick
CLEARY, Thomas J.
CLEMEN, Raymond
CLEMEN, T. Vincent
CLEREAU, Leo F.
CLEROUX, Howard L.
CLEROUX, Welland J.
COCHRINE, John A.
CODE, Cecil R.
CODE, Hairy J.
CODE, Ralph C.
COFFIN, Donald Roy
COLE, Edward Allan
COLE, Waldron
COLLINS, Harold
COLLINS, L.G.
COMBA, Carl
CONNELLY, Dennis
CONNOLLY, Lorne
CONROY, H. Francis
CONROY, Mackie
CONTANT, Patrick L.
CONWAY T.P.
COOK, A.W.
COOK, James T.
COOKE, George B.
CORNETT, W.
COTE, George F.
COTE, W.
COTIE, D.J _
COTIE, Harold
COTTER, ?
COTTER, Bernard
COTTER, William
COSTELLO, Kay (NS)
COSTELLO, P.J.
COSTELLO, Robert E.
COUGHLAN, D.
COUGHLAN, Dorval H.
COULAS, Peter H.
COULES, Gerald F.
COULIS, John J.
CRAIG Milton
CRAIGIE, J .D.
CRAM, Edward
CRAM, Harvey
CRAM, Mervyn*
CRAWFORD, Carl
CRAWFORD, L.L.
CROGIE, Douglas E.
CROGIE, Glen W.*
CROGIE, Gordon
CROGIE, Graydon A.
CROGIE, John R.
CROGIE, Lawrence S.
CROSBIE, Kenneth
CROWE, '?
CROZIER, Baird
CROZIER, Gordon C.
CROZIER, Harry C.
CULLIGAN, Isaiah
CULLINS, Reginald
CURRY, Charles Thomas
CURRY James
CURRY, Joseph Alfred
CURRY, William
CYBULSKI, Edward
CYBULSKI, Martin
DANYLUCK, John P.
DANYLUCK, Nicholas*
DARQUE, William E.
DAVIS, F.M.
DAVIS, J .G.
DAVIS, W.B.
DEAN, John "Hank"
DEAN, Robert
DEANE, Harry T.
DELOUGHREY, F.R. (Rev)
DEMARCE, Cameron
DEMARCE, B.A.
DEMARSH, Albert
DENIHAN, Harold
DENIQUE, Eli
DENNISON, John A.B.
DERRYQ William
DESNOYERS, Rene*
DEVINE, Andrew
DEVINE, J . Leo
DEWAR, D.J.
DEYELL, James
DICK, Joseph Edward
DICK, Kenneth Roy
DICK, Melville
DILLABOUGH, Alvin S.
DILLABOUGH, Isabelle
DILLABOUGH, Harold J.
DILLABOUGH, Russell O.
DILLABOUGH, Samuel
DILLABOUGH, William
DILLON, J .H.L.
DOLAN, John M.
DOLAN, Leonard
DOLAN, Merville John
DOLAN, R.B.
DOLAN, Robert E.
DOLAN, W.A.
DOLAN, William
DOMINICO, Jerome*
DONEGAN, Ike
DONEGAN, John E.
DONOHUE, Mark G.
DONOHUE, Thomas A.
DOOLING, Timothy
DORZEK, Anthony A.
DORZEK, Joseph
DOUGHERTY, John M.
DOWD, Maurice Patrick
DRYNAN, Robert
DRYNAN, Wilbert J _
DUCHARME, Earl B.
DUCHARME, Earle
DUCHARME, Wallace*
DUFF, Lewis
DUFF, Morris A.
DUFF, Sybil
DUGGAN, John M.
DUGGAN, William
DUNCAN, Ellwood
DUNCAN, Frank R.
DUNCAN, W.A.C.
DUNLOP, Carmel
DUNN, James
DUPUIS, Arthur
DUPUIS, Edward
DUPUIS, Edwin
DURACK, Willard
DUTRIZAC, Treff
DUTRIZAC, William H.*
EADY, ?
EADY, Austin
EADY, Carl B.
EADY, Charles
EADY, Clarence
EADY, Duncan
EADY, George G.
EADY, Harold A.
EADY, Harold E.*
EADY, Harvey A.
EADY, Henry Calvin
EADY, Irwin James
EADY, Kenneth
EADY, Noble
EADY, Norma G.
EADY, Thomas H.
EADY, W.H.W.
EAST, Charles
EDWARDS, Reginald S.
EGAN, Daniel
EGAN, James
EGAN, John
ELLIOTT, Cedric
ELLIOTT, M.B.
ELLIOTT, William R.
ELLIS, William H.
EMON, J.L.
ENGLISH, Stanley
ENRIGHT, Bernard
ENRIGHT, James D.
ENRIGHT, John A.
ENRIGHT, John F.
ENRIGHT, John T.*
ENRIGHT, Michael L.*
ENRIGHT, P.J.
ENRIGHT, Richard
ENRIGHT, Susan
ETMANSKI, M.
EVANS, Thomas H.
EVE, Clifford
EVE, Kenneth
EVE, Robert Allan
FABIN, Wilfred A.
FAIRFIELD, Joseph R.
FERGUSON, Campbell
FERGUSON, Clarence
FERGUSON, Donald B.
FERGUSON, Duncan
FERGUSON, J.
FERGUSON, Kenneth
FERGUSON, Peter D.
FERGUSON, Robert D.
FERGUSON, Roy
FERGUSON, Stewart
FERGUSON, W.R.
FERRIER, E.
FERRIER, John K.
FILLETER, Joseph L.
FILLETER, Stephen J.
FINSETH, William
FISHENDEN, George
FISHER, Douglas
FITZPATRICK, J.
FITZPATRICK, R.
FITZPATRICK, Simon
FLETCHER, J .G
FLEURIE, E.
FLEURKY, P.
FLOWER, S.H.
FLOWER, William
FOLEY, Felix
FOLEY, H.J.
FOLEY, Kenneth
FORAN, Wilfred P.
FORGIE, James A.
FORGIE, James G.
FORGIE, John L.
FOREST, Samuel
FORREST, J .D.
FORREST, Roy C.
FOSTER, H.C.F.
FOSTER, Jack
FOSTER, W.D. "Buzz"
FOX Carl F.
FOY, Kenneth
FOX M.R.
FOY, Stewart
FRANCIS, Gamet
FRANCIS, Hayden
FRANCIS, Nauden
FRASER, Donald L.
FRASER, Leslie J .
FRASER, Thomas W.
FREAMO, Delbert
FREAMO, Ellwood
FREAMO, Melvin
FREEMARK, Lawrence A
FREEMARK, Thomas F.
FRIVALET, Milton D.
FRIVALT, William
FROATS, Allan
FROATS, Donald M.
FROATS, George G.
FROATS, Grace
FROATS, Kenneth L.
FROOD, T. Wallace
GAGNE, Armidas
GAGNE, Edward
GAGNON, W.J.
GAGNON, Wilfred R.*
GALBRAITH, Evelyn (NS)
GALBRAITH, Margaret
GALBRAITH, Willard
GALE, George Keith
GALE, John D.
GALLAGHER, Leonard
GARSKY, C.
GARSKY, GJ.
GARVIE, Walter
GAUTHIER, Alfred L.
GAUTHIER, Fred
GAUTHIER, l.A.
GAUTHIER, Jack
GAUTHIER, John L.*
GAUTHIER, Lawrence
GAUTHIER, Lome
GAVIN SKI, James J .
GAVINSKI, Margaret E.
GAVINSKI, Thomas A.
GEBEAU, E.W.
GEDDES, James
GELINEAU, George F.
GEMMILL, Douglas
GEMMILL, Jack
GERVAIS, J .R.
GIBBONS, Barr
GIBBONS, D.S.
GIBBONS, Lindsay E.
GIBSON, Clifford
GIBSON, Stanley W.
GILCHRIST, Arden
GILCHRIST, Elmo
GILCHRIST, Helen
GILCHRIST, N.J.
GILCHRIST, Wellington
GILES, E.C.
GILES, Robert A.
GILL, Arthur Henry
GILLAN, KD.
GILMORE, David
GILMORE, G.H.
GILMORE, Glen Melvin
GILMORE, John
GILMOUR, George
GILMOUR, M.G.
GLAESER, K.
GLEADOW, Armidas
GLISINSKI, Max
GODIN, Ernest Wilfred
GOODFELLOW, Lloyd G.*
GORMAN, Bernard
GORMAN, Harold
GORMAN, George M.
GORMAN, Robert
GOSSON, Patrick
GRACE, John Peter*
GRAHAM, Edwin
GRAHAM, Elmer
GRAVES, Lorraine
GRAVES, Otnie
GREEN, Jeremiah L.
GREEN, John Andrew
GREEN, Joseph C.
GRENIER, Clarence Louis
GRENIER, Clifford L.
GRENIER, Norma G (Eady)
GRIESE, Alfred Arthur
GRIESE, Elmer F.
GRIESE, Herbert R.
GRIESE, Patricia (Rodgers)
GRIESE, Verne (Pat Shields)
GRIESE, Wilfred Eric
GROGAN, John Patrick
GROGAN, Michael J.
GROGAN, Thomas E.
GUEST, A.A.
GUEST, C.G.
GUEST, E.G.
GUEST, Gerald
GUEST, Janet
GUEST, Lawrence G.
GUEST, Wilbert Allan*
GUYEA, Herbert John
GUYEA, Jerome A.
HABECKER, Rudolph E.
HAGARTY, Greg T.
HAGARTY, Murray
HALE, Dennis Gilbert
HALE, Raymond W.*
HALE, Ronald W.
HALEY, Wilfred
HALL, Edward
HALL, George
HAMILTON, Forest
HAMILTON, Homer T.
HAMMOND, Patrick L.
HANDFORD, Herb (Dr.)
HANLAN, Kenneth J.
HANNIMAN, E.J.
HANNIMAN, Harry John
HANNIMAN, J .F.
HANNIMAN, R.
HANNIMAN, W.F.
HARDY, Gerald A.
HARKNESS, Dickson
HARPER, Gordon T.
HART, Ernest
HART, L.J.
HASS, Ambrose
HASS, Lawrence A.
HAWTHORNE, Eric
HAWTHORNE, S. Burton
HAYMAN, William John
HEADRICK, R.C.M.
HEATH, Thomas
HEATH, William
HEBERT, Lawrence J.
HEBERT, Leslie
HEBERT, Raymond J .
HELFERTY, Francis
HELFERTY, Isaiah
HELFERTY, Patrick
HENDERSON, Alvin
HENDERSON, John W.
HENDERSON, Wesley
HERBERT, Oliver
HERBERT, Victor
HERRICK, Bernard "Huck
HEYWOOD, Arthur
HICKEY, C. Bernard
HICKEY, J .L.
HIGGINS, Francis J.
HILLIARD, Howard
HIND, Eric
HISKO, Ernest George
HISKO, Jerome
HOARE, Alfred E.
HOARE, Arnold M.
HOARE, Cassandra
HOARE, Clifford L.
HOBBS, Harry G
HOBBS, Leonard
HOBSON, ?
HODGE, David
HOFFMAN, George
HOFFMAN, Harold R.
HOLLEY, Bernard
HOLLEY, Michael John
HOLLINGSWORTH, Helen
HORRICKS, John Robert
HOSKINS, Cecil T.
HOSKINS, Walter Cecil
HOUGHTON, P.
HOWARD, Donald M.
HUCKABONE, W.E.
HUDSON, C.R.
HUDSON, E.
HUMPHRIES, Fraser J.
HUMPHRIES, W.G.
HUNT, Donald
HUNT, Donald Joseph
HUNTER, Albert
HUNTER, Claude
HUNTER, David Ralph*
HUNTER, Fred
HUNTER, Harvey
HUNTER, W.l.
HUTSON, ?
HUTSON, Donald
INCE, George
INCE, Robert
INGLIS, John A.
INWOOD, Norman M.
IRETON, ?
IRETON, Walter
JACK, Gordon
JACK, Ida C.
JACK, Linus
JACK, M.J.
JAMIESON, Allan
JAMIESON, Harold M.
J AMIESON, Jean
JAMIESON, R.S.
JAMIESON, Robert L.
JAMIESON, Willard
JEFFREY, Gerald
JEFFREK, Gladys
JENNINGS, John C.
JOBSON, Steward W.
JOHNSON, Beatty
JOHNSON, Harold
JOHNSTON, Donald B.
JOHNSTON, Glen
JOHNSTON, Gordon K
JOHNSTON, Keith
JOHNSTON, Margaret
JOHNSTON, Stanley J.
JOHNSTON, W.A.E.
JOHNSTON, William S
JOLICOEUR, Gerald
JONES, Frank Gordon
JONES, James
JONES, Thomas*
JORDAN, Herbert C.*
JORDAN, Howard F.
JORDAN, K.
JORDAN, Kenneth
JOYNT, David G.
KALLIES, Clifford L.
KALLIES, Clifford W.
KANE, Greg
KANE, M.J.
KASABOSKI, J.N.
KASABOSKI, L.F.
KEDROSKY, Adam J.
KEDROSKY, Harry
KEDROSKY, Henry J .
KEDROSKY, John F.
KELLER, A.
KEHOE, Edward J.
KEIZER, A.
KEIZER, Anthony P.
KELLY, Bernard
KELLY; Bud
KELLY James Martin
KELLY, Joseph Kevin
KELLY, R.A.
KENNEDY, Jack
KENNELLY, M.J.
KENNERY, Dennis
KENOPIC, Dorothy I.
KENOPIC, John F.
KENOPIC, Lawrence
KENOPIC, Leonard
KENOPIC, Thomas J .
KENT, A.
KHUNKE, Kenneth
KILBEY, Clarence M.
KILBEY, James S.
KILBEY, Samuel J.
KILGOUR, G.N.
KILGOUR, Lorne
KILLEEN, Lloyd
KILLORAN, Michael
KILLORAN, Robert J .
KIMBERLEY, Doris
KIMBERLEY, Gary
KIPPEN, Ivan
KIPPEN, Ray Duncan*
KIRK, Douglas
KIRK, W.D.
KIRKHAM, John W.
KLUKE, Robert
KNIGHT, James
KNIGHT, T.L_
KOBUS, Austin
KOBUS, James T.
KOVALSKY, Max E.
KRASINSKI, Frank
KUBISHESKI, Felix
KUBISHESKI, Prank
KUSLUSKI, Ray S.
LABONTE, Clifford H.
LAFORCE, C.
LAFORCE, Ernest
LAFORCE, Thomas J .
LALONDE, C.
LALONDE, George L.
LALONDE, Oliver E.
LAMBERT, Isabelle
LANCE, Arthur
LANCE, Edward Joseph
LAPLANTE, Michael A.
LAPORTE, Ernest Joseph
LAPORTE, Frederick
LAPORTE, Oswald
LAPORTE, Rudy
LAPORTE, Telesphore
LARKINS, James M.*
LA RONDE, Gordon
LATENDRESSE, Gerald
LATENDRESSE, George
LATENDRESSE, Joseph
LATENDRESSE, Louis J,
LATENDRESSE, Paul E.
LAURIER, Joseph
LAVALLEE, Celeste
LAVALLEE, M.C.M.
LAVALLEE, Michael
LAVALLEE, Raymond E.
LAVENTURE, H.H.A.
LAVENTURE, R.C.
LAVESQUE, A.J.
LAWRENCE, Samuel
LAWTON, Chester J .
LEA, Harry
LEBLANC, Allan
LEBLANC, C.
LEBLANC, Joseph Ray
LECLAIRE, Alfred
LECLAIRE, Edgar
LECLAIRE, Emmett J.
LECLAIRE, Kenneth
LECLAIRE, Lloyd
LECLAIRE, Rene F.
LECLAIRE, T. Edward
LEGREE, Joseph C.
LEGREE, Rose E.
LEITCH, George
LEMENCHICK, Alexander
LEMENCHICK, Charles A.
LEMENCHICK, John J.
LEMENCHICK, Leonard
LEMIEU, Pit ?
LEPACK, Ignatius A.
LEPINE, Charles
LEPINE, Dennis J.
LEPINE, Kenneth C.
LEPINE, Marcel
LEPINE, O.
LEPINE, Raoul
LESK, Robert
LESKIE, Agnes
LESKIE, R.A.
LESLIE, Lawrence
LESTER, Hubert
LETANG, Allan
LETANG, J .
LETANG, Roy
LETANG, Thomas
LETANG, Trevor
LETANG, Wilfred
LEVESQUE, Arthur
LEVESQUE, Clarence
LEVESQUE, Edward
LEVESQUE, Jerome L.
LEVESQUE, Joseph
LEWIS, Cecil Kemaeth
LINDSAY, Earl
LINDSAY, J .A.
LINDSAY Mona
LIVINGSTONE, Edward
LIVINGSTONE, Lloyd
LIVINGSTONE, Roy A.
LLEWELYN, Hany R.
LOCKWOOD, Earl G.
LOCKWOOD, Fred H.
LOCKWOOD, John
LOCKWOOD, Williamson
LOGAN, Ira
LOGAN, John Graydon
LOGAN, Roy H.
LOGAN, Thomas F.
LOGAN, William M.
LOKEN, George
LOKEN, Paul
LOKEN, Ray
LOKEN, William
LOW, W.D.
LUMCHICK, John
LUMCHICK, Thomas
LYNCH, Gerald
LYNN, J .P.
LYONS, David
MACDONALD, D.K.
MACDONALD, John E.
MACDONALD, Lawrence P.
MACDONALD, Malcolm
MacDOUGALL, Marshall C_
MacDOUGALL, Patrick
MacFARLANE, N.V.
MacGREGOR, C.J.
MacGREGOR, James G.
MacGREGOR, K.B.
MacGREGOR, Roy A.
MacINTYRE, A.
MACKAY, Robert John
MACKIN, A.
MACKIN, Albert Earl
MACKIN, Gerald E.
MACKIN, Harold
MacLAREN, Mona
MacLEOD, D.H.
MAGEE, James Gordon
MALLAIRE, Lair C.
MALLOY, Lawrence
MANION, Elmer Harold
MANION, Fonze E.
MANION, Gerald B.
MARION, G.P.
MARION, Harold E.
MARTIN, Reginald
MASK, Gordon
MASK, Peter
MASON, Wallace
MASS, Joseph
MASS, Peter
MATHEWS, Dorothy
MATHEWS, I.
MAYHEW, Harold R.
MAYHEW, John Lewis
MAYHEW, N.P.
McADAM, Lewis M.
McANDREW, William
McARTHUR, John K.
McARTHUR, Thomas A.
McARTHUR, Mel
McBURNEY, Douglas H.
McCAIN, William
McCANNA, Donald
McCANNA, John
McCANNA, Joyce Monica
McCANNA, Kenneth S.
McCANNA, Margaret
McCANNA, Roy
McCARTHY, M. Leonard
McCLELLAND, H.D.
McCLELLAND, Kenneth A
McCLURE, John H.
McCLURE, Patrick J.
McCORMACK, Colin (Dr.)
McCORMACK, W.
McCREA, James
McCUAIG, D.W.
McCUAIG, Morris L.
McDERMID, J .C.
McDERMOTT, John C.
McDEVITT, Anna
McDOUGALL, Basil
McFARLANE, D.C.
McFARLANE, David Lyle
McGAGHRAN, Andrew
McGAGHRAN, Isaiah
McGAGHRAN, Leslie
McGAGHRAN, M. Anita
McGARVEY, James
McGEE, Omer J .
McGREGOR, Allan James
McGREGOR, Archibald
McGREGOR, Cecil
McGREGOR, Helen M.
McGREGOR, Keith
McGREGOR, Leslie Gail
McGOWAN, Mervyn
McHARDY, James
McHUGH, Al A.
McHUGH, W.L.
McINNES, Keith A.
McINTYRE, Donald
McINTYRE, Ernest
McINTYRE, Lloyd
McKINNON, Donald
McKNIGHT, Joseph M.
McLAREN, A.U.
McLAREN, C.
McLAREN, Donald C.
McLAREN, Ian Donald
McLAREN, James C.
McLAREN, Mona
McLAREN, Peter
McLAREN, R.J.
McLAREN, Robert
McLAREN, Roy L.
McLAREN, Stanley
McLAREN, William J.
McLAUGHLIN, Lloyd
McLEAN, Clayton D.
McLEAN, W.J.
McLELLAN, Allwyn M.
McLELLAN, Kenneth
McLEOD, Fred C.*
McLEOD, Hugh A.
McLEOD, Lloyd
McLESKIE, J .A.
McMAHON, Arthur J .*
McMAHON, Francis R.
McMAHON, J .W.
McMAHON, James
McMAHON, James P.
McMAHON, John
McMANUS, Clifford D.
McMANUS, John James
McMANUS, Richard W.
McMANUS, Robert A.
McMASTER, James
McMILLAN, J .A.
McNAB, Robert
McNAB, Roy*
McNAB, Walter
McNEVIN, Clifford R.
McNEVIN, Ronald
McNEVIN, Russell
McNULTY, George
McNULTYQ Jack
McNULTYQ John E.
McPEAK, Daniel
McPHAIL, A.
McPHAIL, Allan
McPHAIL, Bruce A.
McPHAIL, D.E.
McPHAIL, Donald M. Jr.
McPHAIL, Ernest
McPHAIL, Walter
McVEIGH, F. "Kelly"
MEEK, W.L.
MENARD, Clifford H.
MENARD, Gordon
MEREDITH, Fred*
MILLAIRE, Laird
MILLAR, George E.*
MILLER, Allan
MILLER, James
MILLER, John E.
MILLER, Kenneth
MILLER, Ronald
MOFFAT, L.R.
MOONEX John D.
MOORE, Frank
MOORE, W.F.
MORAIN, Daniel
MORRIS, Andrew
MORRIS, Austin P.
MORRIS, Eric
MORRIS, J.
MORRISON, Frederick
MORAN, Daniel Joseph
MORAN, Thomas James
MOSCO, Michael T.
MOUSSEAU, D,
MULVIHILL, Daniel J.*
MULVIHILL, Thomas
MULLINS, H.S.
MUNHALL, Martin J.
MURRAY, Gertrude E.
NABERT, E.E.
NADOBNY, William J .
NAUDET, Clifford A.
NESBITT, James
NEVILLE, J . Alfred
NEVILLE, Joseph
NEVILLE, Melburne
NEVILLE, Sylvester
NICHOLLS, D.B.
NICHOLLS, William F.
NICOL, Earl L.
NIGHBOR, Gerald B.
O'BRlEN, Emmett
O'BRIEN, Jerome
O'BRlEN, Maurice
O'CONNOR, Thomas J.
O'CONNOR, William N.
O'DONOGHUE, Frank A.
O'GORMAN, John G.*
O'GORMAN, W. Peter
O'HARE, Howard A.*
O'KANE, James T.
O'LlNK, Stanley
O'LINK, William
O'NANSKIE, John F.
O'NEIL, Anselm
O'NEIL, Daniel
O'SHAUGHNESSY, John
OWEN, Bemard
OWENS, Harry
OWENS, Richard
PALMER, Ronald A.
PAPPIN, Earl
PARSONS, Harold M.
PATCHELL, R.W.A.
PATERSON, J.L.
PATTERSON, Charles
PATTERSON, David
PATTERSON, Leslie
PATTERSON, Mildred
PAYNE, Lyman
PEEVER, Donald Pitts
PEEVER, Francis H.
PEEVER, Mervin (Dr)
PENDER, David
PENDER, Les
PERCIVAL, Nelson
PERRIER, Conrad
PERRY; Hobson E.
PERRY Robert J.
PERSHICK, J .T.
PESHEAU, John G
PHILLIPS, James A.*
PICKERING, Henry N.
PIERCE, S.M.
PIGEON, Frank
PIGEON, Harold
PLAUNT, ?
PLAUNT, Michael
PORTEOUS, Wesley
POTTER, Eric
POUNTNEY, Qeldon D.H
PRENTICE, Vernon D.
PRESLEY Harold F.
PRICE, Ronald J.
PRINCE, George E.
PRINCE, James F.
PRINCE, Michael James
PRINCE, Thomas
PULCINE, Jack
PULCINE, Thomas*
PULLEY, Christopher
PULTZ, Kenneth Roy
PURDIE, David B.
PURDIE, Ruth
PUTINSKI, Ernest J .
PUTINSKI, Harold J .*
QUILTY, James
QUILTY, Michael J.
QUILTY, Thomas J.
QUINN, Gerald
RAIL, Fidelis
RALPH, Andrew Boyd
RAND, George Basil
RAND, Mary R.
RAPKOSKI, Michael
RAPKOSKI, Peter J.
REDTMAN, Walter
REEVES, C.
REID, C.N.
REID, Redrick Forrest
REITZ, Charles W.
REITZ, James
REKOWSKI, Peter
RENAUD, George
RICARD, Edmund Earl*
RICARD, Leo P.
RICARD, T.O.
RICHARDSON, Garfield N
RICHER, E.V.
RICKMAN, H.
RING, Frank
RING, Stewart D.
RIOPELLE, Gerald
RITCHIE, J .W.
RITZA, Lawrence Barry
ROACH, Arnold J .
ROACH, J. Hal
ROBERTSON, John D.
ROBINSON, Melville J.
ROESLER, Karl Victor
RODGERS, Clarence
RODGERS, Leonard M.
ROGERS, Harold
ROGERS, Patricia
ROGERS, William John
ROLLINS, James (ReV.)
RONEY, R.J. (Rev.)
ROSE, ?
ROSE, Raymond J .
ROUBLE, A.V
ROUBLE, Charles M.
ROUBLE, Ignatius V.
ROUBLE, John L.
ROUBLE, Joseph P.J.
ROUBLE, Thomas J.
ROUSSELLE, Bernard
ROUSSELLE, Clarence
ROUSSELLE, Jerome P.
ROUSSELLE, John
ROUSSELLE, M.
ROUSSELLE, Peter
ROUSSELLE, Ray
RUEL, J .R.
RUSHELEAU, John J .H.
RUSSELL, Allan
RUSSELL, Bemard
RUSSELL, Gamet
RUSSELL, George N.
RUSSELL, Lawrence W.
RUSTON, Walter
SADLER, Thomas Ray
ST. LOUIS, Clayton
ST. LOUIS, Gordon
ST. LOUIS, Joseph G.*
ST. MICHAEL, Emmanuel
SAUNDERS, Frank
SAUNDERS, John
SCHAB, Gerald
SCHARFE, Stanley
SCHARTZ, Lawrence*
SCHEUNEMAN, Rudy
SCHULTZ, Laurence*
SCOBIE, Garnet Ewart*
SCOBIE, McGregor
SCOBIE, Melville A.
SCOBIE, Merville Allan
SCOTT, C.R.
SCOTT, Earl
SCOTT, George
SCOTT, John
SCOTT, Kaye
SCOTT, Lawrence E.
SCOTT, Lloyd*
SCOTT, Mack
SCOTT, R.E.
SCOTT, Richard M.
SCOTT, Robert K.
SCOTT, Stewart
SCOTT, Walker S.
SEARSON, Ambrose
SEARSON, Ellard*
SEARSON, J .E.
SEARSON, Patrick
SENACK, Anthony A.
SENACK, Paul Francis
SERVICE, Frances
SHARBOT, Jerome
SHARBOT, Thomas A.
SHARPE, Gordon A.
SHAW, Mervyn
SHEAN, Joseph
SHEAHAN, John H.*
SHEEHAN, James J.
SHEFFIELD, George
SHIELDS, Cameron
SHIELDS, Homer
SHIELDS, J .W.
SHIELDS, James
SHIELDS, Joseph L.
SHIELDS, Lorne
SHIELDS, Patricia
SHIELDS, Patrick
SHIELDS, Samuel A.
SHOLEA, Stanley A.
SHORE, Osborrine, T.
SHORE, Robert Pike
SHORE, Robert W.
SHULTZ, Arthur
SIDNEY, Edward
SIDNEY, Marcus
SIDNEY, Thomas H.
SIDOCK, Kenneth S.
SIDOCK, Stanley James
SIMMONS, David E.
SIMMONS, William
SIMPSON, Andrew L.
SIMPSON, Donald
SIMPSON, George W.
SIMPSON, W.W.
SKERKOWSKI, Bernard J.
SKERKOWSKI, George D.
SKYKES, Percy E.
SLATER, Kenneth Allan
SMITH, Aileen
SMITH, Carson
SMITH, Donald
SMITH, F.S.
SMITH, H. Dean
SMITH, L.D.
SMITH, Lloyd G
SMITH, Samuel E.
SMITH, Stanley
SNOW, Louise Althea
SNOW, R. Charles A.
SOMERVILLE, Catherine
SROKA, Victor Alexander
STEVENSON, Ernest
STEVENSON, Norman
STEVENSON, Walter A.
STEWART, C.L.
STEWART, Marjorie H.
STOPA, Frank
STAFFORD, J.T.J.
STAFFORD, Ray
STEELE, William Bruce
STEPHEN, Albert
STEWART, E.B.
STEWART, Hamilton R.*
STEWART, Hugh P.
STEWART, Jack
STEWART, James Allan
STEWART, James F.
STEWART, John G.
STEWART, Maurice
STEWART, Moodie*
STEWART, R.J.
STEWART, William A.
STONE, ?
STRINGER, Elmore
STRINGER, GB.
STROUD, B.W.
STUART, Bridgeford
STUBINSKI, Edmund M
STUBINSKI, Erick
STUBINSKI, Gerald
STUBINSKI, Leonard F.
STUBINSKI, Robert A.
SULLIVAN, Daniel
SULLIVAN, M.J.
SULLIVAN, M.L.
SULPHER, C.F.
SULPHER, Clarence
SULPHER, Ernest L.
SULPHER, Felix Philip
SUTCLIFFE, Joseph E.
SUTCLIFFE, Larry
SUTTON, Henry
SWINBURNE, Buick
TACKMAN, Allan J .
TACKMAN, Jack
TAGGART, Roy S.
TAUNTON, Jonathon W.
TAYLOR, William S.
TENNIAN, McCabe
TENNIAN, Thomas
TENTZ, Amold
TESSIER, Edward
THOMAS, Alcedor Noe
THOMAS, Melvin
THOMPSON, Albert
THOMPSON, Clinton
THOMPSON, Eric S.
THOMPSON, Garnet W.
THOMPSON, Iva E.
THOMPSON, Lloyd
THOMPSON, Robert
THOMPSON, Walter*
THROOP, A.B.C.
THUR, Robert Percy
TOBIN, Emmett
TOBIN, Francis
TONER, Hilda
TONER, K.R.
TONER, Rene
TONER, William
TOTTEN, Harvey E.
TOTTEN, Rita A.
TOTTEN, Stuart
TOTTEN, Wallace E.
TRACEY, Cornelius S.
TRAILL, Harry
TROKE, James
TROTTIER, Ernest A.
TUCKER, Clifford J.
TUCKER, H.
TUCKER, Maisie
TWIGGER, Ernest A.
UTRONKI, Jerome P.
VAILLANCOURT, Clifford
VANDECAN, Con
VICE, J. Clarence
VICKERS, Frank B.
VILLENEUVE, J .C.
VINCENT, James
VINCENT, Leonard
VIRGIN, Clifford B.
VIRGIN, Lawson
VISINSKI, Frances J.
VYVITSKI, Joseph
WADE, Alfred Daniel*
WADE, Evelyn
WAGHORN, Raymond W.
WAINMAN, Alexander S.
WAINMAN, Norman
WALBECK, Russell L.
WALKER, Kenneth E.
WALKER, Manford L.
WALLACE, Norman
WALSH, Henry A.
WARD, Robert Syd
WARK, George
WARK, John
WARK, Thomas
WARNER, Morris G.
WARREN, Clifford
WARREN, Earl W.
WARREN, Ian
WARREN, Lloyd
WARREN, Manford
WARREN, Martin
WARREN, Robert D.
WARREN, Sydney A.
WARREN, Ward W.*
WATSON,,Donald*
WATSON, Robe1tA.
WEDGE, Tanton J _
WEIR, Clarence
WELBECK, Russell
WHEELER, Charles W.
WHITE, Clarence
WHITE, Ernest A.
WHITE, George R.
WHITE, Kenneth D.
WHITE, Kenneth R.
WHITE, Leslie
WHITE, Leonard
WHITE, Lloyd
WHITE, Morris
WHITE, Samuel
WHITE, ?
WHITTON, John B.
WILKINS, C. Russell
WILLIAMS, Thomas
WILLIS, Keith
WILSON, ?
WILSON, Alexander
WILSON, Clifford
WILSON, George R.
WILSON, Hector W.*
WILSON, J .R.
WILSON, Lyford
WILSON, R.B.
WILSON, R.M.
WILSON, Raymond
WILSON, Robert H.*
WILSON, Roy
WILSON, W.R.
WILSON, William
WINDLE, Edward
WINDLE, Sylvester P.
WOERMKE, Leslie A.
WOODINGS, Charles T.
WRIGHT, Charles T.
WRIGHT, Clarence
WRIGHT, Ernest
WRIGHT, Evelyn
WRIGHT, H.E.
WRIGHT, Harold
WRIGHT, Keith
WRIGHT, Kenneth D.
WRIGHT, Leonard W.
WURM, Cecil
WURM, Gilbert
WURM, Verner
YAKABACK, Glen N.
YOUNG, Basil
YOUNG Donald
YUILL, ?
ZIMMERMAN, John E.
ZIMMERMAN, Robert E.
ZIMMERMAN, William
ZYVITSKI, Joseph
ZYVITSKI, Paul
ZYVITSKI, Thomas G.
.
KOREAN WAR 1950-1953
ANDERSON, Carl J.
ANDERSON, Donald E.
ARMSTRONG, William A.
BEAUDIN, Morris
BURKE, Thomas
BUTLER, Gordon Henry
CARR, N.E.
COULAS, Gerald F.
CRUISE, A.J.
DOUCETT, D.S.
JONES, Frank Gordon
KELLY, James Martin
KELLY, Kevin Joseph
LAFRANCE, Raoul D.
LALEKI, Alexander
LECLAIR, Alfred
LECLAIR, Emmett Joseph
LEWIS, Cecil Kenneth
LIVINGSTONE, Edward M. (NS) Nursing Sister
LLEWELY, Harry R.
LYNCH, Donald
MACDONALD, D. Keith
MARTIN, Reginald
MCCLURE, Patrick J .
PIERCE, Ivan W.
POPKIE, Howard
REDDICK, Gerald
STUBINSKI, Edmund "Ted" Michael
STUBINSKI, Robert
WARREN, Earl
WRIGHT, Kenneth D.