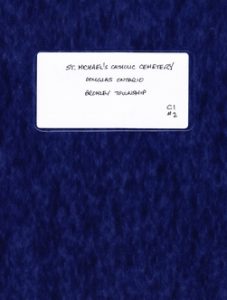 ST. MICHAEL'S CATHOLIC CEMETERY
VILLAGE OF DOUGLAS
RENFREW COUNTY
BROMLEY TOWNSHIP
RECORDED AND TRANSCRIBED
As of September 1992
By Lois Mae Eady Dick

St. Michael's Catholic cemetery is situated on the hill behind St. Michael's church on the edge of the village of Douglas in Bromley Township.
St. Michael's church was dedicated by Rt. Rev. J. Eugene Guigues on Feb. 14, 1864. This 49' x 34' stone church was erected by Father Michael Bryne to replace a wooden chapel built three miles west of the village of Douglas by Father McNulty in 1844. Father Byrne purchased the land for the church and the cemetery prior to 1861. He is buried within sound of the church bell that bares his name. The little stone church served the people of Douglas until the present church was consecrated on June 27, 1889. Some of the earliest burials in the cemetery were that of Mary Ouellette in 1861, John Holley in 1862, Rosie Agnew in 1863 and John McManus in 1864.
A map included in this book should help in finding any specific stone. Each stone has been assigned a number as no plot plan was available.
Contact information (2021): Robert Lorbetskie 613-281-4420
See also Find a Grave link https://www.findagrave.com/cemetery/2566149/saint-michael-roman-catholic-cemetery
INDEX
Agnew Ambrose J.
Agnew Elizabeth A. (O'Neil)
Agnew Elizabeth (Fillator)
Agnew Elizabeth (Gallagher)
Agnew James Martin
Agnew James
Agnew James H.
Agnew Jas.
Agnew John Joseph
Agnew John
Agnew M. Genevieve (Sheahan)
Agnew Mabel (O'Gorman)
Agnew Mary
Agnew Mary (McGaghan)
Agnew Nora (Sheedy)
Agnew Rosie
Baily Shirley M. (McHale)
Belanger Margaret A. (McMahon)
Belanger Treffle J.
Bennett Catherine (Gorman)
Bennett Wm. Mrs.
Bielaskie Antony H.
Bielaskie Rosalie (Rose Palubiskie)
Bolger Mary (Moore)
Brazier Ellen (Rowan)
Brazier Joseph
Breen Amby
Breen Bernard
Breen Bridget (Daley)
Breen Clara (Neville)
Breen Clarence Francis
Breen Dennis J.
Breen Dora Agnes
Breen Genevieve Mary
Breen Harold A.
Breen Harry
Breen Ida Ann
Breen John
Breen John Francis Rev.
Breen John F.
Breen Joseph L.
Breen Julia (Ryan)
Breen Lawrence Rev.
Breen Loretto Gertrude
Breen Luke Rev.
Breen Maisie M.
Breen Margaret (Lynch)
Breen Margaret (Bulger)
Breen Margaret B.(Mulvihill)
Breen Margaret (Murphy)
Breen Margaret (Stewart)
Breen Mary E.
Breen Mary Margaret
Breen Mary (Dillon)
Breen Mary J. (Bulger)
Breen Mary (0'Shaughnessy)
Breen Mary (O'Neill)
Breen Michael James
Breen Michael T.
Breen Michael M.
Breen Michael John
Breen Michael T.
Breen Muriel (O'Reilly)
Breen Partrick T.
Breen Patrick Leo.
Breen Sarah Helena (Finlan)
Breen Sister St.Logori
Breen Sr. Mary Canisius
Breen Sr. Mary of Mount Carmel
Breen Thomas M.
Breen Thomas Jr.
Breen Thomas P.
Breen Thomas
Breen Viola M. (Fitzmaurice)
Breen Wm.Michael
Brennan Catherine Ann (Rowan)
Brennan Daniel Joseph
Brennan Mary Teresa
Briscoe Mary M.(Holmes)
Brown Angea
Brown Dr. Walter
Brown Eululia B.(Kay)
Brown Francis L.(Sabeston)
Brown J.Joseph
Brown Mary Jane
Brown Mary Ellen
Brown Nora Fleming
Buckley Gladys A. (Foley)
Bulger Amelia (Dixon)
Bulger Daniel Lawrence
Bulger David
Bulger Harold
Bulger Irene
Bulger J.P. Gerald
Bulger Jessie (Eady)
Bulger Julia (McEachen)
Bulger Margaret (Breen)
Bulger Mary Doreen (O'Hearn)
Bulger Mary J. (Breen)
Bulger Michael
Burant Henry Andrew
Burke John
Byrne Mary
Byrne Michael Rev.
Callaghan Elizabeth
Cannon Ann (Carty)
Cardiff Ann (Dunne)
Cardiff George
Cardiff Jane
Cardiff Theresa Jane (Kilgour)
Cardiff William
Cardiff William George
Carswell Angeline (Rowan)
Carty Ann (Cannon)
Carty Ann
Carty Ann (Kenny)
Carty Elizabeth (Enright)
Carty Ellen (Enright)
Carty Ellen (Cull)
Carty Francis
Carty James
Carty John
Carty Patrick
Carty Roseanna (Lyons)
Coady Margaret Ann (Moore)
Coleman Kathryn (Laundriault)
Colterman Monica T. (Haley)
Connolly Ann (Glancey)
Connolly B.C. (McElligott)
Connolly Cecilia (Whelan)
Connolly Cecilia
Connolly E.Louise (Warren)
Connolly Eleanor
Connolly Ellard
Connolly Ethel Josephine
Connolly Gerald
Connolly Gertrude
Connolly Isabel
Connolly Isabella (Spence)
Connolly Jean
Connolly John
Connolly John Patrick
Connolly Leo
Connolly Leticia
Connolly Margaret
Connolly Marie
Connolly Mary Catherine (Whelan)
Connolly Mary
Connolly Mary J. (Costello)
Connolly Michael James
Connolly Michael
Connolly Michael Douglas
Connolly Mildred
Connolly Owen
Connolly Roma
Connolly Stella
Connolly Thomas
Connolly Thos.
Connolly Tina (Tiny)
Connolly W.J.
Connolly William
Connolly Wm.James
Conway Bridget (McAdam)
Conway Bridget (Mulvahill)
Conway Bridget
Conway Isabella (Gallagher)
Conway Johannah (Sheehan)
Conway John
Conway Julia (Foran)
Conway Leticia (Lennon)
Conway Margaret (Handrahan)
Conway Margaret (Enright)
Conway Mary (Sheahan)
Conway Mary (Enright)
Conway Michael
Conway Michael
Conway Michael H.
Conway Patrick
Conway Patrick M.
Conway Thomas Henry
Conway Thomas
Conway Timothy
Costello Ann (Newton)
Costello Elizabeth (Cunningham)
Costello Ida Mae
Costello James (Rev.)
Costello John
Costello Martin
Costello Mary (Gorman)
Costello Mary J. (Connolly)
Costello Sarah (Cunningham)
Coughlin Mary (Legree)
Cowan Margaret H. (Newman)
Coyne Jane (McLarty)
Craig Catherine L.(Harty)
Craig Charles T.
Creer Caroline (McDonald)
Crogie John R.
Crogie Mary Helen (Pegg)
Cruise Anna Mary (Pierunek)
Cruise Mary (Hass?)
Culhane Bridget (Fitzmaurice)
Culhane Catherine (Dunne)
Culhane Catherine (Gibbons)
Culhane Daniel J.
Culhane Helen (Lynch)
Culhane Johanna (Lynch)
Culhane Patrick
Culhane Teresa (Sheehan)
Cull Annie Claire
Cull Catherine (Holley)
Cull Ella Mae (Enright)
Cull Ellen (Carty)
Cull Felix J.
Cull Frank
Cull Isaiah M.
Cull James
Cull John J.
Cull Joseph
Cull Jueletta (Culligan)
Cull Lena
Cull Margaret (Holly)
Cull Margaret Ann (McGaghran)
Cull Margaret L. (Foley)
Cull Margaret
Cull Michael W.
Cull Richard
Cull Teresa (Enright)
Cull Teresa (Foley)
Cull Terry J.
Cull Wayne M.
Cull William J.
Culligan Anna Mary (Dryburgh)
Culligan Bridget (O'Connell)
Culligan Bridgett
Culligan Evelyn (O'Brien)
Culligan Hanora
Culligan Jueletta (Cull)
Culligan Maurice
Culligan Michael J.
Culligan Michael B.
Culligan Michael
Culligan Molly (Dolan)
Culligan Patrick Sr.
Culligan Patrick J.
Culligan Patrick
Culligan Lawrence J.
Cunningham Basil C.
Cunningham Elizabeth (Costello)
Cunningham Margaret (Finlan)
Cunningham Michael
Cunningham Michael
Cunningham Monica (O'Neill)
Cunningham Sarah (Costello)
Cunningham Thomas
Curran Allen Joseph
Curran J.J. Mrs.
Curran Jean Vivian (Shirley)
Daley Bridget (Breen)
Daly Ellen (O'Neill)
Delaney Carmel M. (Searson)
Delaney Earl F.
Delouchery Eliza (Quinn)
Delouchery Tho's
Dennighan Ellen (Lynch)
Devine Bridget E. (O'Shaughnessy)
Devine Ordella Grace (McCourt)
Devlin Annie (McDonnell)
Devlin Thomas
Dick Gertrude A. (Helferty)
Dick H. Kenneth
Dick M. Inez (Helferty)
Dicker Patricia (Gallagher)
Dicker T. Fredrick
Dillon Johanna (Lyons)
Dillon Margaret (Gorman)
Dillon Mary (Shirley)
Dillon Marv (Breen)
Dillon Mary E.(O'Brien)
Dillon Patrick J.
Dillon Thomas
Dillon Thomas (Sr.)
Dixon William E.
Dixon Amelia (Bulger)
Dixon John
Dixon Mary (McEachen)
Dixon Robert
Dolan Molly (Culligan)
Donohue Colleen (McEachen)
Donohue Kathleen (Power)
Donohue Mary C. (Kaye) (Neville)
Donohue William
Dooling Bridget (Gallagher)
Dooling Isaiah Joseph
Dooling Julia M. (Judy) (Murphy)
Dooling Peter
Dooling Viola (Gilmour)
Doruley Margaret (Gallagher)
Dourley Margaret (Gallagher)
Doyle Catherine (Sharpe)
Dryburgh Michael
Dryburgh Anna Mary (Culligan)
Dryburgh Balfour
Dryburgh Carol
Duenk Francisous
Duenk Meghelen (Holland)
Duffy Mabel M. (Rice)
Dunne Ann (Cardiff)
Dunne Catherine (Culhane)
Dunne James
Dunne Thomas
Dunne William
Duplessie M.Ellen (Wren)
English Mary Loretta (Shirley)
Eady Jessie (Bulger)
Edmonds Arinda (Valiquette)
Egan Margaret Dorothy (Gallagher)
Egan Mary Jane (Gannon)
Egan Michael J.
English Annie (McCourt)
English Bridget (McIntyre)
English James
English John Leonard
English Kiely
English Leslie
English Margaret (Menard)
English Maurice J.
English Rose Anne
English Stan
English William B.
English William J.
Enright Alice (Gannon)
Enright Bridget
Enright Bridget (McEllicott)
Enright Bridget (Wren)
Enright Bridget Ann
Enright Bridget (Holly)
Enright Bridget E (Neville)
Enright Catherine
Enright Catherine (Sheahan)
Enright Catherine (Whelan)
Enright Catherine Francis
Enright Daniel J.
Enright Dean Cyril
Enright Dennis
Enright Edmund
Enright Elizabeth (Carty)
Enright Elizabeth A.(Moriarty)
Enright Elizabeth (Gorman)
Enright Ella Mae (Cull)
Enright Ellen (Carty)
Enright Ellen (Gorman)
Enright Ellen Gertrude
Enright Esther M.J. (Moriarty?)
Enright Hannah (Gannon)
Enright Hannah (Wren)
Enright James D.
Enright Johanna (Holly)
Enright John T.
Enright John T.
Enright Joseph
Enright Levi
Enright Loretta and Cyril
Enright Loretto
Enright M. Clara (Helferty)
Enright Madell (Lynch)
Enright Margaret
Enright Margaret Ellen
Enright Margaret (Conway)
Enright Mary
Enright Mary (McNulty)
Enright Mary (Conway)
Enright Mary (Kennelly)
Enright Mary (Kennelly)
Enright Mary (Sheahan)
Enright Mary (Kennelly)
Enright Mary S. (Lynch)
Enright Mary (Gautier)
Enright Michael
Enright Michael Lawrence
Enright Michael S.
Enright Michael
Enright Nora Agnes (Foran)
Enright Nora (Manion)
Enright Owen
Enright Owen J.
Enright Owen
Enright Patrick A.
Enright Patrick
Enright Patrick
Enright Patrick E. Enright
Enright Teresa (Cull)
Enright Thomas Leonard
Enright Thomas
Enright Thomas
Enright Thomas
Enright Timothy James
Enright Timothy
Fallon Margaret (Kelly)
Fiebig August
Fiebig Brian and Kathy
Fiebig Jane (Gagnon)
Fiebig Mark A.
Fillator Elizabeth (Agnew)
Finlan Margaret (Cunningham)
Finlan Mary K. (McEachen)
Finlan Sarah Helena (Breen)
Finugane Catherine (McHale)
Fitzmaurice Anne Bridget
Fitzmaurice Bridget (Culhane)
Fitzmaurice Clare M. (Kennelly)
Fitzmaurice Edward
Fitzmaurice James
Fitzmaurice James M.
Fitzmaurice John
Fitzmaurice Joseph
Fitzmaurice Mary (Quilty)
Fitzmaurice Viola M. (Breen)
Fogarty Margt. (Serson)
Foley Anna (Pigeon)
Foley Bridget (Quinn)
Foley Gladys A. (Buckley)
Foley Hannora (Maloney)
Foley Hugh
Foley James
Foley Julia
Foley Marell M. (Holly)
Foley Margaret
Foley Margaret
Foley Margaret L. (Cull)
Foley Martin
Foley Mary Ann (McCourt)
Foley Michael
Foley Michael John
Foley Michael
Foley Michael M.
Foley Patrick
Foley Ronald D.
Foley Teresa (Shannon)
Foley Teresa (Cull)
Foly John
Foly Mary (O'Shaughnessy)
Foly Mary
Foran Anna Mary (Hanrahan)
Foran Francis
Foran Joan M.(Windle)
Foran John Frances
Foran Julia (Conway)
Foran Margaret (Russell)
Foran Michael George
Foran Michael J. (Mac)
Foran Michael
Foran Nora Agnes (Enright)
Foran Patrick
Foran Patrick Murray
Foran Rebecca A.
Foran Thomas J.
Foran Timothy H.
Freeth Debra Ann
Freeth Theresa M. (Ruddy)
Freeth William G.
Gagnon Jane (Fiebig)
Gale Shirley
Gallagher Bridget (Dooling)
Gallagher Elizabeth (McCourt)
Gallagher Elizabeth (Agnew)
Gallagher Ellen (Neville)
Gallagher Harold Michael
Gallagher Isabella (Conway)
Gallagher Lillian
Gallagher Margaret (Doruley)
Gallagher Margaret (Dourley)
Gallagher Mary (McGaghran)
Gallagher Patricia (Dicker)
Gallagher Sarah (Mangan)
Gallagher Susan C. (Pierunek)
Gallagher Thomas (Jr.)
Gallagher Thomas
Gallagher Thomas
Gallagher Timothy M.
Gallagher Timothy R.
Gallagher Tressa (Neville)
Gannon Alice (Enright)
Gannon Hannah (Enright)
Gannon John
Gannon John
Gannon Margaret (O'Shaughnessy)
Gannon Margaret (Gautier)
Gannon Margaret
Gannon Mary Jane (Egan)
Gannon Michael
Gannon Susan E.(Kennelly)
Gannon Thomas
Gariepy J.Romeo
Gariepy Theresa Agnes (McMahon)
Gaunio Johanna (Lynch)
Gaunio Joseph
Gaunio William
Gautier John
Gautier Margaret (Gannon)
Gautier Mary (Enright)
Gibbons Bridget Teresa
Gibbons Catherine (Culhane)
Gibbons Catherine T.
Gibbons Johanna Mary
Gibbons John
Gibbons Margaret (Ruddy)
Gibbons Thomas
Gilmour Viola (Dooling)
Glancey Ann (Connolly)
Gorman Annie (Lynch)
Gorman Bernard
Gorman Bridget T. (Mulligan)
Gorman Catherine (Bennett)
Gorman Daniel
Gorman Elizabeth (Whelan)
Gorman Elizabeth (Enright)
Gorman Ellen (Enright)
Gorman Grace E. (McGrath)
Gorman Hanorah (Rathwell)
Gorman James
Gorman James
Gorman Katherine (McEachen)
Gorman Lawrence P.
Gorman Lesbium
Gorman Loenard
Gorman Margaret (Windle)
Gorman Margaret (Dillon)
Gorman Margaret (O'Neil)
Gorman Mary
Gorman Mary (Costello)
Gorman Mary (Ouellette)
Gorman Michael Dudley
Gorman Michael P.
Gorman P.
Gorman Patrick
Gorman Patrick P.
Gorman Patrick
Gorman Raymond
Gorman Thomas
Gorman Thomas
Gorman Timothy
Grant Joyce E. (Votour)
Grenier Bridget Teresa (McNulty)
Grenier Louis John
Grenier Patrick James
Grogan Nellie (McHale)
Haley James
Haley Monica T. (Colterman)
Haley Wilfred & Monica
Handrahan Margaret (Conway)
Hanrahan Anna Mary (Foran)
Harty Carmel (McDonald)
Harty Catherine L. (Craig)
Harty Catherine (O'Brien)
Harty John
Harty Patrick
Hass ? Mary (Cruise)
Hass August
Hass Bridget (Shurr)
Hass Michael
Helferty Catherine (Sheahan)
Helferty Domonic
Helferty Gertrude A. (Dick)
Helferty Hugh
Helferty J. Leonard
Helferty John Francis
Helferty M.Clara (Enright)
Helferty M.Inez (Dick)
Helferty Margaret (Moriarty)
Helferty Mary (McCourt)
Helforty H. & M.
Hickey John Hilary
Holland Meghelen (Duenk)
Holley Catherine (McCarthy)
Holley Eugene Patrick
Holley Hannah (Lynch)
Holley John
Holley Laura (Laporte)
Holley Margaret (McMahon)
Holley Martin
Holley Michael
Holley Michael J.
Holly Bridget (Enright)
Holly Johanna (Enright)
Holly John
Holly John
Holly John F.
Holly Marell M.(Foley)
Holly Margaret (Cull)
Holly Mary (Lunn)
Holly Mary (Scanlon)
Holmes Mary M. (Briscoe)
Holmes Robert James
Houlahan Mary (Lyons)
Hunt Margaret (Lynch)
Johnston Gerald
Johnston Wyona (Neville)
Kavanagh M.Olive (McEachen)
Kay Eululia B. (Brown)
Kearney Rosella (Mhusk)
Kearney Thomas
Kelly John
Kelly Margaret (Fallon)
Kennelly Catherine (McNulty)
Kennelly Clare M.(Fitzmaurice)
Kennelly Daniel
Kennelly Daniel F.
Kennelly John
Kennelly M.P. / M.J. & C.
Kennelly Margaret (Mulvihill)
Kennelly Martin P.
Kennelly Martin J.
Kennelly Mary (Enright)
Kennelly Mary (Enright)
Kennelly Mary (Enright)
Kennelly Michael
Kennelly Michael J.
Kennelly Patrick D.
Kennelly Patrick Joseph
Kennelly Patrick
Kennelly Patrick Jr.
Kennelly Susan E. (Gannon)
Kenney T. James
Kilby Emmiline (Shirley)
Kilgour Elizabeth Theresa
Kilgour Ellen (O'Gorman)
Kilgour J.J. & T.
Kilgour John James
Kilgour Joseph Willard
Kilgour Mary A. (Lynch)
Kilgour Mary (McCarthy)
Kilgour Theresa Jane (Cardiff)
Kilgour William
Kilgour William C.
Kluke Annie (Mhusk)
Krasinske Joseph
Krasinski Catherine
Krasinski Paul
Krasinski Veronica
Krezel Mary S.(Peplinski)
Kubiseski Georgina C. (Rowan)
Lane Margaret (Quigley)
LaPlaunt Anne E.
LaPlaunt Mary U.
LaPlaunt William A.
Laporte Laura (Holley)
Laundriault Kathryn (Coleman)
Laundriault Maurice J.
Learmonth Sharron (Neville)
Legree Austin
Legree Joseph Clement (Rev)
Legree Mary (Coughlin)
Lemieux Samuel
Lennon Leticia (Conway)
Long Mary (Welsh)
Lunn Mary (Holly)
Lunn Richard
Lynch Agnes (Maloney)
Lynch Anna Cecilia
Lynch Annie (Gorman)
Lynch Catherine (Wark)
Lynch Charles J.
Lynch Cornelius
Lynch Dennis J.
Lynch Dennis
Lynch Ellen (Dennighan)
Lynch Evelyn (O'Neill)
Lynch Gerldine Kilgour
Lynch Hannah (Holley)
Lynch Helen (Culhane)
Lynch Hilary
Lynch Ida Ellen (Quigley)
Lynch J.P.
Lynch James J.
Lynch Jeremiah
Lynch Jeremiah J.
Lynch Jeremiah
Lynch Jerry
Lynch Johanna (Culhane)
Lynch Johanna (Gaunio)
Lynch Loretto A. (McCarthy)
Lynch Loretto (Walsh)
Lynch Madell (Enright)
Lynch Margaret (Breen)
Lynch Margaret (Hunt)
Lynch Marguareta (McManus)
Lynch Mary
Lynch Eileen
Lynch Mary
Lynch Mary S. (Enright)
Lynch Mary
Lynch Mary A. (Kilgour)
Lynch Michael
Lynch Michael
Lynch Mortimer
Lynch Thomas
Lyons William
Lyons Annie (Rodgers)
Lyons Johanna (Dillon)
Lyons Mary (Houlahan)
Lyons Roseanna (Carty)
Lyons Thomas
Lyons Thomas (Sr.)
Madigan Hanora
Mahon Patrick J.
Maloney Hannora (Foley)
Maloney Mary M. (McGaghran)
Maloney Rose Anne (Reynolds)
Mangan Felix
Mangan James Alfred
Mangan Patrick
Mangan Sarah (Gallagher)
Mangan Thomas
Manion Ellen (Moore)
Manion Nora (Enright)
Marchand J.A.E.
Marchand Blaine
Marchand Elizabeth (Quilty)
Marchand Kathleen (O'Doherty)
Marchand Wm. Edmour
Marion Henry Samuel Rev.
McAdam Bridget (Conway)
McAdam Jas.
McCarthy Catherine (Holley)
McCarthy Loretto A. (Lynch)
McCarthy Mary (Kilgour)
McCauley Catherine (Neville)
McClarty Mary
McCourt Ann / Emily / Nancy
McCourt Annie (English)
McCourt Charles
McCourt Elizabeth
McCourt Elizabeth (Whelan)
McCourt Elizabeth (Gallagher)
McCourt Harry
McCourt J.C.
McCourt Jane (Mulvenna)
McCourt John
McCourt John J.
McCourt Margaret A. (McDonald)
McCourt Mary Ann (Foley)
McCourt Mary (Helferty)
McCourt Mary Ann (O'Gorman)
McCourt Ordella Grace (Devine)
McCourt Thomas
McCourt Thomas
McCoy Bridget
McCoy J.& J.
McGuire John
McDonald Angus (Jr.)
McDonald Angus
McDonald Ann (Ouellette)
McDonald Bridget (Rowan)
McDonald Carmel (Harty)
McDonald Caroline (Creer)
McDonald John A.
McDonald Margaret A.(McCourt)
McDonald Mary (Tunney)
McDonald Ronald E.
McDonnell Alex
McDonnell Annie (Devlin)
McDonnell Ellen B. (O'Leary)
McDonnell Margaret (McEachen)
McDougall Angus
McDougall Margaret (McLeod)
McDougall Margaret
McEachen Adele (Vanier)
McEachen Alex
McEachen Angela (Ready)
McEachen Anne
McEachen Daniel S.
McEachen Donald Gerard
McEachen Harold A.
McEachen John
McEachen John J.
McEachen Julia (Bulger)
McEachen Katherine (Gorman)
McEachen Kathleen
McEachen Lillian (O'Neill)
McEachen M.Olive (Kavanagh)
McEachen Margaret (McDonnell)
McEachen Marguerite M.(Mulligan)
McEachen Mary
McEachen Mary (Dixon)
McEachen Mary K. (Finlan)
McEachen Mary (Gorman)
McEachen Rita (O'Neill)
McEachen Ronald John Rev.
McEachen Ronald S.
McEachen Samuel
McEachen Simon
McEachen Simon P.
McEachen Wilfred S.J.
McElgrew Mary Ann (Mcleod)
McEllicott Bridget (Enright)
McEllicott James
McEllicott Richard
McElligott B.C. (Connolly)
McEvoy Ethel B. (O'Neill)
McGaghan Mary (Agnew)
McGaghan Thomas
McGaghran Berna M.
McGaghran Bernadette (Tait)
McGaghran Bernard
McGaghran Charles
McGaghran Elizabeth
McGaghran Ella Mae (Tait)
McGaghran Ellen (O'Gorman)
McGaghran Florence (Wren)
McGaghran M.Margaret
McGaghran Margaret Ellen
McGaghran Margaret Ann (Cull)
McGaghran Mary M. (Maloney)
McGaghran Mary (Gallagher)
McGaghran Mary
McGaghran Patrick
McGaghran R.Patrick
McGaghran Robert
McGaghran Robert
McGee James
McGee Sarah (O'Brien)
McGrath Ellen (Sheahan)
McGrath Grace E. (Gorman)
McGuire Sara (Shirley)
McGuire V.
McHale Angela (McMahon)
McHale Bud F.J.H.
McHale Catherine (Finugane)
McHale Denelda (Rettie)
McHale Jane Theressa
McHale John
McHale Joseph J.
McHale Joseph P.
McHale Leonard P.
McHale M.Francis
McHale Martin T.
McHale Mary (Mhusk)
McHale Michael J.
McHale Michael
McHale Nellie (Grogan)
McHale Shirley M. (Baily)
McHugh Bernard
McIntyre Bridget (English)
McIntyre Cecil J.
McIntyre David
McIntyre George
McIntyre Julia Catherine (Scott)
McIntyre Mary E. (Scott)
McIntyre Olive B.(O'Kane)
McIntyre William
McKennirey Bridget (Searson)
McKenny Ann (Carty)
McLarty Jane (Coyne)
McLarty John
McLeod Margaret (McDougall)
McMahon Angela (McHale)
McMahon Bridget
McMahon Catherine
McMahon Eva R. (Murphy)
McMahon James
McMahon John
McMahon Joseph
McMahon Margaret
McMahon Margaret A. (Belanger)
McMahon Margaret A. (Russett)
McMahon Margaret (Holley)
McMahon Mary
McMahon Rita
McMahon Theresa Agnes (Gariepy)
McMahon Timothy
McManus John
McManus Marguareta (Lynch)
McNamara Estelle (Sheahan)
McNulty Bridget Teresa (Grenier)
McNulty Catherine (Kennelly)
McNulty James J.
McNulty Martin
McNulty Mary (Enright)
McNulty Michael James
Menard Margaret (English)
Mhusk Annie
Mhusk Annie (Kluke)
Mhusk John
Mhusk Martin Joseph
Mhusk Mary (McHale)
Mhusk Rosella (Kearney)
Mhusk Teresa
Minard George Mrs.
Minard Mary Emily (Shirley)
Minard Thomas
Moore Abigail (Rice)
Moore Bridget Ellen
Moore Charles
Moore Dominic J.
Moore Ellen (Manion)
Moore Jefferson
Moore John
Moore John C.
Moore Josephine
Moore Margaret
Moore Margaret Ann (Coady)
Moore Mary (Bolger)
Moore Oscar M.
Moore Patrick
Moore William
Moriarty Daniel
Moriarty Elizabeth A. (Enright)
Moriarty Helen (McGuican)
Moriarty Joseph D.
Moriarty Margaret (Helferty)
Moriarty Mary
Moriarty Mary E. (Shirley)
Moriarty Michael J.
Moriarty Michael
Moriarty P. Lawrence (?)
Moriarty Rita B. (Shirley)
Mulligan Bridget T. (Gorman)
Mulligan Marguerite M.(McEachen)
Mulvahill Bridget (Conway)
Mulvenna Jane (McCourt)
Mulvihill Annie M. (Sullivan)
Mulvihill Margaret B. (Breen)
Mulvihill Margaret (Kennelly)
Mulvihill Martin J.
Murphy Bridget
Murphy Christopher
Murphy Eva R. (McMahon)
Murphy James
Murphy Julia M. (Judy) (Dooling)
Murphy Kevin
Murphy Margaret (Breen)
Murphy Mary (O'Gorman)
Murphy Thomas C.
Nalaz Josephina (Stoklosoi)
Neville Allan
Neville Aloysius
Neville Bridget E. (Enright)
Neville Catherine M. (Sheahan)
Neville Catherine (McCauley)
Neville Clare (Breen)
Neville Daniel
Neville Ellen (Gallagher)
Neville Eva M. (Wilkes)
Neville Harry J.
Neville James Henry
Neville John
Neville Joseph B.
Neville Joseph Leo
Neville Kathleen (Sammon)
Neville Lawrence A.
Neville Margaret Clara (Wren)
Neville Margaret M. (O'Neill)
Neville Mary M. (Russett)
Neville Mary C. (Kaye) (Donohue)
Neville Mary
Neville Mary
Neville Michael M.
Neville Michael Sylvester
Neville Michael T.
Neville Pearl
Neville Pte. M.J.
Neville Rita C. (Sheahan)
Neville Sharron (Learmonth)
Neville Thomas M.
Neville Timothy Leo
Neville Tressa (Gallagher)
Neville Wilburn J.
Neville William J.
Newman Donna Jean
Newman Margaret H.(Cowan)
Newman Paul W.
Newton Ann (Costello)
O'Brien Carmel (Valiquette)
O'Brien Catherine (Harty)
O'Brien Ellen (Quinn)
O'Brien Evelyn (Culligan)
O'Brien Mary E. (Dillon)
O'Brien Sarah (McGee)
O'Connell Bridget (Culligan)
O'Doherty Kathleen (Merchand)
O'Gorman Bernadette (Sullivan)
O'Gorman Bridget (Maloney)
O'Gorman Clara
O'Gorman Daniel
O'Gorman Daniel (Jr.)
O'Gorman Elizabeth
O'Gorman Ellen (McGaghran)
O'Gorman Ellen (Kilgour)
O'Gorman Ellen
O'Gorman James Gerard
O'Gorman Johanna (Whelan)
O'Gorman John
O'Gorman John Edward
O'Gorman John P.
O'Gorman John
O'Gorman Julia
O'Gorman M.J. & M.
O'Gorman Mabel (Agnew)
O'Gorman Mary (Foley)
O'Gorman Mary Agnes
O'Gorman Mary (Woodlock)
O'Gorman Mary
O'Gorman Mary Ann (McCourt)
O'Gorman Mary (Murphy)
O'Gorman Mary
O'Gorman Morrie
O'Gorman Peter
O'Gorman Thomas P.
O'Hearn Mary Doreen (Bulger)
O'Kane Kevin
O'Kane Olive B. (McIntyre)
O'Leary Edward
O'Leary Ellen B. (McDonnell)
O'Neil Alicia
O'Neil Elizabeth A. (Agnew)
O'Neil James and Theresa
O'Neil Jeremiah
O'Neil Margaret (Gorman)
O'Neil Mary (Sheahan)
O'Neil W.L.
O'Neill Arnold J.
O'Neill Clare
O'Neill Daniel
O'Neill Ellen (Daly)
O'Neill Ethel B. (McEvoy)
O'Neill Eulalia
O'Neill Evelyn (Lynch)
O'Neill Henry
O'Neill Isaiah J.
O'Neill J. Joseph
O'Neill John Charles
O'Neill John J. Rev.
O'Neill John F.
O'Neill John
O'Neill Lillian (McEachen)
O'Neill M. Bernadine
O'Neill M.J.
O'Neill Margaret Francis
O'Neill Margaret M. (Neville)
O'Neill Marguerite
O'Neill Mary Agnes (Sheedy)
O'Neill Mary
O'Neill Mary (Breen)
O'Neill Mary (O'Shaughnessy)
O'Neill Michael (Mac)
O'Neill Monica (Cunningham)
O'Neill Rita (McEachen)
O'Neill Thomas J.
O'Neill Thomas Joseph
O'Reilly Muriel (Breen)
O'Rielly Catherine (Sunstrum)
O'Rielly Joseph M.D., C.M.
O'Shaughnessy Bridget E. (Devine)
O'Shaughnessy Elizabeth (Whelan
O'Shaughnessy Honora (Rice)
O'Shaughnessy Isabella (Whelan)
O'Shaughnessy John
O'Shaughnessy John
O'Shaughnessy Margaret (Gannon)
O'Shaughnessy Martin J.
O'Shaughnessy Mary (O'Neill)
O'Shaughnessy Mary (Breen)
O'Shaughnessy Mary Jane (Shields)
O'Shaughnessy Mary (Foly)
O'Shaughnessy Stanley
Ouellette Ann (McDonald)
Ouellette John B.
Ouellette Mary (Gorman)
Palubiskie Rosalie (Rose Bielaskie)
Parks Melinda (Power)
Pegg Mary Helen (Crogie)
Peplinski Margaret Ann
Peplinski Mary S. (Krezel)
Peplinski Walter A.
Peplinskie Agnes A. (Vonsick)
Peplinskie John A.
Pierunek Anna Mary (Cruise)
Pierunek Bernard James
Pierunek Cheryl (Steel)
Pierunek Chris
Pierunek Daniel
Pierunek John
Pierunek John
Pierunek Joseph
Pierunek Julie
Pierunek Laurence J.
Pigeon Anna (Foley)
Pilon Anita M.
Pilon Anna M.(Tunney)
Pilon Cecil J.
Power Claire
Power Gertrude
Power Hanora (Stack)
Power Kathleen (Donohue)
Power Melinda (Parks)
Power Michael
Power William James
Quade Albert B.
Quade Augusta (Tetzlow)
Quade Doris M. (Windle)
Quade John T.
Quade John
Quigley Helen M. (Quilty)
Quigley Ida Ellen (Lynch)
Quigley James
Quigley Margaret (Lane)
Quigley Thomas H.
Quilty Elizabeth (Marchand)
Quilty Helen M. (Quigley)
Quilty James
Quilty John Joseph Rev.
Quilty Mary (Fitzmaurice)
Quinn Bridget (Foley)
Quinn Eliza (Delouchery)
Quinn Ellen (O'Brien)
Quinn John D.
Rafinski Martha
Rathwell Hanorah (Gorman)
Ready Angela (McEachen)
Rettie Denelda (McHale)
Reynolds Beatrice
Reynolds James
Reynolds Rose Anne (Maloney)
Rice Abigail (Moore)
Rice Abigail Mary
Rice Alban S. Rev.
Rice Anna J.
Rice Catherine
Rice Charles
Rice Edna (Sheahan)
Rice Harold J. Rev
Rice Henry
Rice Honora (O'Shaughnessy)
Rice Isaiah J.Rev.
Rice John (Jr.)
Rice John
Rice Mabel M. (Duffy)
Rice Mary Kate
Rice Mary Payette
Rice Michael
Rice Raymond
Rice Ronald J.
Rodgers Annie (Lyons)
Rowan Angeline (Carswell)
Rowan Bridget (Tooey)
Rowan Bridget (McDonald)
Rowan Catherine Ann (Brennan)
Rowan Cecelia E.
Rowan Cecelia
Rowan Ellen (Brazier)
Rowan Felix
Rowan Georgina C. (Kubiseski)
Rowan James
Rowan James
Rowan Margaret (Smith)
Rowan Michael
Rowan Michael
Rowan Patrick S.
Rowan Sarah (Maloney)
Rowan Thomas M.
Rowan William
Ruddy Christopher
Ruddy Margaret (Gibbons)
Ruddy Theresa M. (Freeth)
Russell George H.
Russell Margaret (Foran)
Russett Margaret A. (McMahon)
Russett Mary M. (Neville)
Russett T. James
Ryan Julia (Breen)
Ryan P. & T.
Ryan Winnifred
Sabeston Francis L. (Brown)
Sammon Kathleen (Neville)
Scanlon Mary (Holly)
Schmidt Maria
Scott Julia Catherine (McIntyre)
Searson Ambrose J.
Searson Bridget (McKennirey)
Searson Carmel M. (Delaney)
Searson David
Searson Francis R.
Searson J.E.
Searson Joseph Daniel
Seely Alex
Seely Catherine (Sharpe)
Serson John
Serson Margt. (Fogarty)
Serson Wm.
Seveijns Anna Marie H. (VanWoezik)
Shannon Teresa (Foley)
Sharpe Catherine (Doyle)
Sharpe Catherine (Seely)
Sharpe Mary
Sharpe Robert
Sheahan Catherine (Enright)
Sheahan Catherine M. (Neville)
Sheahan Catherine (Helferty)
Sheahan Edna (Rice)
Sheahan Estelle (McNamara)
Sheahan Harold
Sheahan Jeremiah P.
Sheahan Johannah (Flemming)
Sheahan John J.
Sheahan Joseph L.
Sheahan M. Genevieve (Agnew)
Sheahan Mary (Conway)
Sheahan Mary (Enright)
Sheahan Mary (O'Neil)
Sheahan Michael J.
Sheahan Michael P.
Sheahan Patrick
Sheahan Patrick
Sheahan Patrick J.
Sheahan Patrick C.
Sheahan Patrick J.
Sheahan Rita C. (Neville)
Sheahan Thomas
Sheedy Mary Agnes (O'Neill)
Sheedy Nora (Agnew)
Sheehan James
Sheehan Jeremiah
Sheehan Jerry A.
Sheehan Johanna (Conway)
Sheehan Leo. J.
Sheehan Margaret E. (Whelan)
Sheehan Michael J.
Sheehan Teresa (Culhane)
Sheehan Thomas
Sheehan Timothy J.
Sheehan Vernie (Windle)
Shields Mary Jane (O'Shaughnessy)
Shields Michael
Shirley Emmiline (Kilby)
Shirley Gerald T.
Shirley James V.
Shirley Jean Vivian (Curran)
Shirley John
Shirley John Joseph
Shirley Julia (Sullivan)
Shirley Mary (Dillon)
Shirley Mary E. (Moriarty)
Shirley Mary Loretta (English)
Shirley Mary Emily (Minard)
Shirley Rita B. (Moriarty)
Shirley Sara (McGuire)
Shirley Thomas J.
Shurr Bridget (Hass)
Smith Margaret (Rowan)
Spence Isabella (Connolly)
Stack Hanora (Power)
Steel Cheryl (Pierunek)
Stewart Margaret (Breen)
Stoklosoi Josephina (Nalaz)
Stoklosoi Stani
Sullivan Annie M. (Mulvihill)
Sullivan Bernadette (O'Gorman)
Sullivan Catherine A.
Sullivan Garry D.
Sullivan Julia (Shirley)
Sullivan William J.
Sunstrum Catherine (O'Reilly)
Tait Bernadette (O'Gorman)
Tait Ella Mae (McGaghran)
Tait Joseph
Tait Joseph Ralph
Tait Rev. Patrick J.
Tetzlow Augusta (Quade)
Thrasher Downey Gilbert
Thrasher-Downey Bernard
Thrasher-Downey Grace C.
Thrasher-Downey H.R. Paul
Thrasher-Downey James
Thrasher-Downey Leonard
Thrasher-Downey Mary
Thrasher-Downey Thomas W.
Tooey Bridget (Rowan)
Tunney Andrew R.
Tunney Anna M. (Pilon)
Tunney Mary (McDonald)
Turner Elizabeth T. (Valiquette)
Turner Jackie
Turner John W.
Valiquette Arinda (Edmonds)
Valiquette Carmel (O'Brien)
Valiquette Eustache
Valiquette Frank
Valiquette Mary (Walsh)
Valiquette Mary Irene (Turner)
Valiquette Michael J.
Valiquette Xavier
Valiquette Elizabeth T. (Turner)
Valiquette M. Theresa (Welsh)
Vanier Adele
Vanier Elizabeth
Vanier Josephine Mrs.
VanWoezik Anna Marie H. (Seveijns)
VanWoezik Anthony
Votour Charles B.
Votour Joyce E. (Grant)
Votour Orval C.
Walsh Loretto (Lynch)
Walsh Mary (Valiquette)
Wark Catherine (Lynch)
Warren E.Louise (Connolly)
Warren Jean M.(Kennelly)
Welsh Bridget
Welsh Gerald F.
Welsh James sr.
Welsh James
Welsh M.Theresa (Valliquette)
Welsh Mary (Long)
Welsh Thomas
Whelan Catherine (Enright)
Whelan Cecilia (Connolly)
Whelan Elizabeth (O'Shaughnessy)
Whelan Elizabeth (Gorman)
Whelan Elizabeth (McCourt)
Whelan Isabella (O'Shaughnessy)
Whelan Johanna (O'Gorman)
Whelan Margaret E.(Sheehan)
Whelan Mary Catherine (Connolly)
Whelan Patrick J.
Whelan Stephen
Whelan Stephen
Wilkes Eva M. (Neville)
Windle Doris M. (Quade)
Windle Edward
Windle Elizabeth (Callaghan)
Windle Joan M. (Foran)
Windle Margaret (Gorman)
Windle Vernie (Sheehan)
Wineski Anthony
Woodlock Mary (O'Gorman)
Wren Anne Marie
Wren Bridget (Enright)
Wren Florence (McGaghran)
Wren Hannah (Enright)
Wren James Mark
Wren Lennox
Wren M. Ellen (Duplessie)
Wren Margaret Clara (Neville)
Wren Mark & Teresa
Wren William