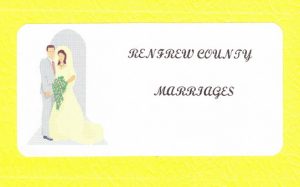 RENFREW COUNTY
MARRIAGES
1881 – 1891
.

THESE DOCUMENTS HAVE BEEN CREATED TO GIVE RESEARCHERS AN AID IN RESEARCHING MARRIAGES IN RENFREW COUNTY FOR THE YEARS 1881-1891. THEY WILL AID RESEARCHERS TO FIND LOST OR MISSING RELATIVES IN THEIR GENEALOGICAL RESEARCH. ALL MATERIAL HAS BEEN TAKEN FROM THE MICRO-FILMED REGISTERS OF THE REGISTRAR GENERAL GENERAL OFFICIAL RECORDS NOW HELD BY THE ONTARIO ARCHIVES.
Please note:
Some of the foreign names may be misspelled as it is difficult to make them out at time. Also some names are spelled incorrectly due to the habit of spelling names as they heard them, as a lot of people who were married were unable to write their own names.
Information on each marriages contains additional names of parents, witnesses, ministers/clergy, churches and locations.
RESEARCHED AND COMPILED BY
OLGA LEWIS RENFREW ONTARIO
FROM MARCH 1997 to

INDEX RENFREW COUNTY MARRIAGES 1881
A
Acheson Agnes Mahetatte
Anderson John
Anderson William Waslsle
Andrews George T
Andrews Mrs Mary
Argue George
Astleford Arulia Eleanor
Austin William Wesley
Aviary Alexander
B
Barr James
Bamet Joseph
Bartlett Charles
Bayne Christian
Beal Walter
Beauchamp Aryclique
Beaudry Mary
Behan David
Beinke Anna
Belkwill Frances
Bennett Hannah
Bennett Patrick
Bennett Richard
Biorlie Florence
Black Charlotte
Black Francis
Black Jane
Blair Margaret
Blair Matilda
Blais Joseph
Blondin Celina
Boucher Marguerite
Bourdau Napoleon
Bourdeynon Elizabeth
Bradley George
Bradley John
Brandy Isabella
Brash Wilhelmina
Brittin Lott
Brohan Lucy Jane
Bromley James
Brown William
Brunyan Lizzie
Brydge Mary Anna
Buchanan John
Buckley Mary
Buderick Christian
Budrie Annie
Bulger James
Burbidge (Burbage) Annie
Burgess Caroline
Burns Susan
C
Cadden Thomas
Calvin Peter
Cameron John
Campbell Archibald
Campbell Inoly
Cardiff Thomas
Carmichael Julia
Carnegie Jane
Carney Margaret
Carriere Jane
Carson Mary Jane
Carty Francis
Chabottes F H
Chambers Thomas
Chaput Pierre
Childerhose Daniel
Clark Francis
Cockburn Isabella
Code Robert
Coffee George
Cole Samuel
Colton William
Comba William
Condie James
Condie Jessie
Conway Hannah
Costello Esther
Costello John
Cotton Isaac
Coulas John
Craig John
Crozier Christopher
Culhane Johanna
Curry Eleanore
Cuthbert Isabella Arthur
D
Darling W A
Davidson James
Davidson James
Davidson Therrien
Davis Jane
Davis Lydia R
Davison Sarah
Delete Elizabeth
DeLandrecies Agelia Jessica
Delorme Rachel
Dempsey Patrick
Denis Mary
Desroders Marianne
Devine Kate
Devine John
Dewar Agnes
Dickson James
Dinault Honora
Dohman Martin
Dombroski Elizabeth
Dooner Michael
Douglas Dora
Doyle Louisa
Draper Pricilla Abigail
Dregas T Labonte
Drohan Robert
Dudgeon Matilda
Dunfield Thomas
Dunn Anthony
Dupuices Mona
Durbreu Jane
Dwyer Mary
Dyell Maxime
E
Eady Annie
Edmonds Mary Ellen
Edwards Susan
Elliott Elizabeth E
Embleau (Imbleau) Francois
Ethier Antoinette
F
Ferguson Eliza
Fisher Elizabeth F
Fitzgerald John
Fitzpatrick William
Flood Elizabeth
Foisey Elorlie
Foley Michael
Fonder Alexander
Fortune Mary Catherine
Foy Margaret
Francis Stewart
Fraser Alexander
Fraser Hannah M
Free Laura
Fremont Josephine
Frievalt Louise
Furlong Ellen
G
Gagne Louis
Gallagher Bridget
Gallipean Joseph
Gaudreau Joseph
Gautier Agnes
Gautier Amable
Geoffrey Georgina
George Henry
Gervise David
Gibson Edward
Gibson Kate
Gibson Richard W
Gillis Thomas
Gogline Ernestine
Golick Christina Ann
Goraut Charlotte
Gordon Annie
Gordon Hugh
Gorman John
Gorman Mary
Goulet Marie Maryuane
Graham Susan
Greer Caroline
Greer Maria
Greer William
Griffith Elizabeth Ann
Gudke Maria Christie
H
Hagarty William
Halladon Robert
Halliday William Watson
Hamblin Annie Eliza
Hamblin Emily
Harding Ada
Harding Sarah
Harris Jacob
Hayes Ruth
Heighton Andrew
Hein Louisa
Hein Minnie
Helferty Bridget
Hill Stephen
Hodgins Henry B
Holley Hannah
Homath Wilhelm
Hough John
Houston Sarah
Hubner Edward
Hudson Agnes
Hunneau Jean
I
Inglis John
J
Jaskulski Laurent
Jessup William
Johnston Archibald
Johnston Samuel
Jokdson Casisia
Jones Marguerite
Judge Alexander
K
Kearns Andrew
Keily Mary
Kelly Bridget
Keyes William
Kilby Francis
Knight Jane
Knight John Edward
Kohlschmidt Herman Adolph
Korls Florence
Kosroski Louise
Kreigher Martin
Kruger Marie Emelia
Kulas John
L
Labeau Elizabeth
LaChaine Josephine
Lachappelle Adele
Laderceur Emelie
Lafontaine Lon
Lalonde Thomas
Landon Wm Rufus
Lapalisse George
Laplasin Sara
Laroche Baptiste
Larret James
Laronde Margaret
Lash William
Leblanc Angelique
LeCappel George
Lefevre Francis A
Lefeve Matilda
Lefurgey John Edward
Legare Marie
Leipke John
Lemkie John
Lepke August
Lessard Michael
Lett Thomas Benjamin Jr
Levasseur Evangeliste
Lewis William Jno
Little William
Litke Otto
Logan Robert
Lynch Jeremiah
Lyons Edward
M
Madden William
Madigan Michael
Madine Dennis
Marion Adolphe
Marion Baptiste
Marion Felio
Marion Oliver
Marks John
Marleau Norbert
Maxwell Sarah Ann
McAllister Margaret
McArthur Archibald
McCallum Malcolm
McConeghy Jane
McConnell Ann Jane
McCormack Bridget
McCourt Maryanne
McCradie James
McCrea James
McCroch Grace Elizabeth
McDermid Jessie
McDermot Fanny
McDonald Agnes
McDonald Alexander
McDonald Allan
McDonald Angus
McDonald Catherine
McDonald Ellen
McDonald Esther
McDonald Florence
McDonald Isabella
McDonald James
McDonald Jolm
McEwen Alexander
McFadden Maryanne
McFadyen Flora
McFarlane Henry
McFayden Isabella
McGillis Archibald James
McGregor James
McHugh Suzanne
McIntommy Mary Jane
McIntommy Michael
McIntyre Daniel
Mclntyre Henry
McKeclmie Matilda
McKeddie John
McKenzie Mary Jane
McKillop Charles
McLaren Caroline
McLaughlan Mary
McLean Hamilton
McLean James
McLean Jennet
McLean Mary
McLeese Mary
McLeod Elizabeth
McMahon Mary
McMahon Maurice
McManus James
McMartin Gasty Mark
McMullen Janet
McMullin James
McNanel William James
McNee James
McNee Robert Charles
McPeak Bridget
McPeak Henrietta
McPherson Isabella
McPherson Thomas
McTavish Mary
Menard Mary Elizabeth
Merel Alexander
Mick Hariet
Millar Robert
Miller James
Miller John
Montgomery Hugh
Montgomery Mary Jane
Montgomery William Stoney
Moore Alexander
Moore Isabella
Moran Austin
Morin Francis
Morin Oliviere
Morrel Lucy
Morrow Esther
Morrow Margaret
Morrow Mary Ann
Moss Eltrieda
Mourell Francis Xavier
Mow Herman
Muir William
Mulligan Thomas
Murphy Alvina
Murphy Ann
Murphy John
Murphy Margaret
N
Nedd William Jr.
Nelson Benjamin
Neubarr Cecelia
Neville Anne Jane
New Mary
Normandin Mathilda
O
O'Brien Bridget
O'Gorman Peter
Oilleara Minnie
Olmstead Frances
Olmstead Nathaniel
Ookenson Ola
Owens Thomas
P
Pagee Eliza
Patterson Robert
Pendergast Ann
Pereczka Anne
Peristly Elizabeth
Perrault Maggie
Phillips Abigail
Phillips Caroline
Philion Ann
Pigeon Escilias
Pigeon Urgel
Piekarski Laurent
Pineault Joseph
Piscau Rosila
Pollack Robert
Porter Elizabeth
Potter John S
Powell Henry
Powell Margaret
Preen William D
Prentice Eliza Jane
Prentice Maria
Price Theresa
Primmeau Hermione
Prince Julianna
Q
Queen Catherine
Quinn Thomas
R
Radaz Emelia
Ramsbottom Jane Mary
Ramsbottom William
Rathray Mary
Raymond Rosalie
Roan Ann
Roberts Louisa
Robertson Henry
Robertson John A
Rose Alvin
Rowan James
Ruchette Adeline
Runtz Carl
Russell Lydia Janet
Rutzlolf Aurelia
Ryan Joanna
Ryan Thomas
S
Saddler Mary Ann
Sample Mary
Sceke Frederick
Schimmens Louise
Schiskifsky Frederick
Schulfer Paulina
Scott Hiram
Scott William
Scully John
Seguin Alphonse
Seigel Charles
Serson Edward
Serson Elizabeth
Shanahan Margaret
Sharpe Lily Ann
Sharpe William
Sheedy Margaret
Sheridan George
Sibary Thomas Stone
Skuce Maria
Smallpiece Caroline Louise
Smith Adorerum
Smith Elizabeth
Smith Jemima
Smith John
Sparling Catherine
Spence Elizabeth McGill
Stewart Florence
Stewart James de Gaspe
Stewart Robert
St. Goddard Guilliame
St. Jacque Joseph
St. Louis Delphine
St. Louis Joseph
Stock Bridget
Storie Janet
Story Margaret
Strausman John
Stringer William
Stuart Mary Ann
Styles Benjamin
Styles George
Styles Kezia
Sullivan Ellen
Sullivan Elizabeth
Sullivan James
Sullivan Mary Ann
Sutherland William
Swilwell Antony
T
Tahn Bertha
Tario Elizabeth J
Taylor William
Thrasher Anna
Thomson Mary
Thompson James
Timmons William
Toner Annie
Trail Agnes
Tremblay Caroline
Trickey Ida May
Tucker Catherine
Turgeon Joseph B
Turpin Emily
U
Urin Catherine
V
Vallier Frederick
Van Allen John
Vaudrey Paul
W
Wagner Ferdinand
Wallace John Kennon
Walsh Margaret
Warren John
Watson Henrietta
Watson James Robertson
Weldon Ellen
Whelan William
White David
White Susan
Wilson Lorenze
Wilson Marion
Wood Samuel
Woods Mary Ann
Worm Mathilda
Wormke Gottlieb
Wiight Electa Elaine
Y
Young Leticia
Young William
INDEX RENFREW COUNTY MARRIAGES 1882
A
Abbott Charlott
Abbott Francis
Adraine Jane
Adrian Eliza
Anderson William
Aughney Luke
Aughney Mary
B
Baldwin Fanny
Bahr Wilhehmina
Baptiste Louis
Bayne Alexander
Beckell Rev. David
Beesenthal Frederick
Beesenthal Marie
Behan Patrick
Bell Eliza Howard
Bell Margie
Benan August
Bennett Andrew
Benoit Susanne
Bertrand Eleanor
Bishop Richard
Bledow William
Boire Jemima
Borbridge William
Boyd Robert
Brannen Joseph Harris
Brehmer Bertha
Bridge John
Brown Edward
Brown Margaret Ann
Bruce Walter
Brun Herman
Buchanan John
Budd Julius William
Bulmer Margaret
Burwell Elizabeth
Byers William H
C
Callahan Mary Anne
Calies Reinhold Herman
Cameron Angus
Cameron Annie
Cameron Mary C
Campbell Archibald
Campbell Evelyn
Campbell Mary
Carriere Emma
Carriere Israel
Carriere Theophile
Cashmore Catherine Mary
Cassidy John
Cathurst John
Chabot George
Chamberlain William Flort
Charbonneau Jean
Charrette Jules
Chevrier Peter
Childerhose Charlotte
Clark Thomas
Clarke Laura J
Clement Benjamin
Clement George
Clement Virginia
Cliche Martine
Clouthier Thomas A
Cochrane Elizabeth
Cochrane Francis
Cochrane Robert
Collectern Edward
Collins Margaret
Collins Sharlott
Conahan Mary
Connolly John
Colton Mary Ann
Colton Mary Ann
Colton Tiberus
Cooper Charles
Costello June
Cottenham Wm
Cottenham William
Cotie Maria J
Coughlan Owen
Cox George C
Coyne Samuel
Cram Agnes
Cranston Robert
Crick James
Culbertson Eliza
Curry John
D
Dalglish Grace
Danfield Sarah Marie
Davidson John
Delarge Ann Josephine
Devine Mary
Dewar Maggie
Dick David
Doering Bertha
Donohue Honora
Downey Ellen
Doyle Catherine
Drennan Alexander
Drohan James
Drysdale Charlotte
DuCharm Elizabeth
Dumais Minnie
Dummell Auguste
Dummell Nancy
Duntield Margaret Ann
Dunlop Alice Lavinia
Dunn James
Dupuis Francis
E
Eades Margaret Lune
Easton Isabella Dickson
Eberson Charlotte Miller
Edey John
Edwards Annie
Egan Ann
Elliott David Wilson
Ellis Elizabeth Jane
F
Fabian Othilie
Faight Samuel J
Farrell Joseph
Farrell Joshua
Featherston W J
Ferguson John F
Ferguson William James
Ferrier James
Filion Albert
Fisher Phumia
Flemming George Delmoux
Flemming Patrick
Fluker Joseph R
Foester Joseph
Foezel Agnes
Foy Mary
Francis Jonathan
Francois Bazil
Fraser Elizabeth Selves
Fraser Jeannie
Friend Elizabeth
G
Gagnon Mary Eliza
Gagnon Mary Elizabeth
Gallagher John
Gannon John James
Garnin James
Garvin James
Garving Oliver
Gauthier Elizabeth
Gauthier Napoleon
George William
Geroe Marianne
Geroux Emelie
Gervais Narcisse
Giguerre Margaret
Gillan Margaret
Giles Thomas
Gillies Ellen
Gillis Margaret
Gilmore Margaret A
Goldt Bertha
Goodall George M
Gorman Alexander
Gorman Alexander
Gourdeau Marie
Graham Catherine
Graham Margaret
Griese Catherine
Grosklags Frederick
H
Halliday Elizabeth
Halliday Thomas
Hamell Martin
Hamilton Thomas Carswell
Hanlan Timothy
Hanlon Timothy
Hanneman Charles
Hanson Mary
Hayfield John
Hazelton Emily
Headrick Ellen
Headrick Jessie
Heise Ferdinand
Houlahan Thomas
Hudson Henry
Hudson Mary Elizabeth
Hunt Margaret
Hynes Janet Hamilton
J
Jackson Elizabeth A
Jackson Noah R
Jackson Sarah J
Jacques Vitaline
James Mary
James William
James Wm
Jamieson James
Javer Mary
Jennings John
Johnston Martha Ann
Johnston Mary
Johnston Samuel
Johnston Thompson
Johnston William John
Judge Emily
K
Kelly Julia F
Kelly Julia
Kennedy Mark
Kennelly Henry
Kennelly Mary
Kerevan Margaret
Keyes James
Kiedrowski Rosalie
Kilby Johannah
Kilgore Nellie
King Neil Archy
Knight Maria
Knight Thomas
Kosmack Janet
Kruger Anna Louise
Krzizam Frederick
Kulas Antoine
L
Labarge Sarah Margaret
Laboe Ann Jane
Lacroie Eleanor
Lafortune Philomine
Lamoreux Joseph
Lance Leanor
Lane Catherine
Lame James
Larrett John
Larrett Mary
Lauke Pauline
Lauranden Alexina
Lauzon Hermidas
Lavallee Bethea
Lavelle Bridget
Lavoy William Henry
Leach Thomas
Leach Wm Jas.
Leach Wm T
Lebeau Louis
Lee Mary Ann
Lepinskie Catherine
Lesage Julie
Lezcynski Casimo
Lindsay Sarah
Linton Moses Windsor
Little Harriet
Lorbicka Victoria
Lubitz Minna
Lukasqewiez John
Lyons Annie Elizabeth
M
Mackley Anastasia
Maley Maria
Malone Mary Ann
Marion Martin
Marion Martin
Marion Richard
Martin Frances
Martin Philomine
Marsh Henry Lee
Marshall Michael
Mathews Annie
McAdam John
McArthur Bertha
McArthur Elizabeth Ann
McCann James
McCarthy Patrick
McCharles Mary
McClelland Hiram
McCool Alexander
McCuddie Ellen
McDonald Ann
McDonald Annie
McDonald Edward
McDonald James
McDonald Jessie
McDonough Elizabeth
McGee James
McGee James
McGibbon Richard J
McGillis Albert
McGinn John
McGregor Christina
McGonigal Andrew
McGrath Margaret
McGrath William
McIntyre Albert George
McIntyre Daniel
McIntyre Hannah
McIntyre Margaret S
McIntyre Peter
McKay James
McKinley Maggie
McKinnon John
McLaren Hannah
McLaren Peter
McLean Jannet
McLeod Catherine
McMahon Elizabeth
McNab Ellen
McNealy Catherine
McNee James
McNeely John
McQuitty Sarah
McVean Margaret
Mews Albert
Miller James
Miller Martha l
Miller Robert Curle
Mitchell Cecelia
Moffatt William
Montgomery William
Moore John
Moore Mary Isabella
Moran Michael
Morcan Francis John
Morris M J
Morrissey John
Mulligan Michael Francis
Mulvihill Thomas
Murphy James
Murphy Julia
Murphy Mary
Murphy Mary Ann
Myuire Maggie
N
Neaman Caroline
Needham Margaret
Neil Margaret
Nelson Susan
Niblet Edward J
Nichols William
Nillon Susan
Norsuix Alfred
O
Oates Elizabeth
O'Brien Catherine
O'Brien Catherine
O'Brien John
O'Kelly Mathilda
Olke William
Olmstead Emiline Lavinia
Owens Martha
P
Papke William
Papin Mary
Paris Annie
Parkhurst Annie
Patterson John
Pauls Augusta
Peever Vwlliam
Pettitrault Adeline
Piggott Arthur Colley
Poltz William
Portugaus Joseph
Potter Thomas
Pretty Alice
Price James
Price Jane
Princ Marianne
Princks Joseph
R
Radke Bertha
Radwell Nellie
Ralph Mary Ann
Ranger Alexander
Rathwell Ellen
Rea Daniel
Reid M John
Reilly Hugh
Renalty Mary Ann
Reynolds Mary
Riddell Samuel
Ringsleben Gustav
Ristow Karl
Ristow William F
Rivett Mary Ann
Robertson Duncan
Robertson James Brown
Robertson Jane Carmichael
Robertson Richard
Robinson Martha
Rohloff Emma
Roney Ceisak P
Rosetz Frederick
Ross William
Rouse Margaret
Rowsom Samuel
Ruddy Mary Anne
Ryan Bridget
Ryan Catherine
Ryan Patrick
S
Sarslield James
Saunders Francis
Sauriole Elizabeth
Sayyea John
Schlacter J F
Schulke Herman A L
Schwandt Frederick
Schwartz Michael
Seguin Elizabeth
Seidler Wilhelmine
Seidlitz Mathilde
Seifert Albertine
Seifert Herman
Shannon James
Shannon James
Shaw Hettery
Sheehan Ellen
Shepherd Ellen
Sherman Isaac
Shields Bernard
Shields Jane
Simpson James
Smith Alexander
Smith Edward
Smith Isabella
Smith James Henry
Smith Maggie L
Smith Mary Elizabeth
Smith Walter
Solway Oliver
Somerville George Brown
Sperberg Albert
Sperberg Holde
Spinks John
Splane Mary Ann
Stark Catherine
Stevenson Archibald
Storie Margaret A
Stubinski Ann
Stuart Jamieson
Stuart Jessie
Sullivan Sarah
Summach Maria R
Suites George
Switzer John
T
Tang John
Teegs Otto
Templee Emilie
Tetowski Julianne
Tierney Hugh
Timmons Elizabeth
Theris Mary Ann
Thompson Elizabeth
Thompson William
Thur Alphin
Tois Jane
Turner Robert
V
Vallee Adeline
Vaudry Justine
Verch Bertha
W
Wall Ellen J
Watts Iva Elizabeth
Welskiskie Joseph
Wilcox Mary Ann
Williams George Washington
Williams Robert
Wilson Margaret
Wilson Mary
Wizenburg August
Woodke Lydia
Wright Mary
INDEX RENFREW COUNTY MARRIAGES 1883
A
Acton Martha
Aldacre Thomas Smith
Amable Vincent Herbert
Anderson Ellen
Anderson John
Andrews Mary Jane
Antler Ferdinand
Ashick Frederick
Atchison George
Atkinson James
Aughney Ellen
B
Bader Mary Ann
Bain Jessie
Baines Margaret
Bandy Mary Ann
Barr Margaret
Barrett Patrick
Barry Jane
Beach Joseph
Beaulieu Delema
Beaudry Rose Ann
Belanger Ferdinand
Belguil Arthur
Belkwell Arthur
Bell Margaret W
Berger Matilda
Bertrand Francis
Biggs Samuel
Bisson Adam
Blackburn Elizabeth
Blade William
Blair George
Bland James A
Blondin Henrietta
Blois Ludgate
Boivin Elinne
Boivin Louis
Bonfield Julia
Booth Mary
Braun William
Brennan Catherine
Brigden Mary Ann
Brown Eliza Jane Hill
Brown William
Bruden William
Brule Michael
Bucholtz Augusta
Bucholtz Charles
Burke Catherine
Burrows John
C
Calahan Johannah
Calback Elizabeth
Campbell John Hugh
Campbell John McKillop
Campbell Mary Jane
Campbell Rebecca Jane
Campbell Robert
Campbell Samuel
Canton Oliver
Cardiff Robert
Carmichael Mary
Carey William
Carney Cornelius
Carswell Agnes
Carswell Robert
Cartman Jolm B
Casey Ellen
Caughey Agnes Jane
Cawley Bridget
Caya Onezine
Chamberlain Hattie G
Chamberlain Joseph
Chantier Therese
Christink Leth
Church Hester
Clark Francis
Clarke William
Cliche Louis
Cochrane Mary
Cochrane Sarah
Code Isabella
Collins John Edward
Condie Sarah Alice
Connors Annie
Conway Thomas
Comet Eileen
Coughlin Mary
Coughlin Simon
Cox William Henry
Craig James
Cram Agnes
Crogie Annie
Cross Frederick
Crozier Elizabeth
Crozier Margaret
Cruickshank Charles
Cuddy Catherine
Culchan Appollinea
Culhane Johannah
Curran John
Cuthbertson William
D
Davidson George
Deacon Charlotte Ann
Dean Susan
Delere Rosalie
Delorme Jane
Demers Thomas
Denaud Cecelia
Desjardin Gilbert
Devine Bridget Ellen
Devine James
Dewar William John
D'Hiele Josephine
Dillon Joseph
Dixon Robert
Dodds Catherine
Doherty Mary
Dolan Patrick
Dollman Minnie
Donnelly Thomas
Doolan Mary
Doolan Mary
Doman Martin
Dow Agnes
Dudley Ferdinand
Dudley Robert
Duggan George
Dunn Julia
Duval Catherine
E
Eady Robert
Edey Minerva
Egan Catherine
Emerson Mary
Evans John Vokes
F
Farquharson Grace
Felin Sarah Ann
Fenson George
Finan Maria
Fisher Wilhelmine
Fitzhenry John
Flis Mariamie
Fluker Sarah Elizabeth
Fluker Thomas A
Foley Patrick
Foy Marian Jane
Fraser John
Fremont Caroline
Fremont Mary
Frood Sophia
G
Gale Charles
Gallagher Bridget Eliza
Gallagher John
Ganning Mary Ann
Gannon Michael Joseph
Gardiner James
Garvin Oliver
Geiles Robert
George John
Germain Margaret
Gervais Charles
Gervais Madeline
Gilgac August
Gilmore Ann
Glaucey Edward
Gleeson Catherine
Godin Oliviere
Gordon Mary
Gorman Mary
Gorman Michael J
Goth Margaret
Goyles Andrew
Graham Andrew
Gravelle Leo
Gray Lucien
Green James
Greer Alzena
Greer Michael
Grier Frances
Griffin John
Grison Louis
Gruind Elizabeth
Guest Elizabeth
Guest George
Guimond Napoleon
Guppy Louisa
H
Haley Robert
Halliday James E
Halliday Margaret Ann
Halton Francis Robert
Hamilton Catherine
Hamilton Margaret
Hanson Maggie
Haryett Mildred
Hawkins Henry Thomas
Heldke Bertha
Hildebrandt August Ferdinand
Hill Henry
Hobbs Margaret
Hopp Auguste
Howard Rebecca
Hudson Albert
Hunter Edwin Samuel
Hutson Ellen
Hutson Thomas
Hyde George
J
Jackson Albert
Jackson George
Jacobee Paul
Jandte Bertha
Jenkins Martha
Jessup John
John Adolf
Johnston William Albert
Jordan Annie
Joyce Elizabeth
Judson William
K
Kasabeck Jacop
Kelly Bridget
Kelly James
Kelly James
Kenedy John
Kennealy Martin
Kennedys Cecelia E
Kennedy Mary Josephine
Kennedy Mary E A
Kennelly Catherine
Kenny John
Kerevan Jane
Kerr Francis
Kilby Catherine
King William`
Kirk Albert Ferdinand
Kirk Augusta
Kirk Johanna
Kopotofski Martin
Kororoske Simon
Kriker Christian
Kulas Marianna
L
Labelle Alice
Laberge Elzire
Laderoute Vital Ephrine
Lahruphtel Louisa
Lang John
Laplante Oliver
Laplaunte George
Laronde Andrew
Laronde David
Latour Frances Anne
Laundry Alfred
Laundry Matilda
Lavallee William
Laverdure Theophile
Leach Harriet Alice
Leach Jemima
LeBlanc Marie
LeBlanc Margaret
LeBlanc Menagile
Lebarge Joseph
Lebeau Jeremie
Leckie William Robert
Ledger William
Lee Ellen
Lee Robert
Legary Cecelia
Lehmann Christian
Leitch James Alex
Letourneau Gilbert
Levecque Alexander
Lillie Robert
Lindsay Allan John
Lindsay Mary Elizabeth
Lister Joseph
Loney Sarah Jane
Long Mary Ann
Lucasavich John
Luecthe Henry
Luloff E L Ferdinand
Luloff Emilie
Lunn Elizabeth
M
Mackatesk Suzan
Madden Henry A
Maddock James
Makay Ann
Malo Felicite
Marion Eugene
Marlot Omelina
Mask Rosa
Masklows Bertha
Mathison Nellie
Matthews John
Mayhew Melvia
McAdams James
McAdams Mary Jane
McAra Mary
McAuliffe William
McCabe Margaret
McCarthy Thomas
McCharles Margaret
McCreary Wallace
McConnell Joseph
McCool Charles
McCool Margaret
McCormac Michael
McDermott James
McDonald Christianne
McDonald Fanny
McDonald James
McEwen John
McFadyen Duncan
McFadyen Elizabeth
McFarlane Francis
McFarlane Francis
McGee Margaret
McGillvary Peter
McGonigal Mary Ann
McGregor Patrick
McGregor Peter
McGuire Mary
McIniry James
McIntosh Annie
McIntyre Jane
McIntyre Mary Ann
McIntyre Mary Buchan
McIntyre William
McKeddie Isabella
McKeeniry Bridget
McKibbon Johnston
McKillop Agnes
McKillop Dougall
McLachlin Claud
McLaren Sarah J
McLauchlin Nellie Jane
McLaughlin James
McLaughlin William
McLean Archibald
McLean William
McLeary Mary Ann
McLeod Jeannie
McMahon Margaret
McMahon Mariann
McMillan Elizabeth
McMillan Peter
McNeice Catherine Jane
McNulty Thomas
McQuestion Mary
McQuestion Mary
McPeke (McPeak) Margaret
McTavish Adam R
McVicar Alexander
McWade Margaret
Meagher Edward
Meaney James L
Meaney Patrick
Meers Clara
Melville Elizabeth
Menard Oliver
Menking William Henry
Mick Catherine
Mick Charlotte
Miecmac Louise
Miller Henry
Miller Isabella
Miller John
Miller Thomas
Milne Margaret
Miskinnons Emily
Miskinnmow James
Mittlestadt Gustave
Mohns Maria
Mooney John
Morel Alfred
Morgan Alice Amelia
Moritz Maria
Morrow Anne Matilda
Mosley Michael
Mueller Amelia
Mueller Mary Louisa
Mullins Hugh
Mulvihill Daniel
Murphy John
Murtagh Margaret
Myles Rebecca
N
Nadeau Joseph
Naughton Charles
Nebaurer Julius
Nettleton Samuel
Neuman Minnie
Neuman Paulina
Neville Johannah
Neville Mary
New Margaret
Nichol Isabella
O
Oakley Esther
O'Brien Ann
O'Brien Michael
0'Donnell Catherine
O'Grady Hannah
O'Grady Hanna
O'Hare Catherine
O'Keane Mary
O'Meara Mary
O'Meara Mary Francis
Owen Mary Beatrice
P
Pattison Matthew
Paquette Oliver
Paris Margaret
Payne William
Pease Rebecca Martha
Peever Margaret
Pennant Theophile
Pepin Margaret
Perry Annie
Pershic Anthony
Pershick Marianna
Piekaskie Josephine
Pigeon Ann
Pinkerton Alexander
Prince Susan
Ptuezynsri Stanislaus
Purvis Frank
R
Rae Elizabeth Frances
Reca Elizabeth
Recoskie Barbara
Reeves Eleanor
Reeves William
Reid Mary Ann
Rekowskie Thomas
Renaud Nelson
Renneber Apolonie
Reynolds John
Richards James
Riddell David
Rielly Edward
Ring Anne
Ritchey James
Ritz Michael
Rivington Robert
Roach Mary
Robinson John
Robinson Mary
Roche Michael
Rogers Anne
Rollins Arm
Rondeau Cuthbert
Ross Alexandria
Ross Anne Jane
Ross Eliza Matilda
Ross James Morris
Ross Maggie
Russell Robert
Ryan James E
S
Sack Ferdinand
Sauson Esther
Scheel Robert
Schmidt Ernst
Schmidt Louisa Mary
Schroeder Julius
Schultz Herman
Schutt Berth
Shaghnessy John
Sharp Mary Jane
Sharpe William
Shaw John
Sheedy Patrick
Sheilds Annie
Sheppard Helsin R
Sheridan Mary
Simard Mancia
Skibbo Rosalia
Smail Amelia
Smiles Thomas I
Smith Ann Jane
Smith Jacob
Smith William Henry
Somenberg Herman
Somerville Joseph
Spleister Wm
St. Denis Alphonsine
St. Jean Marie
St. Louis Paul
St. Louis Sophinie
Sleetmader Caroline
Sterling Catherine McIntyre
Stewart James
Stocks Caroline
Stoppa Marianna
Storie Helen
Storrmenski Ignatius
Stoughton Albert
Stringer George
Suckoo Albert
Suyden Martha
Sweeney George
Sweeney Patrick
Sweetman Charles Henry
Szola August
T
Tate Henry
Tenant John
Tennant Mary Brush
Tenta Josephine
Tereczek Albert
Thacker Joseph Edward
Thomas Josephine
Tirmn William
Timmons Isabella
Tolequin Flose
Towns Calvin
Townsend Clarinda
Trelford Stewart
Tucker Elizabeth
Turcotte Julie
U
Ulrich Pauline
V
Valiquette Severe
Vancortandt Norma
Verch Otilie
Visso John
W
Wagner Julius
Waldock Jacop
Wallace Elizabeth
Wannamaker Wm
Warburg Louis Christian A E
Warren James
Watchhom Alexander
Weber Abraham
Weber Emil
Weinter William
Wellington Mary
Welski Michael
Whalen Catherine
Whalen Ellen
Wheeler John
Wilson Agnes
Wilson David
Wilson Robert H
Willson Sarah
Winke Caroline
Y
Yakabuski Andre
Yetts Maggie
Young Alexander
Young Mary
Young Mary Jane
Young William
Yurth Anna
Z
Zastross Bertha
Zerbie Frances
Zummach Carl
INDEX RENFREW COUNTY MARRIAGES 1884
A
Acton John Arthur
Admanski Helen
Affleck Alexander C.
Allbrough Eleanor
Allison Janie
Anderson James
Anicrogie Joseph
Appleby Thomas
Amot George
Ashmore Sarah
August ?
B
Bambinek Agnes
Barber Rhorison
Bartell Mary
Beauchamp Mary
Beaudry John
Beaufort Alex
Beaulieur Thomas
Beautrice Theophile
Beier Ernestine
Beirniarz John
Beirnicke August
Beise August
Beker A
Bennett Alice
Bennett Elizabeth
Bennett George
Bennett Henry
Benoit Edmund Harrier
Bentz Enas
Berezenskie Madeline
Berger Maria
Biesenthal Herman
Biggs Richard
Bisome Alexander
Blackwell Susan E
Boar Bertha
Boisvert Emma
Booz Mary Jane
Box Alexander
Boyce Elizabeth
Brays Jeremiah
Breen Michael
Breen Olive Mary
Brennan Ellen
Bridges John
Brisson Joachim
Bromley James Holmes
Brose Ernst
Brougham Thomas Barrows
Brown George B
Brown James
Brown Margaret Ann
Brown W
Buchanan James
Buchanan Robert
Buerzens Jacob
Bulger Martin
Burant Faustina
Burant Jean
Burant Joseph
Burgess Eliza Jane
Burgess Mary Ann
Burlanquette Alexander
Burris John
Burton John
Burwell Mary
Buttle Martha
Byers Margaret Jane
C
Callaghan Hugh
Cameron Bella
Cameron John
Cameron Margaret
Campbell Annie
Campbell Ellen
Campbell Isabella
Campbell Margaret
Cannibly Mary Ann
Cardiff George A
Cardinal Thomas
Carmichael Calvin
Carmichael Thomas
Camegie Elizabeth
Carrier Philomene
Carswell Catherine Marin
Carswell Thomas H
Cassidy Eliza
Chabot Pierre
Chabot Pierre
Chamberlain Mason
Cherry William Buchanan
Childerhose Christina
Church Elmira
Churchill Frances
Chusroskie Mary
Cire Josephine
Comrie Catherine
Condie Elizabeth Ann
Condie Francis A
Condie Richard
Conners Elizabeth
Costello Kate
Costello Martin S
Coughlan John
Cousineau Napoleon
Couturier Eleanor
Cowan Richard
Coyne Mary Ann
Craig Mary Lyons
Cram Christina
Crarnowska Oloiznus
Cubulla Joseph
Curry William
Cuwan John
Cuthbert Marion
D
Dagenais Etienne Duncan
Dafoe William Etienne
Dagg George
Dalglish John
Dalglish Lucy
Dargus Frances
Davidson Margaret
Davis Eliza
Davis Henry George
Davis Mary
Dean Thomas
Deacon John
Deiver Archibald
Delaney Margaret
Delarge John Robert
Delere Ceasre
Devlin Alexander
Dick William
Dillon Mary
Dobring Martin
Dolan Patrick
Donavan Mary
Dougall Annie
Douglas Mary Jane Isobelle
Dougherty John
Duggan James
Duke Margaret
Duncan Thomas Henry
Durrich Patrick
E
Early Mary Ann
Edwards Benjamin
Edwards Jacob
Edwards John
Elliott Matilda D
Elliott Thomas Jackson
Ellis Samuel
Ethernglon Jamaimah
Evans Mary
F
Ferguson James B
Ferguson John
Ferris Mary
Findlay John
Findlay Robert Seasell
Fisher Joseph
Forrest Andrew
Fortier Anneline
Fortier Stephanie
Foy Thomas
Francis Richard
Fraser Elizabeth Hannah
Fraser Margaret
Fraser Marion
Friedrick August
Friedrick Marie
Frood Janet
G
Gagne Joseph
Gagne Joseph
Gagnon Edward
Gagnon William
Gallagher Teresa
Galvin Joseph Pat
Gangner Joseph
Gariepys Louis
Gemmill George P
George Henry
Gibault Henry
Gibbons Hugh
Gignas Marie Angelina
Glynn John
Goddin Adeline
Gorman John
Gorman Patrick
Gotoskie Jacop
Graham Catherine
Graham James Ernest
Grant Hannah Melina
Grant Wm H
Gravel Maxime
Grech Stanislas
Greely Patrick
Greer Edward
Gregor William H
Griese John
Griflith Jane
Groch Daniel
Grunter Rudolph
Guehery Emmanuel de
Guest Eliza Jane
Guest Mary Jane
Guthrie Frederick
Guthrie James
Gutzman Bertha
H
Hadden Henry
Halliday Agnes
Hamilton Betha
Hand John
Handlin Ellen
Hanrahan John
Hare Margaret Ann
Harryett Samuel
Hartwick Bertha
Hartwig Martin Albert
Hawkins Amy
Hawkins Thomas
Hawthorn James
Hayes Mary Jane
Headly Edith
Headrick Eliza Jane
Headrick John
Healy Julia
Helferty John
Hemminway David Almond
Henderson Annie
Henderson John
Henderson Mary Ann
Herntzchell Joanna Christina
Hicks John
Hobbs Ruth
Holly Jane
Holmes Harias
Hough George Harris
Humphries William
I
Inwood Hannah
Ireland Elizabeth
J
Jackson Thomas
Jacob Angeline
Jakust Victoria
James Douglas John
James Mary Ann
Jamieson Robert
Jamieson Robert A
Janta Anna
Jardine James
Jeffery Mary Jane
Jessup John Wilson
Jetkowski Frances
Jette Olive
Johnby Emmeline
Johncox Sarah Ann
Johnston Fannie
Johnston Robert
K
Kasabeck Anastasia
Kasabeck Marianne
Kearney Sarah Ann
Kennedy Ann
Kennedy Catherine
Kennedy Robert
Kenney Rachel Jane
Kidd John
Kinder Agnes
Kitt Samuel
Kitt Samuel
Klingbriel Bertha
Kuack Albert
Kuack Ann
Kuack Francois
Kumm Wilhelm
L
Labine Aza
Laderoute Noel
Lafoar Lidney
LaFountain Magloire
Lair Henrietta
Lambert John
Lamoureux Ruben
Langlois Joseph
Langlois Mathilde
Langstaff Maria
Laronde Mary
Laronde Matilda
Laska Michael
Latour Josephine
Laudrier Angele
Lavallee James
Laventure Caroline
Leach Joseph Albert
LeBlanc Daniel
LeClerc Eleanore
Ledger John Joseph
Lee Edward
Legge Ellen
Lehman Johan
Lemke Julia
Leskie Joseph
Letellier Elizabeth
Levoy Emma Isabella
Lewis Eunice A
Lezenskie Casimer
Lezenskie Mercianne
Libby Susannah Elizabeth
Lindsay Cecelia
Lindsay Janet
Lindsay Margaret A
Lindsay Mary Harriett
Lisk Frederick
Lister John
Little Maggie Christine
Little Jolm L
Lorigna Catherine
Ludgate Alice
Ludgate Charlotte A B
Lynch James
Lynn Annie
Lyons Harriett Ann
Lyon Susan
M
Mackay Catherine
Mackey Ida
Macklin Margaret
Madigan Daniel
Mahere Melina
Major Julia Ann
Maloney Bridget
Maloney Margaret
Marion Catherine
Marion Olive
Martin Elizabeth
Martin Joseph
Martin Robert
Mathias Christine
May Samuel
Mayer William
McAndrew Daniel Herbert
McAlpine Archibald
McArrain John
McBearths Duncan
McCagherty Annie
McCallum Christina
McCallum John
McCashan Donald
McCarty Matthew
McCauley John
McClelland Sarah
McCormac Margaret
McCormack Lizzie Reid
McDonald Alexander
McDonald Emity
McDonald Hugh
McDonald Jane
McDonald Jane
McDonald Margaret
McElligott Jolm
McEwen Selina
McFarlane Jennie
McGregor James
McGregor Margaret
McGonnegal John
McInery Mary
McKeddie George
McKeddie Margaret
McKibbon Thomas
McLaren John
McLaren Kate
McLauchlin James
McLauchlin John R
McLean Bella
McLean Catharine
McLean Thomas
McLean Thomas
McLellan John
McLeod John
McMahon Margaret
McMillan Archibald
McMillan Mary Ann
McMillan Peter
McMillan Sarah
McMullen Samuel
McNamara Honora
McNamara Thomas
McNicol Grace
McNie Donald
McNie Duncan
McPeak James Alexander
McPike Roderick
McQuade John
McQuarrie Mary
McQuestion Benjamin
McQuitty William
McRae Elizabeth
McRingier Mary
McTavish Margaret
Meagher Mary
Meeker Alice
Menzies Peter
Menzies Robert Jr.
Mercior Eugene
Mickle Mary Ellen
Mieske Mose Emil
Miller Adam
Miller Alexander
Miller Caroline Evans
Millette Philomine
Mills Eliza Ann
Milne George Joseph Simon
Mitchell Annie Kate
Mitchell James
Mittlesfelt Mini Antoinie
Moffatt Thomas H M
Montgomery Agnes
Montgomery Kate
Moore Eleanor
Morlach George
Morrison John
Morrow Mary Ann
Mosley Alma
Mosley Philip
Mow John
Mulvihill Nelly
Murphy James
Murphy John
N
Neil Mary Ann
Nevil Michael
Newton Annie Agnes
O
O'Brien Bridget
Obrine Thomas Allred
O'Cormor Lizzie
O'Connor Margaret
O'Donnell Catherine
O'Donnell Patrick
O'Harris Henry Elliott
O'Keene Margaret
O'Leary Margaret
O'Neil Margaret
O'Shaugnessy Honora
Olmstead Sarah Jane
Olston Violette
Ouelet Arthur
Ouellette George
Ouellet Louis
Owens Emma Ann
Owens Margaret
P
Page Amable
Palequin Flora
Parcher Roxanna
Parsons Mamice
Passaw John
Payette Sophia
Peas Sarah E
Pearson Jane
Pelouskie Sophonia
Peplinski Agnes
Peplinski Marianne
Percival John
Perrin Camille
Pestka Nicola
Phillips David Goodwin
Phillips James
Phillips William
Pierce Phillip Henry
Plummer Elizabeth
Pocrifka Rosalia
Polhal Pauline
Popkey Augusta
Popkey Augusta
Porter Margaret
Powell Liza Ann
Powell Maria
Power Ellen
Prince Marianne
Prince Piere
Princh Adam
Pritchard Andrew
R
Radke Bertha
Rajotte Louis
Ramsay Mary
Rathwell Mary Ann
Raycraft Richard
Reid Catharine
Rekowski Madeline
Rice Michael
Richardson Jane
Richardson Sarah Ann
Ried Mary Ann
Riley George
Roberts Rebecca
Robertson Margaret
Robinson Jane
Robinson Robert Vlhlliam
Roe Robert
Rolph Andrew
Romeo Louis
Rosien Theresa
Ross Hattie
Ross William
Roy Levi
Rudo Franz
Rush Joanna D
Rutz Wilhelmine
Ryan Bridget
Ryan John
Ryan Hannah
Ryan Stephen
S
Saddler Jane
Saddler William A
Salfranger Clement
Schiefersten Emelie
Schmidt George William
Schultz Wilhelmine
Scott Mary
Scully Bridget
Scully Daniel
Searson Jessie
Seeley Mary Ann
Sell Edward
Selkirk Jennie
Seydak Catharine
Sheedy Samuel
Sheedy Samuel
Smith Elizabeth
Smith George
Smith Jacob
Smith Margaret
Smith William James
Smith W C
Soniles Emily
Sparling John
Sparling Kate
Sparling Sarah Ann
Spinks Mahala
Spottswood Margaret Jane
Stago Hamon
Stanley Jolm McLinagher
Stapleton Mary Charlott
Steele Mary
Steele Robert
Stefanisk Stanislas
Steigh Herman
Stepnskoroskie Julianne
Stevens George
Stewart Alexander
Stewart James
Stewart Mary Ellen
Stewart William
Stickler John James
Stitt James Henry
Stopa Joseph
Storie Robert
Storner Ralph
Story Isobelle
Struthers Alexander
St. Amand Andre
St. Desaubrois Delina Borili
St. Desaubrois Michael J
St. Jacques Mathilde
St. Louis Harriett
St. Louis Mary
St. Louis Soloman
St. Onge Mathilde
St. Pierre Adele
St. Pierre Mary Jane
Sullivan Anne
Sullivan Mary Jane
Sullivan Michael
Sweeneys Isabella
Switzer Clarinda
Switzer Sophia
Sykes Hiram
Sykes Maggie
Szulist August
T
Taylor Elizabeth
Taylor Mary
Teavens Mary
Telford Mary Jane
Tennant Agnes Augusta
Tennant Mary
Thomas Catharine
Thomas Sophie
Thomson Christina
Thrasher Margaret
Thrasher Philomen
Tiegs Helene
Trzebrnski Antoine
Tuck Peter
Tucker William
Tureme Clovice
Turzynske Pauline
Tutrzonka Thomas
V
Vance Thomas
Valignette Emelia
Vandusen Elizabeth
Vaudry F H
Vaudry Mary
Vincent Maxime
W
Wainick Gustave
Wallace Agnes
Wallace Archibald
Ward James
Ward Mary Jane
Watchom William
Watson Annie
Weinkie Henry Albert
Welk Minnie
Weomke Mina
Whalen John
Whelan Esther
Whelan Hettie
Whiteduck Mary Ann
Whitemore Harriett
Wilkins John Nelson
Williams Richard
Wilson Henry Forest
Wilson Joel Eli
Wilson John
Wilson Thomas
Wilson William
Windle John
Windle John
Windle Patrick
Witzel Minnie
Woito Louise
Woods Arthur
Woods Ellen E
Wright Eliza
Wright Lucy Ann
Y
Yelts Mary Ann
Young Andrew
Young James
Yuill William
Z
Zblewski Stanislas
Zuck Augusta
INDEX RENFREW COUNTY MARRIAGES 1885
A
Affleck W A
Albrant James Andrew
Allan Stephen
Andrews John
Andrews Samuel
Angus James
Armstrong John
Ayotte Elisa
B
Badham Nanch
Baker Eliza
Baker Elizabeth
Bailey Richard
Baits George
Barr Robert
Barry Elizabeth
Barry William
Bartell Henry
Bassett Annie
Beach Alice Adeline
Beaucage Louis
Behnke Bertha
Belair Maiy Louise
Belisle Salist
Bellanger Guilliame
Bennett Archibald
Bennett George
Bennett John
Bennett Marie
Benson Hannah
Biernenski Marianne
Biggs William
Black Gilbert
Blackburn Elizabeth
Blackwell Susannah
Boland Eliza Jane
Boisvert Ann Julia
Bonfield Catherine
Bolger Bridget
Bolger Catherine
Bourke Joseph
Bourgingnon Jean
Bourgingnon Marie
Bowes Michael
Boxwell Michael
Boyd Margaret
Boyle Jeannette
Bradley Emma
Brennan Ann
Brennan Michael
Bresnagne Thomas
Brisco Brian
Brisco James
Briskie Gustie
Briskie Gustie
Brisson Benjamin
Brophy James
Brougham William
Brouse Mary
Brown John
Biundle William
Brunnette Delia
Bucholtz Albert
Bude Emilie
Budde Amelia Matilda
Buege Carl
Buerger Johanna
Buffam William
Bulmer Fannie
Bunyan Richard
Burgess George Albert
Burgess Rachael
Burke Thomas
Burke William
Burlanquette Catherine
Burmeuster Franz
Burton Frederick A
Burton Stephen H
Butt Herman
Byce Annie Malena
Byce Lorria Jane
Byron Thomas
C
Cadieux David
Cahill Mary Ann
Cameron Hugh
Campbell Douglas
Campbell Mary
Campbell William
Carmichael James
Carney Mary Ann
Carr John
Carriere Sophia
Carroll James
Carswell Bella Gail
Carss Robert Henry
Cecire (St. Cyrs?) Marie Louise
Chabot Johnny
Chamberlain Catherine
Chamberlain Louise
Chamberlain Weyman C
Charette Joseph
Chase Catherine
Chatterton John E
Cherry James
Childerhouse Margaret
Church Levi
Clark John H
Cochley Beacham
Code James
Collins Margaret Jane
Comrie Jessie
Cooper Alfred
Copeland James
Costello Martin
Cotnam Robert
Cotton Alpheus
Coughlan Margaret
Cour Annie
Cousineau Agnes
Coutou Adeline
Coutrier Napoleon
Coutous James
Cowan Robert
Coxford James
Craig Josephine
Crapewska Valentine
Crawford Frances
Crozier Mary Ann
Cull Mary
Cull Mary
Cunningham Patrick
Cunningham Sarah
Currece Mary J
Cuthbertson Margaret
D
Dagg Thomas
Davidson Sarah Jane
Davis Thomas V
Delahey Rebecca
Demerse Francis
Demerse Olive
Dener Edward
Dervince Auguste
Desjardin Anne
Desrosiers Elizabeth
Dickson Annie
Dillabough Annie
Dixon Clara
Dobson Mary Mathilde
Dodd Henry
Dombroski Michael
Domewaty Augusta F
Donavan Daniel
Donnegan Julianna
Dontigny Louise
Dooling Joanna
Doroling Mary Thompson
Douglas Susan
Doyle Anne
Dreike Emil
Drouin Joseph
Dudley Eliza
Duggan Mary Ann
Duglas Margaret
Dunlield Agnes
Dunlop Julia
Dunn John
Durick Mary
E
Ebert Andrew Philip
Edwards Charles
Edwards Jennie
Edwards Richard
Edmunds Robert
Egan John
Egan Margaret
Egan Winnifred
Ellis Ablinda
Ellis Margaret
Elliott James
Eluce Theodore
F
Farrell Thomas
Faught Albert
Faught Theresa
Fee George
Ferguson Armie
Ferguson James
Flynn John
Foley Daniel
Forister James
Forrester Marion G
Forster Annie
Fortin Mary Emma
Frawley Mary A
Frobel Wilhelm
Frood Barbara
Frood Peter
G
Gaby Adeline
Gash Lucy
Gauthier Mary Teresa
Genoe Margie
Gervais David
Gervais Millie
Gibeau Mary
Gillan Rachel
Ginan Mary Jane
Gironse J Baptiste
Giroux Narcisse
Glaster William
Godin Exilda
Golden William
Gorman Thos. Peter
Gorra Sylvester
Gould John
Gow John
Graham Jane
Graham Joseph Henry
Graham Margaret
Graham Mary
Grattan Marie Louise
Greene Mador
Gregoire Francis
Grief Otta
Grier William John
H
Hampel Adele
Hannah Margaret
Hardt Gustave
Hashack Caroline
Hashack Martin
Hass Ida
Hayes Esther Ann
Hays Nicholas
Hazelton Louis
Helmke Augusta
Henderson Duncan
Henderson Sara
Hertmanski Marianne
Hesel William
Hetrick Francis
Hiffeco Johanna
Hobecker Henry R
Holt Emma S
Homel Gertrude
Howard Ellen
Howard James
Huckaboam William
Hunter Anne
Huntington Catherine Jane
Huntington John Wesley
Hutson James
I
Inglis Agnes
Inglis Marion
J
Jackson Ann Jane
Jackson Jane
Jannssen Anna
Jeffrey John
Jessup Wilson
Joly Emmanuel
John Caroline
Johnston Agnes
Johnston Annie Victoria
Jolmston John
Johnston Minerva
Jourdin John
K
Kaunt Amelia
Kearney John
Kelly Martin
Kennedy James
Kennelly Mary
Kiedroski Joseph
Kielly Margaret
Kilgore Ellen
Kimberly Lydia Margaret
Klatt August Carl Wilhelm
Klentz Jolm
Klentz HarmahM
Klipper Elsa
Knight George Sanders
Knott Jessie
Kolder Sophie
Kopotopfsky Martin
Kreuger Wilhelmina
Krueger Franz Julius
Kruger Laura
Kuhe Gustie
Kulas John
Kutchke Adelina
L
Lachance Domatilde
Lackey Mary Susan
LaCasse Catherine
Lacroix Alfred
Laille Marguerite
Lance Alphonse
Lance Sarah Jane
Lane Margaret
Lane Thomas
Langlois Benjamin
Larochelle John
Laroque Anne
Latour Joseph B. Q.
Leach Elizabeth Jane
Leach John
Leake Elizabeth
LeBlanc John Baptiste
LeBlanc Melina
LeBlanc William
Leckie JuliaM
Lee John A
Lee John D
Lee Robert
Lefebrve Adeline
Lefeve Letitia
Lemke August
Lemke Bertha
Lessard Joseph
Leveque Josephine
Lewis Ella
Leyska Josephine
Libby Alonzo Sylvester
Libby Henry
Little Hellen
Livingston Mary Jane
Lock Charles
Loney Eliza Jane
Lonchigan Sarah A
Luloff Herman
Lusigan Louis
Lynn Martha
Lyon Isabelle G
M
Mackay Elizabeth
Mackay Margaret
Mackie John
Mafglinski V
Malette Hermaline
Maloney John
Marchand Charles
Marchant Mary
Marion Olive
Marleau Bartholemie
Martin Alisha
Martin James
Mathias Pierre
Mathieu Eugene
McAdam John
McAdam Lewis Andrew
McArthur Robert
McBride John
McCagherty Eliza
McCarthy Sylvester
McCarty William E
McCulloch John
McCushen Duncan
McDaniel Jemima Jane
McDonald Anna
McDonald Edward
McDonald Jane Grant
McDonnell Catherine
McEwen James
McEwen Naomi
McGelligott Thomas
McGregor Alexander
McGregor Jolm
McGregor Peter
McGuire Jolm
McHughes Mary
McIntomney Sarah Jane
McIntyre A R
McIntyre Jane
McIntyre Robert
McIntyre Sarah Jane
McKay Annie
McKibbon Sarah
McKinnon Michael J
McKlenski A
McKnight William
McLachlin Thomas
McLaren Jessie
McLauchlin Andrew
McLean Esther
McLean Jessie
McLean Johanna
McLean Maggie
McLellan Neil
McLellan William
McMillan Angus
McMillan Jessie
McMillan Richard
McMullen Janet
McNabb Robert
McNee Janet
McNulty John
McFarland Rose Ellen
McPeak Annie
McPeak Emma
McQuarrie Robert
McRae Lizzie
McWilliams Thomas C
Meagher Rose Mary
Metz Carl
Mick Isabella
Mick Mary E
Mick Mary Matilda
Mick Penella
Mick Rachel
Millanney Sarah
Millar Hugh S
Miller James Greg
Mills Heniy Fisher
Minta Catheline
Mitchell James
Moews Isabella
Mohere Joseph L
Mohns Frederick
Mohr Kate
Moloney Michael
Montgomery Annie E
Montgomery Jonathan
Moore Emilie Maria
Moorhead Mary Ann
Mordy Andrew
Mordy William
Mornison Kitley
Mulcahy Margaret
Mulligan Daniel
Mulligan Hanna E
Mulligan William Edward
Mulvihill John
Mulvihill Michael
Murphy Elizabeth
Murphy Francis
Muiphy Joseph
Murphy Thomas
Myor Karl F
N
Neill Sarah
Nelles Elizabeth
Nelles Mary
Neuman Mathilde
New Jane
Newel John
O
Odburn Margaret
Olsewska Suzan
O'Malley Margaret
O'Neil Catherine Ann
O'Neil James
Oranskie Francis
Ozier Elizabeth
P
Papin Henry
Parent Isabella
Parsons Anne
Paul Isabella
Peever Eliza
Percival W H
Perkins Ellen
Pesca Mary
Pesco Mary
Peska Leon
Petigrew Isabella
Philion Felicite
Phillips Margaret
Piche Laura
Pickens Robert
Pilkington Mary Kate
Pomerany Emelia
Popp Wilhelmina Augusta
Porter Eliza A
Primeau Celena
Q
Quentin Theophile
R
Raddatz Matilda Henrietta
Radke Carl
Rankin Fanny
Raymond Joseph
Reid James J
Rekoski John
Rhode Maria
Richardson Phocia
Richey William Henry
Richter Joseph
Riley Francis
Rilley William
Ristow Carl
Roach Annie
Robertson Donald
Robertson James
Robillard Francis C
Robinson A J
Robinson Sam
Rochester James King
Rody Ellen
Rollins Wm Henry
Roman Margaret H
Rosien Gustav
Ross George
Ross Margaret
Ross Robert
Ruddy James
Russell Phebe
Ryan Annie
Ryan Catherine
Ryan Ellen
Ryan Margaret
Ryan Michael
S
Sabloniere Arkewess
Sammon Bridget
Schauseil Helene Othaha L
Schoeniield Auguste
Schurburg A
Schwandt Emelia
Schwartz Ernest
Scully John
Sebert A A E
Seigel Carl
Selle John William
Sewards Patrick
Shean David
Sheedy Martin
Sheedy Patrick
Sheridan Thomas
Shields Agnes
Shields Elizabeth
Shulton Paul
Sly Wm
Smith Edward
Smith Elizabeth
Smith George
Smith Lucy
Smith Margaret Ann
Smith Thomas
Smith Thomas Bowes
Smith William
Snider Ezra
Somerville Benjamin
Souliere Patrick
Sparling Barbara Ann
Sperckhardt Emilia
Stack James
Staigh Mary Ellen
Stanforce Victoria
Starrs Robert A
Stevenson John
Stewart John
Stewart John
Stewart John Calvin
Stewart Margaret
Stillwell John R
Storie James Stewart
Stnich William
Stuart Jolm L
Stuart Magdalena
Stuart Susan
St. Denis Charles
St. Dennis Patrick
St. Louis Adelaide
St. Louis Emilie
St. Michael Carile
Suckack Helen
Sullivan Alice
Sullivan Andrew
Sullivan Ethel
Sullivan Thomas
Summerville William
Sutherland John
Sweeney Mary E
Sydler Mary
Sylvester Emerince
T
Tennant Richard
Therisault Belzimine Delina
Thomas Margaret
Thompson John
Thomby Louis
Thrasher Emma
Thur Fred
Tomezyk Joseph
Tough Robert J
Tucker Elizabeth
Turner Kate
Turo Maria
Turpin Julian
V
Vandergee Albertine
Vandette Alfred
Vaneburg Leah
Vaudry Malepina
Verch William
Vergner Mary
Vice Ida
Villiers Julia
Vincent Joseph
Vortions Margaret
W
Wagonfriehrer Antoinie Louise
Waitte Mary L
Wallace Margaret Jane
Wall Lucy Jane
Walsh John
Walsh Mary Ann
Wanamaker John
Warren H O
Wan Jeannie
Watson Mary
Watson Mary Eli
Watt Elizabeth
Watt John
Whyte George
Wight Samuel
Wilcox Susan
Willitz Michael
Wilson Lillian
Windle Mary
Winke Augusta
Woods Bryan
Woods Jolm
Wyman John Jonston
Y
Young Frances
Young Francis Murdock
Young Louis
Young Mary Jane
Z
Zadow Karl August
Zimmerman Robert
Ziroth Charles
INDEX RENFREW COUNTY MARRIAGES 1886
A
Abeth Elizabeth
Acheson Annie
Acton Mary
Aide Jennie
Allard David
Anderson Mary
Armitage Lucy L
Amott Mary Jane Grey
Atkinson Jane
August Francis
Avon Valentine
B
Bachne William
Bailey Lydia
Baird Margaret Ann
Ball John
Barber Annie Campbell
Baiton Anthony
Bell Robert James
Benz Bertha Agnes
Benz Leopold
Beske August
Besthe Herman
Biggs Samuel Jr.
Blake Wm Edward
Bolger Bridget
Booth Robert
Boyce Joseph
Boyce Sarah
Boyle Elizabeth
Branndie Richard
Bremner Archibald P
Bremner Bella
Bliere Frederich
Bromley Jolm G
Bromley Samuel
Brooks Jane
Brown G W
Brown Jane
Brown Marie Nancy
Brumm Carl
Bruryere Ann Elizabeth
Buchanan Daniel
Buchanan James Jr.
Bulger Catherine
Bulmer Sarah A
Burk Jeremiah
Burke Philip
Burns James
Burns Susan
Burns William
Byce Henry
Byce William
Byers Francis
Byers Margaret
C
Cahill John
Callier Phillipe
Calver Susan Beatrice
Cardiff Grace Ann
Carmedy John
Carmichael Thomas David
Carnegie Ellen Lily
Carswell George
Cesaire Toussaint
Chamberlain Martha
Charbonneau Phelonia
Charette Addie
Charette William
Clarke Ann Jane
Clark Mary Ann
Clements Elizabeth
Close Delina
Close James
Close Margaret Evangeline
Cloutier Melina
Coburn Catherine
Cochrane Jane
Coffee Francis
Cole Alfred Edward
Cole Mary
Coleman George W
Conford William John
Corcan Sarah Emily
Cormack Charlotte
Costello Francis
Costello Rachel
Craig Robert
Crozier Adam
Crozier Christopher
Crozier Eliza
Crozier Thomas
Cuddy Edward
Cuddy Julia
Culhane Usborne
Curley Lawrence
Curry Elias
Curry Francis
Curry Hannah
Curry Hugh
Curry Hugh
D
Daber Bertha M C
Dagg Sarah Jane
Dagnenais John
Daly James
Davidson Angus
Dean Eliza Jane
Delarge William David
Deslaurier John Oliver
Devlin Harriett
Dickson Benjamin
Dillabough Annie Isabella
Dodds Rosanna
Donaghue Olive
Donavan Margaret
Donegan Elizabeth
Dower Flora Amelia
Drewar Duncan
Dubois Malvena
Dunfield John
Dunlop James
Dunn Mary Jane
Dupuis George Onesime
E
Eady William
Early Thomas
Edey Elizabeth
Edwards Elizabeth
Edwards John
Ellis Richard
Elliott Smith
England Jennie
England Rachel Nesbitt
England William James
Ennis John
Ethier Alesina
Evans Adeline
F
Felhaber Ludwig
Felske Edward
Fenson George
Ferguson Anna
Ferguson Barbara
Ferguson David
Ferguson Duncan
Ferguson John
Ferrier John
Fiddler Annie
Finnucan Jane
Finnucane Thomas
Fisher Carl
Fisher Patrick
Fluker Frances Ann
Foford Margaret
Forrest Alexander
Foster Victor
Fotherstone Annie Elizabeth
Fortier Joseph
Fortier Pierre
Fournier Eugenie
Fournier Samuel
Foy Frank
Francis James
Fraser James
Fraser Mary Jane
Freeland Matthew
Frederick Louise
Frood Barbara
Fulton Robert
Furlong Mary
Furlong Patrick
G
Gabler Rosa
Gagnon Mathilde
Gallagher Catherine
Gallagher Margaret
Gale William Thomas
Gahn John
Gauthier Louise
Geoffroi Josephine
Gervais Alexander
Gervais Louis
Geurtin George
Gibbons Jane
Gibeau John
Gibson Frank
Gibson Julia
Gilles Mary Ann
Gillespie Thomas
Gilmour Allan
Gihnour Ann
Golden Samuel
Goldt Maria
Goodwin Anne
Goodwin David
Goodwin Mary
Gordon Isabella
Gordon Philip D
Gorman John
Gorman Mary
Goss William
Goulet Delina
Gourly George Johnston
Goyer Xavier
Graham Malcolm David
Graham Robert
Grandt Margaret
Grant Halber
Grant Hattie
Gray Alice
Green Ann
Grentler William
Grych Apolonia
Gurley John James
Gutzman Auguste
H
Haggarty Louisa
Haggerty Hannah
Hahn Annie
Hake William Thomas
Halpenny Elizabeth
Hamilton John
Hampel Oswald
Hanby Margaret
Hanis Diannah
Hass Frederick
Hawkins Elsie Johnston
Hawkins Josephine Ann
Hawthorn Martha
Headrick Daniel
Heideman Eliza
Henderson Thomas
Hendry Joseph William
High Thomas
Hill Henry J
Hilliard Frederich John
Hodgins Annie
Hoeft Emilie
Hoelke Herman
Holbien William
Hoover Jane
Hubner Augusta
Huckabone David
Hunter Anna Bella
Hunter Esther
Hunter Lucinda Amelia
Huot Josephine
Hurteau Emelie
Hutson Cornelius
Hyde John Patrick
J
Jackson Mary
Jarvis Edward J
Jessup William
Jolmston Annie
Johnston John
Johnston Mary Jane
Jzilany Ann
K
Kalbeck Henry
Kathel Jane
Kathier John Chas. Otto
Kelly Emma
Kennedy Annie
Kermedy Ellen
Kennedy Margaret
Kilby Samuel
Kiely Ellen
Kilow William
Kinch Mary
Kinder Ruth
Kirchstein Emelia
Kirk Augusta
Kitt Jacob
Kizozan Wilhelmina
Klingbal Ludwig
Kohls William
Kosmack Annie E
Krueger Marie
Kruger Albert Edward
Kulas Elizabeth
Kulas Thomas
Kumm Wilhelmine
Kutschke Heinrich
L
Labelle Cecelia A
Labelle Isabella
Lablance Henriette
Labine Oliver
Lacroix Josephine
Lafleur Joseph
Laforce Ann
Lalibertie Jean
Landriault Napoleon
Lance John
Langlois Edward
Lanthier Mary Ann
Larmonde Antoine
Lapeniere Arthur
Lapolice Mary Adeline
Laport David
Laroie Toussaint
Laronede John
Laronde Phebe Ann
Laroque Michael
Lawrence Florence Maly
Leach William Angus
Lee Eliza
Lepenskie John
Leroy George
Lett Thomas
Leverille Victoria
Little Barbara Debra
Little Peter
Livingston George
Loack Albert
Ludgate Ellen
Lynch Ann
Lynn Mary
M
Magoon Alfred
Maher Daniel
Maitland Peter
Maley Ellen
Mallette Dumas
Maloney James
Marcotte Napoleon
Marcow Eve
Markus Augusta
Marrisette Adeline
Mathieson Charlotte
Mathieu Joseph
May George
Mayhew Rebecca
McAdam William
McArthur Alex
McBride Thomas
McCauley Catherine
McCool James
McCormack John Crawford
McDonald Angus
McDonald Bella
McDonald Jennet
McDonald Michael
McFadden Hiram
McFarland John
McFarlane John
McFayden Christina
McGregor Isabella
McIntosh Bella
McIntyre Alex
McIntyre Ellen Boyle Campbell
McIntyre John A
McIlquham Walter
McKiernan Mary
MacKenzie Winnie
McKerracher Anna
McLauchlin Catheiine
McLaughlin William
McLean Annie
McLaren James
McLellan Isabella
McLelland Samuel
McLeod Alex
McLeod Elizabeth
McMahon James
McManus Elizabeth
McMillan Alpine
McMillan Annie
McMillan Mary
McMullen Allan
McNamara Ellen
McNeil James
McNeil Mary
McNeil William
McNevin Alexander Johnston
McNevin Catherine
McNulty Michael
McPherson Donald
McRay Hanna R
McTavish Alexander
McWade Agnes
Meekin Doris Anna McKenzie
Melanson Josephine
Menzie Margaret Catherine
Michael August
Mick John
Milke William F August
Miller Susan
Milliken Margaret
Mills Archibald
Mills Robert
Mitchell Celene W
Mittlestatt Hulda Matilda
Molony Ellen
Moore Margaret
Moore Mary Jane
Morve Harriett
Moxam Ellen
Moxam Sarah Ann
Moxam Susannah Huton
Mullen James
Mueller Pauline
Mueller William
Muller Minnie
Mulligan Catherine
Mulvarma Neil
Murphy Daniel
Murphy James
Murphy Patrick
Murray William
N
Naughton Margaret Mary
Neuman Pauline
Nicholson Francis
O
O'Brien Michael Joseph
O'Brine Mary Agnes
O'Gorman Thomas
O'Grady Ellen Jane
O'Meara Elizabeth
O'Neil James Stewart
O'Neil Josephine
O'Shaughnessy Clara
Ott Auguste
Owens Annie
Owens Mary
P
Palmer Thomas
Peever Alexander
Perrault John Baptiste
Perrigo Jane
Perrin Fabrana
Peterson Hannah
Pettigrew William James
Phillips Anna Belle
Phillips Aim
Pierce Thomas
Pilon Margaret
Poff Esther Ann
Pounder Joseph
Power Mary
Preen Susanna
Price Charles Joseph
Price Emma Idella
Primeau Joseph
Q
Quesnel John
R
Rathwell John
Raymond Juliene
Recoski Ann
Reid Elizabeth
Reid Margaret
Reilly Charles
Reilly Julia
Reney Henry
Rhode Julius Fred
Ricard Rose Ann
Richeson Mary
Riska Dominique
Risko Louisa
Ritchie Fannie
Roache Michael
Robertson Neil C
Robinson Margaret
Robokouski Mary
Rody Edward
Roney Robert D J
Roney Sarah Margaret
Ross Margaret B
Ross William Andrew
Roy Octavia
Roys Adele
Rutledge Jolm Alexander
Ryan James
Ryan William
Ryan William
S
Sack Bertha
Salway Oliver
Saunders Hannah E
Sauve Joachim
Sayyer Agnes
Sayyer William Henry
Schmidt Hennan
Schomelzle Frederich Christian
Schontield Carl A
Schutt Magdalene
Scott Elizabeth
Selle Fritz
Sellers Rosanna
Serson Wm John
Shanahan Johanna
Shanahan Timothy
Shannon James
Sheedy Elizabeth
Siebarth Agnes
Smith Joseph
Smith Joseph
Smith Lydia M
Smyth John
Soullier Libbe
St. Amand Gctave
St. Cyr Mary Philomen Eugenie
St. Jacques Antoine
St. James George
Staulke Bertha
Stefaniak Stanislas
Stephens Emma
Stephens Oscar
Stewart Alexander
Stewart Archibald
Stewart Elizabeth
Stewart Margaret
Stewart Susan
Stoqua Mary
Storry Jolm
Streich Augusta
Stroud Ellen
Strutt Robert
Sucko Louise Mathilde
Sutherland Agnes
Sweeney MarthaAnn
Switzer John
T
Taylor James W
Tennant Almira Bush
Thomas Charlotte
Thomas Eliza Jane
Thomas John
Thomson Sarah
Thompson Margaret
Thur Joseph
Towns Wyman
Tracey John
Tracey Samuel
Trisher John Jr.
Trolge Pauline
V
Valliere Louis
Vaudry Henrietta
Vaudry Media
Vaudry Parrnena
Verch August Ferdinand
Verdon Basile
Villenauve Marie Louise
Vogelburg John Hugo
W
Wagner Henry
Waito John
Walker Jessie
Wapikeons Pierre Henri
Wark Alice J
Watson Christy Ann
Watson David
Watt John
Weber Anni Ernestine
Wegner Wilhelmine
Welk Herman Emil
Wellington Robert Jolm
Whelan James
White Harriet
White Sarah Cordelia
Wickwire Archibald
Wilcox Franklin
Wilke Caroline
Wilson William Orange
Willoughby Amelia Elizabeth
Wolet Emily
Wright Jane
Wright John
Wright Osborne
Wurm Carl
Y
Young Annie Mason
Young Dorothy
Young Margaret Isabella
Young Robert
Yuch Elizabeth Bertha
Z
Zeigel Frederick Wm
INDEX RENFREW COUNTY MARRIAGES 1887
A
Abbett Francis
Admanski Martin
Ahterberg Emelie
Allen Julie Jane
Anderson John
Anderson Sarah W
Arno Janet
Asseltine Ella May
Aubichan Peter
B
Badham Archibald
Bark Louise
Baron Josephine
Barr Mary
Barr Matthew
Barry John
Barry Theresa Ann
Barry Walter
Bauchatz William
Baudry Jessie
Baxter Martin
Becket John
Bedard Marie Octave Eugene
Belcher Wallace
Beiduck Caroline
Belford Annie Elizabeth
Bell Elizabeth
Bingham Charlotte E
Black Sarah
Blanchet John
Blank Agatha
Bloskie Elizabeth
Bontield Mary
Bonsquet Sarah
Born William
Bowenfert Maria
Bowes Jessie
Boyce Christopher Charles
Boycey Margaret
Boyle Edward
Bradley Anastasia
Bradly Mary Jane
Brady John
Brady John
Bradowski Theresa
Brazeau Jeanny
Brazeau Mathildi
Brennan John
Brennan Marc
Brennan Sarah
Brouse Lillie
Brown Margaret W
Bucholtz Mary
Budd Herman
Bundle James
Burton George
Burton Margaret W
Buttle Annie
Byers Alice
Byers Wm James
C
Callahan Elizabeth
Cameron Mary B
Campbell W G
Cardiff Sarah Anne
Carmichael Jennie
Carmody Patrick
Caron Achille
Carroll Anthony
Carswell Berthea
Carswell Sarah Ada
Cashmore John Thomas
Carty Elizabeth
Carty Margaret
Charbeno Olive
Childerhose Sarah Jane
Christink Richard
Chusroskie Anthony
Clarke Annie Sarah
Collins ?
Collins Robert
Condie Maggie
Conners Patrick
Connery Robert Samuel
Connors Armie
Contant Philia
Conway Annie
Conway Julia
Corford Robert Elliott
Costello Jane
Costello Patrick
Costello William
Coulter Sarah
Cousins Isabella
Cram William Sutherland
Crawford Elizabeth
Crawford Jom
Cron Lucy
Crozier John
Crozier Sarah
Culhane Thomas
Cullier Regis
Cuthbertson Jane
Cuthbertson Jessie
Curry Albert
Cybulski Ann
D
Daly Fanny
Daly Patrick
Daley Catherine
Daley Margaret
Dargus Elizabeth
Daugherty Margaret Ann
Daugherty Robert Francis
Davidson Martin David
Deacon Mary J
Dean John
Delahey Alexander
Delarge Felix
Dennison Emma
Demiison Ephremia Isabella
Deven Hugh
Devine Elizabeth Agnes
Dillabough Sarah Collister
Dillon Catherine
Donelson Sarah Ann
Donohue Robert
Doolan David
Dorian Etienne
Douglas James Ed
Dow Margaret Douglas
Dowsley Mary Jane
Dufort Catherine
Dunlevy Martin
Dunlop Ida May E
Duval Patrick
E
Eady Sarah
Edwards Carmela
Edwards Henry
Eggleston Bella
Enright Owen
Etherington James W
F
Fairburn Georgina
Fallon James Joseph
Farquharson Davids
Farr Thomas
Fee Joseph
Felski Annie
Findlay James
Findlay Rose Mary
Finger Gustav
Finucane James
Fitzpatrick Catherine
Fluker Samuel John
Foran Frank
Fortier Francis Xavier
Foster Annie Eleanor
Fournier Pierre
Foy Sarah Jane
Francis Merinda
Franklin Jane
Fraser Cari
Fraser James Stewart
Frazer Byron
G
Gahn Elsie
Galbraith Sarah
Gallagher James
Gauthier Emelina
Gavin Patrick
George Mary
Genderberg Anna
Geimeroth Christ
Germain Annie
Germain Joseph
Gibbon John R
Gibson Caroline
Gibson Elizabeth E
Gibson John
Gibson Thomas
Gillespie George
Giroux Lea
Gorman William J
Goetz August
Gorman Margaret
Goth Annie
Grace Margaret
Graham Andrew Thomas
Graham Dorah
Graham Jacob E
Graham Martha
Graham William John
Graham William
Grant Samantha V
Gravelle Joseph
Greer Eugene
Griffith Margaret
Guilfoyle Thomas
Guimond Marie Exilda
Gunther William
H
Hammel Louisa
Hamilton James Coburn
Hamilton Mary Eliza
Hampel Matilde
Hannah James Alexander
Hanneman Julianna
Harris James Alexander
Harteau Marie A
Hartwig William
Harty Julia
Hawkins Leah
Hedke Johanna Mary Amelia
Helfeity Hannah H
Hein Maria
Henderson Elizabeth
Hennessy Catherine
Hennessy Hellen
Hodges David
Holden John
Holt Caroline
Holtby Edmond
Horrley Mary Ann
Howe William Scanes
Huckabone Robelt
Huckabone William
Hughes Harvey Lionel
Hughes John W
Hughes Mary
Hughes Rosa
Huhnke Anna
Humphries David
Hunter Samuel
Hurteau Esther
Hutson James
Hutton Mary G
J
James Alberta Traivortha
Jessup Alexander
Johnsnick Vincent
Johnson John
Johnston Jennie D
Johnston John
Johnston Maggie E
Johnston Mary
Johnston Silas
Jordan Lydia
Jurth Louisa
K
Kapka Gustav
Kassobulski Victoiia
Kelly Hugh
Kelly Mary
Kelly Mary
Kelly William Alfred
Keyes Maggie
Kilby Francis
Kilgore Margaret
Kilkelly James
Kimberley Francis John
King Lizzie
Kiskeard William
Klepper Mary
Klingbal August
Knight Joseph
Kochabulslri Johanna
Kohls Bertha
Kohlschmidt Herman
Kosmack Johanna Maria Helene
Krantz George
Kretzman Robert
Kritzman Wilhelmina
Krieck John
Kruger Bertha
Kruger Wilhelmine
Kurzwey Annie
L
Lacey Mary Jane
Lacroix Adeline
Lafontaine Leon
Lafrance Josephine
Lamport Caroline Paulina
Lane Christine
Lapenskie Augustine
Laplante Azilda
Lapolice Louise Julia
Larmarch Narcisse
Larmond Emma
Laroche John
Laurier Leon
Lavelle Patrick
Lavoller Marguerite
Law Mary Ann
Lawiska Julia
Lawson Edwin P
Leach Harriet
Leach Susan
Leach William
Ledgerwood Daniel
Leitch Alexander
Lemke Louisa
Leveque Jean B
Libby Catherine
Lindsay John
Lingstrom Hannah
Little Jenni J
Livingstone Hugh
Livingston Marian
Logan James
Loutcha Francesca
Love Jane
Ludgate George
Lusk Kewley
Lyon Robert J
M
Maass Richard
Mackay Matthew
Macklem James W
Madigan Honora
Malar August
Malloy Mary
Marchand Edwards
Marion Gilbert
Marsil John
Martins Gustav
Martyn Mary Ellen
Matthews Samuel
Maxwell Frances
McAdam Rebecca
McCaughan Mary
McCauley John
McComb Lenard
McConnell Florence
McConnell Samuel
McCool John
McConnack Catherine
McCormack Daniel S
McCormick Alphonse
McCourt John
McCulloch Maggie
McDermott Bernard
McDonald Adolphe
McDonald Florance
McDonald Isabella
McElroys David
McFadden Mary Ann
McGrath Elizabeth
McGregor Robert
McGonigal Rose Ann
McInerny Catherine
McInerny Francis
McKay Edward
McKay George Bruce
McKillop Agnes
McKinley Mary
McKinnon Hugh
McLaren Malcolm D
McLaughlin Andre
McLaughlin Michel
McLean Flora R
McLeese Jane McArthur
McManus Mary Ann
McMaster James
McNabb Bella
McNamara Thomas John
McMullen Mary Jane
McNeil Sarah
McPeak Sarah Jane
Melanson Philomen
Meuller Carl
Meullins Maryanne
Merbitz Lydia
Michel Martha
Milford Jennie
Miller Margaret Jane
Mills William
Milroy William
Miskinnon Rachel
Miskinnon Susannah Crawford
Mitchell Hemy
Montgomery Lizzie Minnie
Montgomery Reuben Charles
Moore Annie Elizabeth
Moor Mary Ann
Morlock Jacob Friedrick
Moriski Joseph
Morrison Christina
Morrow Aled John
Mortz Robert
Mow Wilhelmina
Mulvanow Catherine
Mulligan James A
Mulligan John
Murdock William A
Murray Elizabeth Frances
Murtagh John
N
Neil Edward
Nesbitt William
Neville Catherine
New Margaret Ellen
Newmann William
Nolan Catherine
Nolan William
O
O'Brien Bridget
O'Brien Daniel
O'Brien Michael
O'Connor Edward
O'Connor John
O'Donnell Mary Ann
O'Meara Margaret Elizabeth
O'Shaughnessy Margaret
O'Shaughnessy Nicholas
Osborne Edmund D
Ostroski Francoise
P
Palaschek Emily
Paquet Philomene
Parker Evelina Raylance
Patterson Hugh
Payout Marguerite
Peever Ellen Louisa
Peever Richard
Pekaskie Vincent
Pelletier George
Pender Peter
Petz Auguste
Pever Thomas G
Phillips Maxjory
Pierce Elizabeth
Pierce James
Pilgrim Gustav
Pire Anne Barclay
Poole James
Potter Margaret
Powell Jane
Power Maurice P
Power Thomas
Price Abraham
Price Elizabeth
Prince Peter
Pulchin Henry
Q
Quinn John J
R
Raitt Isabella Jane
Raycroft Ann
Rayes Jeannie
Reid Allred
Reid George
Reilly Flora
Reilly Robert
Reynolds Julia
Ritcha John
Ritsby James
Roberts Charles
Robertson Hugh
Robertson Jessie
Robillard Annie Elizabeth
Rollins Edward
Rollins Deborah
Ross Charlotte
Ross Thomas
Rowan Joseph
Russell Jennie M J
Ryan Mary Elizabeth
Ryan Winnifred
S
Sarsfield John
Sauer Joseph
Schmidt Aloys
Schrender Albert
Schwandt Minna
Schwandt Richard Otto
Scott Judson L
Scribbeck Elizabeth
Scully Michael
Seacy William
Searson Robert
Sebroski Francis W
Seeley Joseph
Sellers Amelia
Sergeant John L
Shaula Michael
Sherleys John
Sherlock Thomas
Sheven Carl
Shields Martha
Shields Thomas
Shirley James
Smith Elkanah
Smith Lizzie
Smith Lucia Ann
Smith Martha
Smith Philander
Snowdon Letitia
Sommier Gottlieb
Sparling Wm
Sperberg Frederick
Stack Ellen
Stark Stuart L
Stewart John Frederick
Stewart Mary Jane
Stewart Robert E
Stofski John
Storie Ellen
Storry Elizabeth
Strick Louisa
Stroud Bridget
St. Jean Eugenie
St. Louis Christine
St. Michael Joseph
St. Michael Josephine
Suko Mary
Sullivan Edward
Sullivan Margaret Ann
Sullivan William
Sunstmm Samuel
Swalwell Alfred Walter
Sweezey Reuben Wm
Sykes Roxanne
T
Tackman Johanna
Tallant Ellen
Tario Hugh John
Tchapieski Michael
Tennant Anne
Thomas Charles
Thompson Edward
Thompson John
Thompson William Henry
Thompson William
Tiernay Annie C
Toms John
Tournageau Mary
Towns Arron
Travessy Nob
Troke Hannah
Troke Marcia
Turcotte Gilbert
Turcotte Joseph
Turcotte Mathilda
V
Valliant Elizabeth K
Valliant Eustache
Valiquette Joseph
Vaudry Wm
Veckass Fanny
Verch Ernest Ludwig
Verch Sophia
Villeneuve Ellen
Virkus John
Vram Gregoire
W
Walsh Mary Ann
Walsh Martin
Walsh Richard
Wark Joseph Alfred
Watson Margueritte
Wastrowski John
Watt Ellen Jane
Watt Nancy
Welski Anastasia
White Jenny
Whiting Lewis
Williscroft Albert
Wilson Mary Ellen
Wilson Rachel
Wilson Susan
Windle Edward
Witt William
Wren Catherine
Wren Hannah
Wright John Hill
Wright Mary Boyd
Wright Thomas A
Wullf Allied
Y
Yantha John
Yekoskie Albert
INDEX RENFREW COUNTY MARRIAGES 1888
A
Airth Frances
Anderson Christina
Andler Emile
Andrews Andrew
Armstrong William
Arpin Charles
Asseltine Samuel
Aughney James
Avon Theophile
B
Baird Alexander
Baird Alexina
Baldwin Sherman
Bark Charles
Barr Agnes
Bastron Emilie
Bay Sarah
Beach Sarah Jane
Beattie Alexander
Beaudry Louis
Beeton Bridget
Beeton Thomas
Behnke Auguste
Belaire Charlotte Claire
Benoit Joseph Edmon
Berger Carl L F
Bernard Francis
Berndt Marie Auguste
Biesenthal AnnLouise
Biesenthal Louisa
Biggs Sarah
Bingham Thomas
Blackburn Mary A
Bogle Elizabeth
Bonin Addie
Bottom Margaret
Bougran Laura
Bourdignon Delphis
Boutin George
Box Alexander F
Box John James Stacey
Box Theresa Jane
Boxter Frank Howard
Boyce John Henry
Bremner Jane Ann
Bresnaham Elizabeth
Bridges Herman
Brisco John
Bromley David
Bromley Sarah Margaret
Broom Mary Ann
Brouse Joseph
Brown David
Brown Eliza
Brunnet Andrew
Buchwald Otto Ferdinand
Buerger Emilie
Burchat Antoine
Burgess William
Burke Alice
Burke Mary
Burns John
Burwell Annie
Byers Lucy
Byron William
C
Campbell Archibald
Campbell Charlotte
Campbell Duncan
Carmichael James William
Caron William
Carswell Catherine
Carswell John
Charbonneau Alphonse
Charbonneau Ellen
Charbonneau Margaret
Church Spencer
Clarke Ellen
Coburn Elizabeth Selves
Coburn Elizabeth
Coburn James
Cochlin Thomas
Cochrane Jane
Cockburn Eleanor
Cole James
Cole William
Collins Dora
Colton John
Condie Isabella
Conway Marie
Cooke Robert
Costello Samuel Jr.
Costello William
Coyne Edward
Crankshaw Emma Theresa
Crockatt James W
Cunningham Ellen Jessie
Curley Mary
D
Daignes Georgia
Daly Elizabeth
Danber William Benson
Dandson William
Davey John James
Delahey Elizabeth
Delahey William
Delourie Christina
Denimskie Pauline
Desjardins Marie
Desormick Catherine
Desormick Hormidas
Dolan Joseph
Dolan Josephine
Dooner Mary
Duclass Stanislas
Dufort Marie
Dupee Maggie
Dupras Edward
Dupuis Duane
Dupuis Mary Louise
Dwyer Timothy
E
Earls John
Eberson Sophia
Edwards Richard
Elliott Andrew
F
Fabian William
Fenton George
Ferdinand Kiel
Ferguson Eli
Ferguson Janet
Ferguson Robert
Finnerty James
Finnucane Mary Jane
Fischer Friedrich
Fleming George
Foy Susan
Francis Peter
Fraser David
Fraser Isabella
Fraser James Simon
Fraser Mary Ellen
Fraser Robert Coburn
Fraser Sarah Jane H
Frederick William
Freitag Martin
Frood Donald
G
Gagnon Charlotte
Gagnon James
Gambel Mary Jane
Garvey Nelson
Gettins Uriah
Gever Wilhelm
Goadie Ellen Annie
Goodwin James
Gorby William
Gordon George Ludgate
Gordon Mary Elizabeth
Gorman Patrick
Gottlieb James
Goyer Celestine
Graham Bemard
Graham Ellen Jane
Graham Thomas Alford
Graham William Patterson
Gray Margaret Ann
Greer Isaac
Grieve Agnes Walker
Guertin Helene
Guest Ellen
Guiney Tretle
H
Halliday Sarah
Hamilton Janet
Hamilton Margaret
Hammell Bertha
Hanton Michael
Hanson Theresa
Harkness Robert
Harty Ellen
Hartwick Augusta
Hartwig William
Hawley Margaret
Hawley Mary Ellen
Hawley Peter
Hayes Philip
Hayes Susan
Hazel Annie
Healy Robert Ferguson
Heaven George
Hein William
Henderson Jolm
Heron Thomas
Higgonson Matilda
Hodgins Annie W
Hodgins Edward S
Hodgins William Henry
Hoffman Mary
Holhke Ottila
Holt Jemiie
Holtz August
Howard Joseph
Hubbell George Herbert
Hubner Gustave
Hughes Laura
Hughes Mary Ellen
Humphries Francis
Hunt Matilda
Hunter Walter David
J
Jack Mary
Jackson Elizabeth Jane
Jackson Nellie
Jerpah Ellie
Johnston James
Jolmston Margaret
Johnston Mary Jane Howard
Johnston Robert
Johnston William
Jonas Mary
Jones Isabella
Jones Walter
Juinstock Charley
Julien Simon Albert
K
Kandt Augusta Lizzie
Kasubek Veronique
Keates William
Kedtke Freidricke
Keirnan Frank H
Kelly Anna
Kelly Patrick
Kennedy Arneas
Kenney Margaret
Kerevan James
Keys Julia Ann
Kiely John
Kilby Julia Ann
Kilgour William
Killeen Catherine
Kincarde John Albert
King Margaret
Kirk Bertha
Knight George
Kobal Johannah
Kohls August
Krunor Mina
Kulas Martin
Kurschenske Augusta
L
L'Abbe Joseph
Labeau Sarah
Laforce Joseph
Lair Henri
Lamothe Helaren
Lance Sarah
Landrau Theodule
Landry Hannah Marceline
Landry Maxime
Lapierre Adeline
Laronde Elizabeth
Laronde James A
Larone Mary Louisa
Lavallee David
Leaney Mary Ann
LeBlanc Aldego
LeClair Alwin
Lee Annie Lizzie
Lefebre Adele
Legare Josephine
Legare Marie Sara
Legkman Minnie
Lenton Coral F
Lester Jane Alice
Lewis Catherine
Lewis Charles
Libby Ruth Ellen
Lindsay George Alexander
Lindsay Mary
Little Francis
Little Janet M
Livingston John A
Livingston Julia Ann
Lorbetski Marianne
Logan Thomas
Lorimer John
Ludgate Mary Ann
Luloff Fred Herman Edward
Lunn Emily
M
Mackay Ann Jane
Mahoney John Thomas
Mangan Mary Ann
Marcel Rose Eleanor
Marcellus Charles
Martin Elizabeth
Mason Wm John
Matheson Herbert
Matthews William
Matthewson Wm Albert
Mathison Annie Given
Mayhew Eliza Jane
McAdams Jos.
McArthur Daniel William
McArthur Neil
McAuley Mary
McCallum Mary Jane
McConnell John Alex
McConnell Mary Jane
McCool Patrick
McDonald Catherine
McDonald Charlotte
McDonald Duncan
McDonald Ellen
McDonald Flora
McDonald Flora Belle
McDonald Mary
McDonald Mary Jane
McDonough Christina
McDougall Alexander
McFarlane Margaret
McFayden Hugh
McGonigal Esther
McGregor Jane
McGregor Janet
McGuire Catherine
McInnis Tilly Jane
McIntomny Mary Loretta
Mclntyre Annabella
McKay William
McKenna Maggie
McKeoron James
McKeunan Catherine
McKinley Nancy
McLaren Alexander
McLaren Alexander
McLaren Duncan
McLaren Janet
McLaren Robert
McLaughlin James
McLellan Martha
McLennan William
McLeod Farquhar
McLeod John
McMillan Donald
McMillan Duncan
McMillan Sophia
McMullen Duncan
McNab Charles
McNee Isabella
McNeil Annie Brownlee
McPeck (McPeak) Mary
McPhee David
McPherson John
McQade Elizabeth
McQueen Alexander
McWhister Elizabeth
Melchor Martin
Meyer Freida
Mick Elizabeth
Mick Henrietta
Mick Malcolm
Miller Eliza Ann
Miller Mary
Miskimmons Agnes
Mitchell Annie Louise
Moffatt James Purvis
Mohawk Mary
Moller Minna
Monaghan John Bernard
Monk Lizzie
Moore Isabella Olive
Moore Isaac Hiram
Moran Bridget
Moriarity Daniel
Moriarity Mary
Mostyne Helen Marie
Mousseau Daniel L
Mueller Wilhelmina
Munro Mary
Mulvihill Maggie
Murphy Bridget
Murphy Mary
N
Nagora August
Nelson Alexander
Nevil John
Noblett Harriet
Nolan Janet
O
Oberback Albert
Olmstead Charlotte
Olmstead Ephriam
Owens Sarah Ellen
O'Brien Timothy
O'Brien William
O'Connor John
O'Dea Matthew
O'Grady Catherine
O'Grady Margaret Ann
O'Keefe Margaret
O'Keefe Margaret J
P
Parcher Arron
Parcher Frank
Panke Julius
Parent Louis
Patterson Julia
Paul Isabella
Pearson George
Pease Mary Ann
Peck Sarah Jane
Pecore Daniel
Pelkie Louis
Peria Donald
Perrin Napoleon
Piasetzski John
Pickie Thomas
Pillau Elmire
Pliecth August
Plause Mary
Potter Louisa Eliza
Pounder Peter R
Pultz John
Purdie Nathaniel
R
Radke Carl
Rafter Isaac Arron
Ramsay Bertha
Reid Mary Jane
Reynolds Bridget
Ring William
Roach James
Roach Mary
Robertson Christena
Robinson James
Rochon Honore
Rollins Elizabeth
Rollison Mary Ellen
Ross James Enous
Ross Mary
Rowan James
Ruddy James
Ruddy Michael
Russell Nathaniel
Russell Sarah Ann
Ryan Jeremiah
S
Sass Emilie
Seburth Fred
Scrim Jessie
Scott William T
Shanks Peter Dixon
Sharpe James Hemy
Sharron Frank
Sheedy Bridget
Shields Martha Elizabeth
Shields Mary Jane
Shouldice John
Simon Charles
Sinclair Wm Sutherland
Small Isaac
Smith Jane
Smith Lena
Smith William
Smith William Joseph
Snowdon Eliza Jane
Snowdon Marianne
Soles Andrew Alphonse
Spence John
Stewart Arthur Charles
Stewart Catherine
Stewart Daniel R
Stewart Isabella
Stewart Robert M
Storie Ann Elizabeth
Storie Elizabeth
Storie Janet
Story William
Stuart Frances
St. Hilaire Artemise
St. Jacques Marie Jeannie
St. Michael Joseph
St. Michael Josephine
St. Partchell Alfred
Sullivan John
Sunstrum Rebecca
Sweeney Charles
Sykes David
T
Tario Agnes Jane
Tate James
Taylor Matilda Catherine
Tessier Mathilde
Tepell Emma Annie
Thompson Henry
Thompson Joseph
Thompson Mary M
Thrasher Abraham
Thrasher Charlott
Thur Mary
Toner Agnes
Trambly Thomas
Tribinski Augustine
Troke Joseph
Tucker Ruth Melina
Turpin Mary
V
Valin Oliver
Valin Samuel
Vanasse Elizabeth
Vance Hannah Jane
Vanderbeke Edmond
Virgin Winnie
Virtue William
W
Wagner Louise
Walker Frances Muir
Walker J A
Warbrick Sarah Jane
Warren Lizzie
Watchorn William Hemy
Watt Maggie McDonald
Weber William
Whelan Mary Ann
Whelan Michael
Whitmore Robert
Willis William Thomas
Wilson Isabella Jane
Wilson Isabella
Wilson Jessie
Wilson Robert
Wright Ida Cecelia
Wright Jane
Wright Jessie
Wright John
Wright Samuel
Wright William Drummond
Y
Young Christina
INDEX RENFREW COUNTY MARRIAGES 1889
A
Admanskie Antoine
Anderson Margaret
Anderson Thomas
Andrews Mary
Arthur Susannah
Asseltine William Howard
B
Badinskie John
Barnes Elizabeth
Barnes John
Barsley Mary
Beach Sarah M
Beaupre Pierre
Beckett William
Behan John
Belisle Prince Albert
Belsoni Charles
Benky Anna
Bennett John James
Berger John
Beynish John
Billings Michael
Black Catherine McLeod
Black Frederick
Black John A
Blakely Mary Ann
Boldt Anastasia
Bond Rankin
Borsweet Ellen
Boucher William Woods
Boynton Eliza
Bradley Philip
Brazeau Eugenie
Brisco Mary
Brown Eliza Jane
Brown Mary Diane
Bucher Anna
Buder Elizabeth
Buffam Ada Maxwell
Bulmer Nellie
Burns Francis
Burwell Jane
Burwell William H
Button Frederick C
C
Cafliey William
Cahill John
Caldwell Elizabeth B
Callahan Margaret
Carnegie Daniel C
Carr Benjamin
Cartwright John George
Carrs Georgina E
Carson John
Carswell Allan
Carswell William
Chaput Elizabeth
Childerhose Frances
Childerhose Robert
Clark Elizabeth
Clarke Hugh
Clark John
Clark John
Clark Martha
Clastman Ellen
Coburn Eliza Ann
Code George
Code Michael
Code Michael
Cole Alexander
Cole Alexander
Cole Catherine
Comiford Margaret
Conn Samuel
Conway James
Conway Michael
Cotnarn Annie Elizabeth
Cotnam Margaret
Cotnam Thomas
Costello Michael
Costello Thomas
Cram Agnes
Cram Elizabeth
Cramp Arthur
Crongh George Yerney
Culas Victor
Curreen William James
Curry Laughlin
Cuthbertson Minnie
Cybulskie Josephine
D
Daly Maggie
Daley Thomas S
Davidsosn Ellen
Davidson Mary Ann
Davis Margaret
Davis Samuel Wright
Delaney Julia
Dermison John Henry
Desjardins Severe
Doering Ludwig
Donaldson Richard
Donavan Mathew S
Dool Margaret
Doolan Ann
Dooner John
Dooner Margaret
Dreyer Bertha
Drysdale Christina Jane
Dubrow William
Dufault Paul
Duff Margaret
Dunlop Maggie
Dunn Alice Ann
Dunn Megren
Dupius Joseph
Durrack Michael
Durrack Sarah A
E
Eady Catherine
Eady Sarah Ann
Edwards Elizabeth
Edwards Elizabeth Florence
Edwards Frank
Edwards Sarah
Edwards Wellington
Egan Cecelia
Eggleson Agnes
English Wm
Evans Thomas
F
Fairburn Donald
Fawcett Mary Foster
Fenz Wilhelmina
Ferguson Mary E
Ferguson Robert
Fleigal Otto
Flis Maryann
Foley Matthew J
Forgie John G
Foster Elizabeth
Fournier Antoine
Francis James F
Francouer David
Fraser Hugh
Fraser Sarah Jane
Fraser Thomas
Freeland Sarah Jane
Freivatre Martha
Frietag Herman
Frietag Maria
Fritch Gustave
Fritch Louis
Fulford James
G
Gallagher Michael
Gallonay Andrew R
Ganon Denis
Gareau Marie
Gellise Catherine
Geriska Johanna
Gerrow Tina
Geurtin Plenristne
Giguire Theresa
Godin Othalie
Gorman Catherine
Gostz Wilhelmina
Gourley John Clark
Gracie Robert
Grawberger Hannah
Grawberger James
Green Ellen Jane
Green William John
Griffith Thomas Albert
Guiney Mary Helena
Gutzeit Paul
H
Habecker Otto
Hahn Jane
Halliday Ann Jane
Halliday Margaret
Halliday Samuel
Hamilton Isabella
Hanson Catherine Taylor
Hanson Walter
Hartwick August Harmon
Hass Julius
Hawkins Edward
Hawkins Henry Burgess
Hawkins Isabella
Hayhurst Esther Jane
Healey James D
Hickey James
Hill Fannie
Hoare Elizabeth
Holden Samuel
Hubner Emily
Hudson Jane
Hudson Lotta
Hughes Anna Bella
Humble Jolm Wesley
Humphrey Christina
Humphries Jane Adeline
Humphries John F
Hutson Catherine
I
Inglis Thomas
Irving Michael Thomas
J
James Rachel M
Jamieson Archibald
Jamieson Elizabeth
Jamieson George
Jandt Mathild
Jewell John
Johnston William John
K
Kasabek Augustine
Kasaboski Fanny
Kean Adelaide
Kenny Bernard
Keopsel Albert
Kerevan William
Kerr John
Kidd Elizabeth Ellen
Kidd George Wesley
Kidder Leonard Alexander
Kilby Charles
Klemp Fredrich Ludwig
Knox Elizabeth
Kossak Marie
Kulas Joseph
Kurzweg Mary
L
Lafever Eliza
Lambert Catherine Ann
Lamoreux Alexander
Lamsureux Martha
Lanthier Sara
Larmarche Addie
Laukey Joseph
Laventure Isabella
Lavigne James
Lawson Hortense
Leach James Henry
Leacock John
Leblanc Elise
Ledgerwood Christina Campbell
Lee Elizabeth F
Lefave Lorusa
Legare Octave
Lemoine Charles
Lessian Ida
Letts Margaret
Levesque Francis
Lewis Catherine
Lewis Mary Ann
Libera Frank
Little Maggie
Long Joseph
Luebeck Frederick
Lueck Francis
M
Mackey Johanna
Mahood Victoria
Malloney Mary
Manary Mary
Martin Anastasia
Mathison Irathe
Matthews Annie Frances
Mayhew Mary Ida
Maclntolmney Martin
McAllister Martha
McArthur George
McBride Henry H
McCarter William
McCarthy John
McCauley John
McCauley Michael
McClelland Elizabeth
McConnell Jennie E
McCormack David
McCourt Ann Marick
McCoy Henry
McCrea John
McDonald Bella
McDonald Harriet Keyes
McDonald Sarah
McDougall Rev. John
McGee John
McGee Yonker
McInnis Elizabeth
McInnis Robert Day
McIntyre Eliza
Mclntyre Jessie
McKay Roderick
McKeon Ann Cecelia
McLachlin Hannah
McLaren Agnes
McLaren Christina
McLaren James
McLaren John
McLaren Mary
McLean Annie
McLean Peter
McLean Robert
McLeod Roderick
McLaughlin Samuel
McLaughlin Sarah
McMillan Alex
McMillan Margaret
McNeil Thomas
McNulty Patrick
McPherson Mary
McQuarrie James
McQuitty Margaret Ann
McQuitty Margaret Ann
Measor William
Meikle Georgina
Meiller Anna Laura
Melville Hannah
Michalis Frederick
Miller Annie
Miller Catherine Sophia B
Mills John
Milne Herbert
Miskimmons Thomas
Moffatt Isabel K
Moir John S
Moore Alexander
Moore David
Moore David
Moore Edward
Moore Emeline
Morencey Clareda
Morgan Suzanne
Mulligan Hugh
Mulligan Janey
Murphy Johannah
Murphy Mary
Musclow Charles Albert
Myers Charlotte
N
Naslon Peter
Neil Nicholas
Neuman Maryn
Neutzelman Alvina
New George Wesley
Nicholes Anna
O
Oates John
O'Boyle John
O'Brien John
O'Brien M A
O'Connor Anna
O'Connor John
O'Conhor Mary
O'Leary William
O'Reilly Ellen
P
Page Delanie
Page Lizzie
Parsons Ida
Passingham John Wm
Paul Carrie Stitt
Paul James Wilson
Paul Thomas
Payette Guere
Pecoskie Madeline
Pedlow Isaac Ellis
Pell Charles
Pell Mary Ann
Percival Mary Jane
Pelie George
Philion Henriette
Phillips Mary Jane
Phillips Peter
Phillips Robert John
Potter Robert
Poutney Mary Ann
Power James
Pregeau Edward
Q
Quennel Maurice
R
Radke William
Reise Bertha
Remus Emily
Reynolds Annie
Reynolds John
Ring Thomas Duncan
Ritchie Annie
Ritchie James
Robinson John
Roe Edward
Roe John
Rohlolf Minnie
Rooney Isabella
Rooney William
Ross Elizabeth
Ross Martha Melissa
Ross Mary
Rudd Stafford Rolston
Rustan John
Ryan Margaret Ellen
Ryan Mary
Ryan Richard
S
Sadler Mary
Sallons Ephriam
Saunders Richard
Sawyer Melinda
Schilke AnnaLowina Louise
Schimmons Mary
Schmelling August.Julius
Schmidt Bertha
Schmidt EmelieAlbextine
Schmidt Rosa
Schneider Paul
Schonop Gotthied
Schonop Mathias
Schutt W
Scott Catherine
Seelege Joseph
Seigel Charles
Sell Louise
Shannon Elizabeth
Shaw George
Sheedy Bridget
Shinett Charles Thomas
Simpson Samuel
Smith Annie
Smith Walter
Smith William
Smithson Christina
Soucey Honore
Sperberg Hannah
Stack Ellen
Stafford Lottie Florence
Stewart Jacob
Stewart Louisa
Stewart Richard Martin
Story Samuel
Stroud Teresa
Stubbs Cecelia
Styles Elizabeth
Sullivan John
Sullivan Joseph
Sweeney Margaret Jane
T
Tait Ralph
Tait William Henry
Tario Mary Ann
Telford Elizabeth
Tennant Sarah Ann
Tennant Sarah Ann
Thomas Albert
Thomson Annie
Thomson William
Thompson Janet
Thrasher Margaret
Tierney Margaret
Townson Rose Ann
Trebinskie Rosalie
Tremblay Francis
Tucker Jas. Henry
V
Vaudry Alfred
Virkus Apolonia
W
Wallace Kate
Wallace Sarah Ann
Wardell Robert Nelson
Wardrobe Martha Ann
Warren Jessie
Warriner William Anson
Wasmund Martha Rebecca
Weber Abraham
Wedge Edward
Wedge Julia
Weiland Louise
West John
Whelan Ellen
Whelan Hannah
White James Sidney
Whyte Annie Watson
Wilcox Mary
Wilson Mary
Wolfgram Fred
Wolsey Mary
Wott Mary Elizabeth
Wright Esther
Wright James
Wright James Henry
Wright Jane
Y
Yakabuski Joseph
Yakoskie Barb J
Yantha Joseph
Yelack Clarence Lesley J
Yeretcha Joseph
Yetherson Charles
Young Annie
Young David
Yurdt Friedrick
Z
Zuegel Bertha
INDEX RENFREW COUNTY MARRIAGES 1890
A
Admanskie Maryann
Akason John
Allen Lillie
Anderson David Andrew
Anderson James
Anderson James W
Anderson Hannah
Andler Carl
Andler Matilda
Armitage Sarah Jane
Armstrong Catherine
Arnett Phillip
August Louise
Austin James N
Avery James
B
Bahnson Bahore
Baird John
Baird Sarah
Baird William
Ballenstacdt Wilhelm
Banning Alexander
Baptiste Mary Ann
Barber Maggie
Barry James
Barry Robert James
Beauchamp Gregoire
Becker Minnie
Behnke Wilhelmine
Beisenthal Martha J
Beisenthal Mary
Bellefuille Mathilda
Benjamin Albert Wesley
Berger William
Bennett Lucy Maud
Benoit Abraham
Benoit Emelie
Bemdt Bruno
Bertrand Joseph
Best John Edward
Beynish John
Beynish Thomas
Bicknell Wallace Frederick
Biedennan Anna L
Biederman Elizabeth Maria
Biggs Myles
Billings John
Black Johanna
Black Susan
Blackwell George
Blackwell Lizzie
Bladow John
Bliss Jane Dickson Forster
Blower Mary
Bochert Bertha
Boire Rose
Bole Charlotte
Boruskie Laurent
Bosshart Martha
Bosshart Martha
Bourdgmon Adelle
Bowdrie Amelia
Brady Catherine
Brennan Annie
Brennan Lawrence
Brennan Peter
Bronette Mary Jane
Brooks Mary
Broom Thomas
Brown Charles Rathwell
Brurhortz Annie
Bulger Julia
Bulmer Nemmie Jane
Bunke August
Burbridge John
Burke David
Burwash Arron
Burns Alexander
Burns Rose Ann
Butler Catherine
Butt William Frederick
Butt Wilhelm F
C
Calbeck Robert
Caimey Thomas
Caldwell Mary Jane
Caldwell Mary Jane
Callahan Cornelius
Cameron Duncan
Campbell Annie J
Campbell Catherine L D
Campbell Lucy
Campbell Maggie
Carey Mary
Carlson August
Carmichael Donald
Carmichael Margaret
Caron Amelia
Carriere Rose del Luisa
Carswell Thomas
Casabeck MaryAnn
Casavich Victoria
Cavanagh Emma
Cavins Mary Ann
Cayer Baptiste
Cayer Rose Anne
Cecile Arma
Champagne Joseph
Charette Malvina
Chatworthy Isabella
Childerhose Hemy
Childerhose Joseph
Childerhose Sarah Jane
Chodor Maryann
Clark Elizabeth
Clarke Eliza Ardelia
Clarke HannahE
Clark Thomas
Cliche Sophia
Cochrane Mary Ann
Cochrane Sarah
Coffey Rose Ann
Colburn Mona H C
Colburn Thomas
Cole Annie
Cole James
Colman Thomas
Condie Bella
Connors Jeannie M
Contant Jane
Conway John
Cook Thomas
Coumbs Sampson
Coyne Ruglis
Craig Annie Jane
Cranston Harriet Elizabeth
Cranston Louise
Crapiewska Mary Ann
Carpiewski Vincent
Crozier Margaret
Culas Joseph
Culhane Margaret
Curry Sarah
Cybulskie Agatha
D
Dale Annie Mackey
Dalum August
Daly Mary
Daly Patrick
Dargus Rosalie
Davidson Elizabeth Artemelia
Delahey Elijah
Delarge Eleanor
Dennis Joseph
Dennison Annie
Deschenes Alphonse Francois
Desrosiers Sophia
Devine Alice
Deviney John
Dhiel Deline
Dhiel John Baptiste
Dobson Robert Augustus
Dodge Mary
Dolan Philip
Donavan Jeremiah
Doran Sarah
Doring George
Dretke Hannah Louise
Drober Robert M
Dunlop Catherine
Dunn John
Dupius Napoleon
Dwyer Hanora
Dwyer Kate
E
Eady Emmeline
Eady Margaret
Elliott George
Ellis Augustus
Ellis Ezra Delmont
Encou John
Enos George
Enos John
F
Farlinger George
Farrel John
Feek Robert Henry
Fergus Patrick
Ferguson John
Ferguson Maria
Filion Lucien
Fitzgerald William
Foley Esther
Foran Peter
Forrest Samuel
Fortier Armendine
Fortier Cyrille
Fournier Agnes
Fraser Christina
Fraser Hugh
Fraser Jane Hastings
Fraser Mary
Frederick William John Martin
Frood Barbara
G
Gahan Patrick Graham
Gallagher John
Gallagher Robert
Galligan Thomas
Gaudet Philip A
Germain Jean Bolduc
Germain John
Gerard Nathaniel
Gereski Mary
Gibbons Jessie
Giese Annie
Gill Isabella
Gillan James
Gillan Sarah
Giroux Frank B
Godden Ursuline
Gould Charlotte
Gourley Esther Maria
Gourley Mary Victoria
Graham Jolm Boweal
Graham William
Grant Eliza H
Gray Sarah F
Greer Ida Jane
Guthal Anna Christina
Guy Frederick
H
Hadian Mary
Haley Robert
Hamilton Cassie Coburn
Hamilton James
Hamilton James H
Hamilton John Matthew
Hamilton Rebecca
Hannah Hiram N
Harper Henry
Hart Stewart
Hasel Mathilde Helene
Haworth Charles William James
Hay Robert George
Hazelton Eliza
Headrick Jessie
Headrick Sarah
Healy Bridget
Healy Mary Eleanor
Healy Patrick
Heavey Minnie
Hehinke Ernestine
Hein August
Henderson Annie West
Henderson Catherine
Hewitt Hannah
Hodgins Eliza Ann
Hodgins Stewart
Hoelke Ferdinand
Holden Cyrus
Holtz Emma
Hope Samuel
Hopps James
Howard Benjamin
Howard Margaret
Howarth Augusta
Hudson Esther Ann
Hudson John James
Hughes Alexander R
Hunt Joseph
Hunter Gertrude
Hyne Richard
I
Irvine Robert
J
Jamieson Margaret Alice
Jefry Elizabeth
Jendsnol Thomas
Jessup Annie
Jessup Annie
Jessup Mary
Johnston Jane
Johrend Minnie
Jolicouer Augustine
Joly Marie Delina
Jourdain Henry
Joyce Abraham
K
Kaddatz Isabella
Karan Bertha
Kasabuskie Joseph
Keller L August
Kennelly Catherine
Kennelly Daniel
Kennelly Joseph
Kenny John
Keir Charles Andrew
Kerr John
Keuhl Minnie
Kidd AnnEliza
Kiely Alice
Kilby Charles Jas.
Kimberley Sarah
King William
Kissner Paul Edward
Kitts Winniired
Klepel Herman Wilhelm
Klingbeck Emestine
Kohlmerer David
Kopensky Carle William Albert
Krueger Edward
Krur Joseph
L
Laberge Sophie
Labonte Olive
Labow Fr. William
Labrecter Pierre
Lacombe Adelaide
L'Croix Josephine
Lacroix Marcelene
Lafrance John
Lalonde Eleuthere
Lamoreux Maria
Lance Adele
Landry Charles Alfred
Lane Samuel
Langueder Joseph Arthur
Lanthier Elizabeth
Laporte Mathilda
Lamey Jean B
Larrett Thomas
Lavelle Frank
Lavelle Mary
Lavelle Robert
Lavoie Alice
Leach James
Leacock Andrew
Learmont Robert Henry
Lebeau Mary
Lebeau William
Leblanc Felonise
Ledgerwood James
Ledgerwood Jessie Templeton
Ledgerwood Kate
Lee Alice
Lee Thomas
Legge William
Leganski Jolm
Legris George
Leitch Mary
Leitch Mary Elizabeth
Leitch Robert
Leitch Stewart
Leterski Jacops
Leviolette Mary
Lezenski Maryann
Lindsay Margarette
Logan Jolm
Logan Lucy Christina
Loney Elizabeth
Lorke Albert Heinrich
Lowe Barbara
Lucasavich Joseph
Ludgate Anthony
Ludke Olivine Bertha
M
Mackey Annie
Mackey Patrick
Mahon John
Major William
Malette Alphonse
Malone Mary
Marcellus Leanore
Marett Philip
Marion Ada
Martin John
Marshall Jane
Maryer Vincent
Mason Margaret
Matheson Armeline
Mathison Mary
May Richard
Mayhew Margaret Ann
Maynard Felicite
McCallister Annie
McCallum Wm
McClelland Isabella
McConeghy Margaret
McCormell James
McCormack Christina
Mclmies Angus
McDermid John
McDerrmot Thomas
McDonald Daniel
McDonald Margaret
McDowell Henry
McEachen Simon
McFarlane Luvena
McGowan Robert
McGregor Alexander
McGregor Catherine C
McGregor Christianna
McGregor John
McInnes Agnus
McInnes Elizabeth Airth
McIntyre Agnes
McIntyre John
McIntyre Nellie
McIntyre William J
McKay Nina Margaret
McKillop Alexander
McKillop Susan
McKinley Catherine
McLachlin Matilda
McLaren Annie C
McLaren Donald
McLaren Jennie
McLaren Katie
McLaughlin Joseph
McLean Maggie
McLellan Catherine Ann
McLellan Margaret
McMillan Alexander
McMillan Isabella
McMillan Peter
McMullin Marion
McNab John Duncan
McNeil Catherine
McNevin Isabella
McNie Archibald
McQuitty Ann Louise
Mechann Mary
Meers Bridget
Meiller Annie Laura
Melanson Joseph
Melcher Mathias
Melly James
Melroy Robert
Merchant Arthur
Michael Philomen
Mielte Asilda
Millar James
Miller Alexander
Miller Carl Herman
Mills William Christopher Wesley
Milroy Margaret
Miskatawavatz Anna
Miskatawavatz Mary
Mitchell Cyrus Albert
Mitchell John
Mixam Francis J ohn
Moles Cora Ashton
Montgomery Robert
Moore John James
Moore Winnifred
Mordy Thomas
Morgan Isabella
Moriarity Daniel
Morrison James
Mousseau Marie Azilda
Muir Mathilda
Muir William
Mulvanan Alicia
Mulvihill Michael
Munhall Mary
Munro Andrew David
Murphy Christopher
Murrach Albert
N
Neuman Bertha
New Archibald Reid
New Sarah S A
Nix Willet D
Noack Fred
Nolan Mary Jane
O
O'Brien Margaret
O'Cormor Ann
O'Harro Ann Ruth
O'Meara Ellen
O'Neil Charles
O'Reilly James
Olezewski Augustina
Olmstead William John
Orr Mary
P
Palmer William
Pappin Annie
Payne Cecelia
Pelatzski William Charles
Pelletier Paul
Peplinskie Margaret
Peplinskie Martin
Peplinskie Salian
Pepin Mary Louisa
Perin Eugene
Pever R J
Pikeorski Paul
Pilgrim John
Pirie Alexander
Poole Alfred
Porter Henrietta
Potter John
Powell Robert
Power Alice
Prescott Elizabeth Ann
Price Kate
Primeau Joseph
Prince August
Prince Catherine
Prince Martine
Prince Mary
Provost David
Q
Quast John Gottlieb
Quast Louise
Quilty Johannah
R
Rathwell John Andrew
Redenberg Carl August Frederick
Rediman Mary
Regan Thomas
Regimbald Anselem
Regimbald Soloman
Reid Lorusa
Reid Thomas
Remmick Elizabeth
Revse Catherine
Richardson Eliza
Richardson Margaret
Richardson Martha
Richardson William
Richards Caroline
Ring Teresa
Riske Frederick
Ritchie David John
Robert Constante
Roberts Samuel
Robertson Andrew Morris
Robeltson Christina
Robertson Duncan
Roche Kate
Rodden Susan
Rogge Hanna Victoria
Roggie Frank Charles
Rohloff William
Rollins Jane
Romain John
Rose John
Ross Mary Jane
Ross Nixon
Rouselle Xavier
Ruddy Alice
Rusland Archibald
Russett James
Ryan Francis
Ryan Mary
S
Sadler Ephriam Booth
Salter William
Sammon Stephen
Samwell Robert Walter
Scharff Henry
Scheel Augusta
Scheel Hennan
Schimerz Anna
Seivert Caroline
Sheedy Daniel
Sheedy Michael
Sheffield Charles
Sirbes Daniel
Skuce Thomas
Smith William Alex
Smythe Elizabeth
Sparling George
Sparling Henry
Sparling Henry
Sparling Sarah Jane
Stack John
Stack William
Staege Sarah Eugenie
Stephenson Betsy
Stevenson Agnes B
Stewart Archibald Campbell
Stewart Janet Ferguson
Stewart Lizzie
Stewart Richard M
Stirling Florence B
Stoppa Valentine
Storey Leah
Storie James
Storie Rachel
Stroud Charlotte
Strutt George
Strutt Sarah
St. Amand Malima
St. Jacques Valentine
St. Oman Catherine Kawatchine
Suckski Margaret
Sullivan Frances
Sullivan James
Sunstrum Catherine
Sutherland Jessie
Sutherland Margaret
Swan Augustus
Sweeney Caroline
Sykes Nancy
Sylvester Joseph
T
Tackman Carl
Tallon Catherine
Tate John
Tennant Isaac Jones
Tennant Jane
Thomas Sarah
Thompson Catherine
Thompson James Ernest
Thompson Jennie Margaret
Thrasher Elizabeth
Tom Frank
Towns Charlotte
Townsend Catherine
Trudel Francois
Turcotte Andre
Twigger Edith
Tyrenskie Paul
V
Vale Ethel M M
Valiquette Simon
Vermette Alivine
W
Wabukarme Ignace
Walker William
Walsh Patrick
Warren George N
Wasmund Caroline
Wasmund Minnie
Waterhouse Walter
Weber Abraham
Weedmark William
Weir Gertrude Elizabeth
West Robert Lee
White James
Whyte Barbara B
Wilson Almira
Wilson Amicus Hermanus Generus
Wilson Annie Small
Wolfgram Johanna Emily Lore
Woito Martin
Wood James
Wren Ellen
Wright Osborne
Y
Yetherson Hannah Florence
Yon Rose
Z
Zergal Arma Maria
Zimmerman Robert Frank
INDEX RENFREW COUNTY MARRIAGES 1890
LATE REGISTRATIONS
A
B
Bertrand Desire
C
Campbell Elizabeth
Carnegie Alexander
Cassidy Mary Elizabeth
Cherette Adelor
Cochrane William
Cotnam John
Crogie Patrick Mornich
D
Danis Marie
Dean Samuel George
Dougherty Robisson
E
Eckford Ellen
F
Fario John
G
Gelker Christina Matilda
Gervais Celina
Graham Elizabeth
Graham Mary Ann
H
Hoschke William B
Howard Elizabeth
I
J
Jeffrie Margaret
K
Keyes Mary Ann
L
Lacroix Louis
Lacroix Toussaint
Lamarche Marguerite Veronique
Lapier Joseph
Lavoie George
Leblanc Celina
Libby Abee
Lirette Jules
M
Marion Hermaline
McDonough Rachel
McFarlane Duncan McNab
McLaren John
Mills Alexander
Morisette Rose Ann
Mussell Joseph A
N
O
O'Brien Daniel
P
Patterson Christine
Pettigrew William
Philbin Louis
Pitt Agnes Ellen
Plummer Abee
Q
R
Reid Norman
Rose Rachel
S
Shields John
Shields Martha Elizabeth
Smith Samuel
T
Tennant Robert
Thrasher Hannah
Trudeau Celina
Tucker Pheobus Victoria
U
V
W
White Lucy Caroline
Wilson Mary Jane
Wilson Walter James
Wilson William
Wright Maria Sabrine

.

INDEX RENFREW COUNTY MARRIAGES 1891
A
Acton Louisa Gertrude
Adams Alexander
Aldrich Lizzie
Alore Adeline
Armstrong Annie
Armstrong John
Armstrong William
Arsenea Jennie L
Aubrey Julianna
B
Baetz Catherine
Bandy Matthew
Barkert John
Barry William Henry
Baudrault Anastasia
Beaudry Mary Ann
Beaulleu Guilliamme
Belan Tobias Parkinson
Belair William Joseph
Belanger Emilie
Bendon Pauline
Bennett Patrick
Berger Johannes L
Berger Matthew
Bergiss Lucinda
Black Louise
Black Maggie
Bingham Susan
Blernemont Frederich
Blordow Vlhlhelmina
Bomnenfont Emma
Borsseau Albert
Bowes Annie
Boyd James Noble
Branstaider Fredrika
Breske Annie
Breton Mary Ann L
Brisco Christian
Brissa Stephen
Bromley Margaret Ann
Brown Mary
Brydges Thomas
Buchholtz Albert
Bulmer Jessie A
Burger August
Burgermaster Elizabeth
Burrell Zoe
Burton Alice Jane
C
Caillier Hyacinthe
Callback Jane
Carney Thomas
Carty Patrick
Cayeau Antoine
Cervan Jane Costello
Chapman James Henry
Clark George
Clement Soloman
Cobum Annie
Cobus Anastastia
Cobus Joseph
Cochrane Elizabeth Gorland
Coghlan Bridget
Cole Agnes
Cosgrove Catherine
Costello John
Cowrie Janie
Cox Bishop John
Crawford Jane
Crogie Henry
Crotty Celine
Culhane Catherine
Cushing Arounah
D
Davidson Sophia
Deacon Mary Louisa
Dempster James
Denault Sophia
Devine Hugh
Devine James
Dickie Margaret Stewart
Dickson Ida Mary
Dillabough Belle
Dillon Ellen
Dobson Alfred
Doolan Arthur
Duncan James
Dunlop William John
Dwyer William
E
Eady John B
F
Fitzgerald Mary
Flynn James
Foisie James
Forsie James
Fossite Joseph
Fournier Alphonse
Foy Hemy
Fraser Agnes
Fraser Ann Dale
Fraser Charles
Fraser George Cardiff
Frazer John Forrest
G
Gagnon Anne
Gale Charles
Gardner Annie Amelia
Gauldt Matilda
Gherkie Berthe
Gibbons John
Gibson Mary D
Gletz Ernest
Gorman Mary
Graf Albert
Graham Robert
Grant Esther Power
Gray Harriet
Greer Sylvester
Grietag Emma
Griffith Margaret
Grinia Anna
Grund Anna
Guillencotte George
Gust Albert
Guest Thomas
Guiney Francis
H
Hach William
Hainville Toussant
Haley John Patrick
Halliday John
Hamilton Samuel
Hawkins Eliza Ann
Harrison John
Heenan Hanoria
Helferty Edward
Herrick Margaret
Hodges Thomas
Hogan Hannah
Horne Robert
Howard Frederick
Howard Philander
Hugge Wilhehnine
J
Jackson Thomas
Jacobuski Peter
James Thomas
Jardine Margaret
Johnston Christian
Johnston James
Jones Stephen Alfred
Juck Ann Louisa M
K
Kadroski Mary
Kalar Frank W H
Kehoe John Eugene
Kelly Johannah
Kennedy Richard
Kenny Harriet Jane
Keyes Margaret
Kimberley Ellen
Kochabuski Joseph
Kreuke Elbrelse
Krock Mary
Kruger Frederick
Kunow Frederich
L
Laberge Torcile
Laderoute Theophile
Larache Minnie
Lange Herman
Laurin Olive Elizabeth
Leckie David
LeClair Emelie
Ledgerwood James
Lee William
Lefalliere Leandre
Leitch Margaret
Leroy Hulda
Levi Alice Maud
Lewin Augusta
Lilbie William J
Loock Reinhalt
Lord Charles William
Lulolf John William
Luloif Wilhelmine
Lynch Jeremiah
Lyon Frances
Lyons Susan
M
Mackey Bridget
Mackey Mary Moretta Maggie
Maquire John
Maguire Margaret
Mahoney Michael
Makie Marceline
Manger Wilhelmine
Mankowski Catherine
Mankowski Joseph
Martel Juler
Mask Barbara
McCann James
McCarty James
McCarty Matthew
McCaugherty James Patrick
McCaugherty John
McCormack Ann Sarah
McCrimmon Donald H
McCullough William Alexander
McDonald Agnes Ann
McDonald James
McDonald Mary
McFarlane James D
McFeeters Alice
McGrath Ellen
McGrath Michael
McGregor Annie
McGregor Colin
McGregor Jane
McGregor John
McIntyre Eliza A
McKillop Duncan
McLaren Catherine N W
McLennan John
McMaster Annie Isobella
McNeil Maggie
McNulty Anna
McNulty Anthony
McNulty Mary Jane
McNulty Patrick
McQuitty David William
McRae Margaret
McVean Sarah Ellen
Meagher Bridget
Mick Catherine Ann
Miller Adolph
Miller Charles
Mitchell Harriet Louise
Mohns Robert
Mollman Francis
Moran Bridget
Moratz William
Morday Hanna
Morglan John
Morris Alexander
Morrison Norman Kilborn
Mulcahy John
Mulvihill Mary
Mulligan John
Mulloy John
Munroe Elizabeth
Mmphy James
Murphy John
Murphy Mary Frances
Murack Albert
Murray Mary
Myers Samuel
N
Naismith Peter Lawrence
Needham George
Neil Rachel
Nettleson Alsnie
Newman A F D
Newman Emma
Nichol Pauline
Nicolle James William
O
O'Donnell Bridget
O'Donohue Ellen
O'Hare Edward
Olmstead David
P
Pacifika Anastastia
Payne Matilda
Payne Minnie
Pellitier August
Pellitier Benjamin
Pettigrew John B
Pickering William
Pierce James
Pigeon David
Plouffe Anne
Plouffe Leandre
Powell Mary
Price Jane Elizabeth
Price John
R
Raddatz Minnie
Radtke F W
Radtke Wilhelmina
Redman William
Reger Martin
Reid Charles
Reilly Sarah Ann
Reinke August Ernestme
Reynolds Lizzie
Rhode Julius Fredrick
Rice George Moses
Ring Sarah Jane
Ritchie Martha
Ritchie Mary M E
Ritchy William
Rivett Elizabeth
Robinson Robert
Roddy Peter
Rodgers John
Rooney Thomas
Ross John
Rowell George Barker
Rutz Augusta
S
Sacubec Anthony
Sadler Elizabeth
Scheel Robert
Schlievert Otto
Schulfer Albert
Schrubring Reinhold
Schmidt Mary Louise
Scott Andrew
Sergeant Joseph
Shan Alexander
Shields Catherine
Shields Kate
Shilkie Wilhehnina C
Sim Caroline
Sloan Patrick
Small Cecelia Bell
Smith Sarah Ann
Smith Rebecca
Snitcha Mary
Spence John
Stagge Louise
Stack Alice
Stevenson Olive
Stewart James Edgar
Storey Robert
Stroud Esther Emily
Strutt James
Stubinski Alexander
Stumps Helena
T
Tabbert August
Tait James
Tennant Margaret
Thibedeau Adelaide
Thomas Jane
Thomson William
Tierney Cecelia
Trewsberry Joseph
Tucker Sarah Mary
Tucker Susan Mary
V
Vaillancourt Qyphre Benoit de
Vaudry Delia
Virgin Clara
Volkman Annie
W
Wagner Bertha
Walther Amelia
Warren Elizabeth
Warren Fletcher
Watt Mary M
Watson Agnes M
Way William B
Webster Joseph H
Wentland August
Whelan Michael
Whelmi Thomas
Wilson Elizabeth
Wilson Emma L
Wilson Halliday Ann
Wilson John
Wingle Mary Ann
Winters Jennie
Woito Frederick
Wood Mary Lavina
Woods William S
Wretchly Suzanna
Wright Sarah Elizabeth
Y
Young Martha
Yourth Godfrey W
Yuill James
INDEX RENFREW COUNTY MARRIAGES 1891
LATE REGISTRATIONS
B
Backnell Wallace Fredereich
Bahnson Bahore
Bosshart Martha
Brurhartz Annie
Bulmer Nommie Jane
Butt William Frederick
C
Caldwell Mary Jane
Campbell Maggie
D
Dennis Joseph
F
Frewatre Martha
H
Hazelton Eliza
K
Klingbeck Ernestine
L
Leacock Andrew
Ledgerwood Kate
M
McConaghy Margaret
McFarlane Lewana M
McInnes Angus
McLachlin Matilda
Miller Carl Herman
Mitchell Cyrus Robert
Moore John James
Mulroy Robert
N
New Archibald Reid
O
O'Connor Ann
P
Price Kate
S
Sadler Ephriam
Seigel Charles
Strutt George
T
Tennant Isaac James
Tennant Jane
Thompson Jennie Margaret
W
Waterhouse